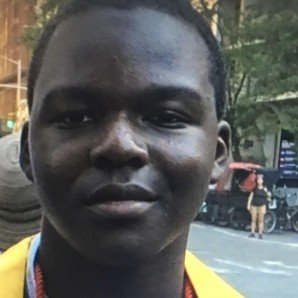 nten_nyiam,
B.S., Bioinformatics
I am a technologically inclined person who likes puzzles, video games, tutoring, late night cramming, and helping others.

Background
Hometown
Queens, New York
Ethnicity
Black / African American
Class of
2023
First Gen College Student
No

Results, Essays, and Advice
Tap/click a school logo above to view essays and advice specific to that school.

Massachusetts Institute of Technology (Cambridge, MA)

Applied for a B.S. in Bioinformatics

Accepted and Enrolled

Legacy:

No

School Specific Essays

The lessons we take from obstacles we encounter can be fundamental to later success. Recount a time when you faced a challenge, setback, or failure. How did it affect you, and what did you learn from the experience?

I lost my voice in the second grade. I tried talking to others, but could only contort my face before attempting to force the words out - never giving a response. I could nod as my teacher explained concepts on the board and faced the floor in shame as my mother scolded me for breaking her lamp, but I could never respond; I could listen, but was unable to interact. After one week of silence, I was signed up for...

Supplemental Essay: "Why us" school essay

How does the University of Chicago, as you know it now, satisfy your desire for a particular kind of learning, community, and future? Please address with some specificity your own wishes and how they relate to UChicago.

Admittedly, it is embarrassing to reveal that UChicago was not on my radar until I received a personalized notecard detailing the "No Barriers" philosophy of the institution. The notecard caught my eye with its depiction of my name with large, Gothic letters and scenic views of Stagg Field and the Joe and Rika Mansueto Library. In an optimistic move, I taped the notecard onto my bedroom wall – determined to learn more about the sender. Nonetheless, the notecard affirmed three, unalienable...

Supplemental Essay: Other

The word floccinaucinihilipilification is the act or habit of describing or regarding something as unimportant or of having no value. It originated in the mid-18th century from the Latin words ''floccu,'' ''naucum,'' ''nihilum,'' and ''pilus'' - all words meaning ''of little use.'' Coin your own word using parts from any language you choose, tell us its meaning, and describe the plausible (if only to you) scenarios in which it would be most appropriately used.

Adjectives are fuel for the imagination - necessary for understanding the subjects of a literary work. That makes verbs the motor, progressing the plot and making characters jump from the page. However, you can get the best of both worlds with an adverb. If you are daydreaming in class, you are doing so absentmindedly. If you lay on your couch, you do so lazily. Bumping into someone is done accidently and, in some cases, awkwardly. For any given scenario, there...

Supplemental Essay: Intellectual interest

Describe three experiences and/or activities that have helped develop your passion for a possible career in a STEM field. Use the separate spaces provided below, one for each STEM experience and/or activity.


STEM experience/activity 1 and explanation (Your response should range between 10-120 words.): My former ambivalence towards the sciences developed into a passion in room 427 - the designated Science Bowl Room. Being surrounded by individuals of varying backgrounds in distinct disciplines and experiencing the inherent competitive nature of Science Bowl pulled me in like a ferromagnet to a magnetic field. Participating in the 2017 National Science Bowl further fueled this passion. The series of fascinating lectures (on topics ranging from protein crystallography...

Supplemental Essay: Other

Much like the life of a professional scientist or engineer, the life of a "Techer" relies heavily on collaboration. Knowing this, what do you hope to explore, innovate, or create with your Caltech peers? (Your response should range between 250-400 words.)

When I envision the Caltech experience, I see myself waking up to bright, humid morning to the sight of a spacious dormitory – filled to the brim with empty coffee cups and untouched problem sets. I can imagine taking a sharp detour to the Sherman Fairchild Library after class and taking a seat alongside four other students. As we pull out laptops and copy paper, we throw around ideas. "I have an idea, a study on the folding and structures of...

Supplemental Essay: Amusing anecdote

Caltech students are often known for their sense of humor and creative pranks. What do you like to do for fun? (Your response should range between 250-400 words.)

My eyes scanned the 15x15 array of black and white boxes - taunting me to challenge them. Anticipation was the only thing on my mind as I prepared to begin. After a brief moment of thought, I started the timer. My hands took on a life of their own - filling the white boxes with resolute confidence and placing asterisks on hints that eluded my mind at that instant. In the span of mere seconds, the (formerly) black and white...

Supplemental Essay: Diversity statement

The process of discovery best advances when people from various backgrounds, experiences, and perspectives come together. How do you see yourself contributing to the diversity of Caltech's community? (Your response should range between 250-400 words.)

I keep stacks of sticky notes filled with questions, witty quips, and facts that pique my interest. The typical stack includes sentiments ranging from "Cesium + H2O —> BOOM!" to "Norse mythology: cow licking ice = universe creation" to "Stink beetles, effective annoying sister repellent." My tendency to take notes on anything and everything has landed me the moniker, "Post-it-Note Scrivener." In the group project, I am the one member who writes what we are NOT allowed to present, before copying brief...

Supplemental Essay: Other

We know you lead a busy life, full of activities, many of which are required of you. Tell us about something you do simply for the pleasure of it. (Response required in 100 words or fewer)

I hardly go a day without channeling my inner Nirvana and playing air guitar to "Smells Like Teen Spirit" or tapping my earbuds to U2. The rhythm flows through the silicone ear gels and stimulates my brain. As the chorus hits, a cascade of excitement surges through my body. Then, almost as soon as it started, the song fades out. Alt-rock is dynamic and liberating, but it is more than that. When I've hit a wall, my tunes make...

Supplemental Essay: Other

Although you may not yet know what you want to major in, which department or program at MIT appeals to you, and why? (Response required in 100 words or fewer)

As someone who has pondered the form and function of life, biology and chemistry have always fascinated me. I would get the best of both worlds through studying Chemical-Biological Engineering. Research with the ChemE or BioE departments, through UROP, would be an excellent supplement to classwork. I already know that MIT's biochemistry curriculum is a good fit for me. Last summer, I had to learn about signaling pathways in cancer for a research project. In just one week, I...

Supplemental Essay: Other

At MIT, we bring people together to better the lives of others. MIT students work to improve their communities in different ways, from tackling the world's biggest challenges to being a good friend. Describe one way in which you have contributed to your community, whether in your family, the classroom, your neighborhood, etc. (Response required in 200-250 words)

Henry stared at the worksheet of figures, numbers, and graphs. He had missed two days of class and was unsure of how to proceed. I began by drawing analogies to concepts he already knew – sine curves became lines gliding across the coordinate plane at his discretion. Once a foundation had been established, I reviewed material from days prior. Armed with the necessary tools to tackle the worksheet, Henry became more independent: catching mistakes in his work and explaining his rationale...

Supplemental Essay: Other

Describe the world you come from; for example, your family, clubs, school, community, city, or town. How has that world shaped your dreams and aspirations? (Response required in 200-250 words)

Nigeria is my first home – my birthplace and where I spent my formative years. My youth was marked by vibrant scenery, the jarring (yet elegant) intonations of Pidgin English, and meals of yam and cassava. However, at age four, I parted with Nigeria and settled in New York City – where I have spent an astonishing twelve years. My adolescence was shaped by a variety of cultures, opinions, languages, and experiences. Likewise, all aspects of my life have been molded by...

Supplemental Essay: Other

Tell us about the most significant challenge you've faced or something important that didn't go according to plan. How did you manage the situation? (Response required in 200-250 words)

The 2018 NYC Regional SHPE Science Bowl was nearing its end. Although my team came into the double-elimination round with a loss, we managed to reach the final round - where we were faced with a force far greater than we could have anticipated: Ardsley High School. We got a strong start, answering the first question before it was fully asked and rapidly buzzing for the first half of the game. When halftime was called, the score was 18-60 and I...

School Specific Advice

5 adjectives that describe a typical student at my school (Feel free to elaborate!)

Why I ultimately chose my school

Ultimately, I wanted a school that emphasized the sciences, but still...

More Essays
These essays haven't been tagged by school. Click school logos above to see tagged essays.



General Admissions Advice
How to deal with the stress of applying to college
Whenever you feel stressed out throughout the process, whether you're writing essays or filling...
What I'd change about my application process
I would have started writing essays earlier to...
How I narrowed down my essay topics
For every topic, I picked two to four topics that I was interested in...

High School Performance
Academic Performance in High School
Steady

Test Scores

AP / IB Classes and Scores
Details
9 classes and scores

Sports

Extracurriculars
Activities
National Honor Society, Science Club/Team, Quiz Bowl/Academic Bowl, Science Club/Team, Research
Elaborate on Extracurriculars or Work

Experience & Awards
Volunteer Experiences
Awards Received