If you've been to a college graduation, you'll know that they tend to be long and tiring. But there's something about them that always manages to tug at your heart strings. Maybe it's the bittersweet feeling at the end of a chapter, or the excitement of a new beginning. Regardless of what that is for you, the truly emotional part is the ability to reflect on your actions, achievements, and passions. Graduating seniors and all their loved ones gather together for three hours to wrap up their four years in college, and each university will bring forth a special someone to trigger that reflection and provide some food for thought. In no particular order, here are 10 of our favorite commencement speakers: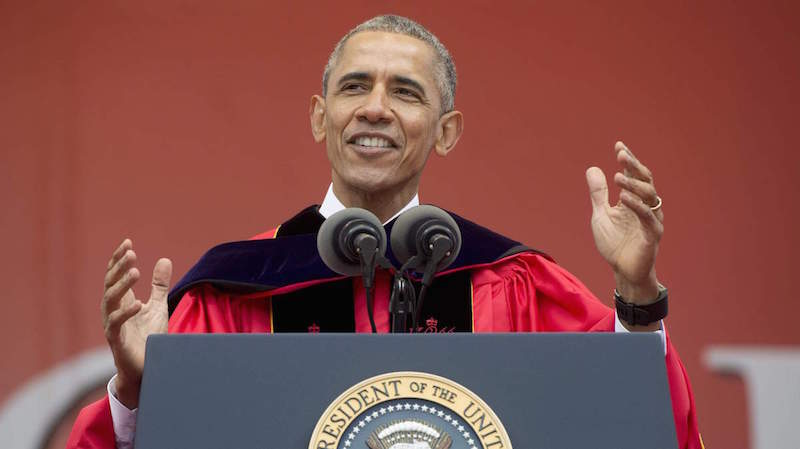 "Remembering that you are going to die is the best way I know to avoid the trap of thinking you have something to lose. You are already naked. There is no reason not to follow your heart."
"Follow your passion, stay true to yourself, never follow someone else's path unless you're in the woods and you're lost and you see a path then by all means you should follow that."
"It is impossible to live without failing at something, unless you live so cautiously that you might as well not have lived at all - in which case, you fail by default."
"Our problems are man-made — therefore, they can be solved by man. And man can be as big as he wants. No problem of human destiny is beyond human beings. Man's reason and spirit have often solved the seemingly unsolvable — and we believe they can do it again."
5. Sheryl Sandberg – UC Berkeley, 2016
"You are not born with a fixed amount of resilience. Like a muscle, you can build it up, draw on it when you need it. In that process you will figure out who you really are — and you just might become the very best version of yourself."
"If somebody says 'Your money or your life,' you could say, 'Life.' And mean it. You'll see things collapse in your time, the big houses, the empires of glass. The new green things that sprout up through the wreck — those will be yours.
7. Bobbi Brown – Fashion Institute of Technology, 2014
"Work hard but work smart. Always. Every day. Nothing is handed to you and nothing is easy. You're not owed anything… No job or task is too small or beneath you. If you want to get ahead, volunteer to do the things no one else wants to do, and do it better. Be a sponge. Be open and learn."
8. President Barack Obama – Rutgers University, 2016
"You have to be persistent. And success, however small, however incomplete, success is still success. I always tell my daughters, 'You know, better is good.' It may not be perfect, it may not be great, but it's good."
"Make use of the fact that you don't doubt yourself too much right now because, as we get older, we get more realistic. Accept your lack of knowledge and use it as your asset."
10. Jim Carrey – Maharishi University of Management, 2014
"Your job is not to figure out how it's going to happen for you, but to open the door in your head and when the doors open in real life, just walk through it. Don't worry if you miss your cue. There will always be another door opening. They keep opening."
Congratulations, Class of 2016! You did it!