You're probably aware of the phenomenon of demonstrating continued interest in a school that has deferred or waitlisted you. But what if you haven't received a response yet from the school and have something you want to add to your application for the admissions committee to consider? When is it a good idea to send a follow-up to your original application during this interim period?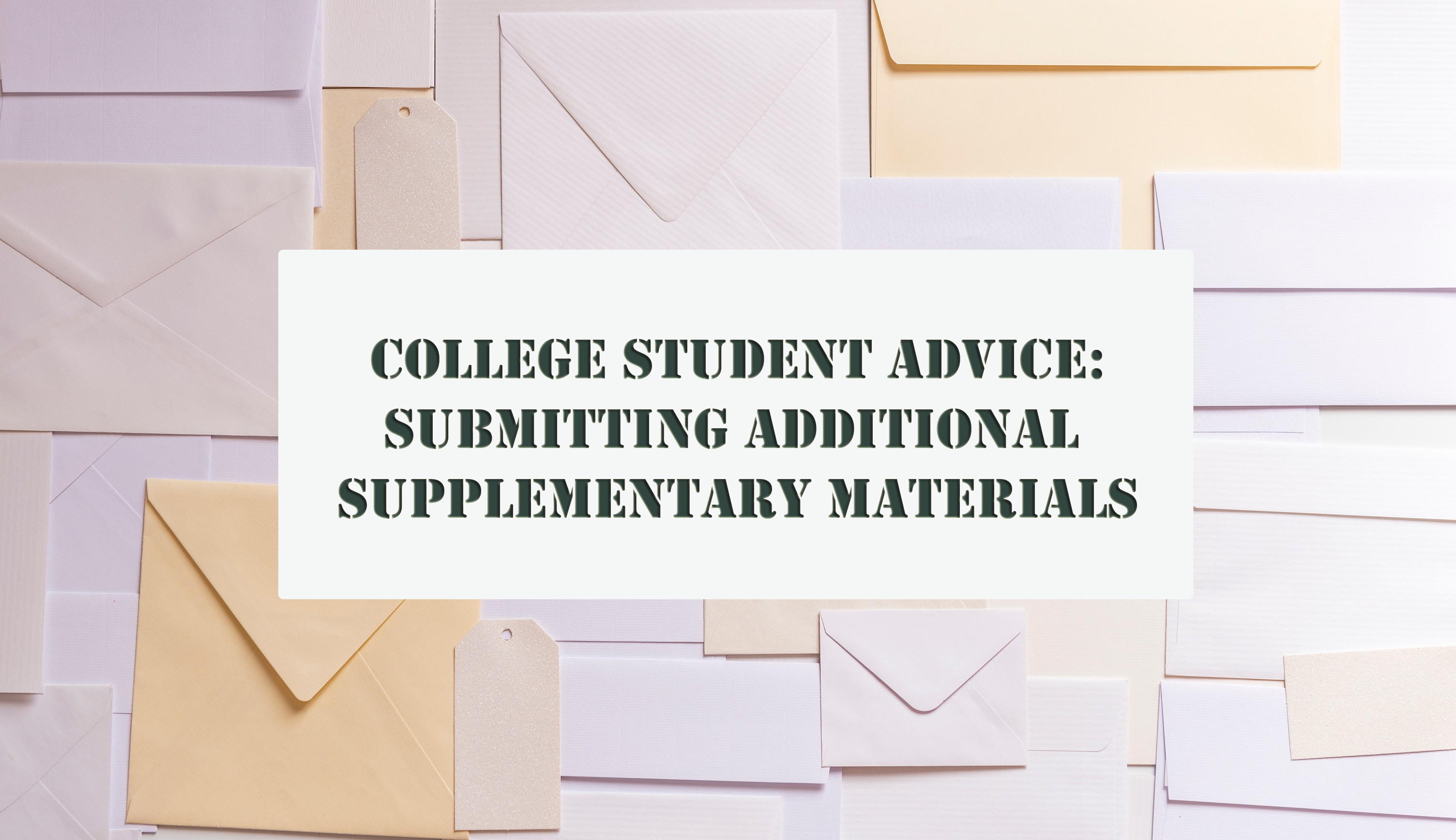 Reasons to send supplementary materials to colleges you're waiting to hear back from:
If any of these circumstances apply to you, sending that additional update may be a crucial boost to your candidacy.
You've won a prestigious award or an award that is directly relevant to the central theme of your application.
You have a substantive academic update to your application, such as a new test score or drastic boost to your GPA.
You have a substantive extracurricular update to your activity resume that would significantly impact how the school evaluates your fit for a particular major or program, such as a research publication.
You didn't include an arts supplement that's critical to your application during the regular decision round, and would like the admissions committee to consider one.
You have an update or achievement that would further strengthen and/or round out the theme of your application.
You have an update or achievement that provides a new angle to considering your candidacy if you believe your original application was too one-note.
College student advice about submitting additional materials
(1) You may want to reinforce your commitment to a school if that hasn't been demonstrated enough in your original application:
w_quan (Harvard 2020)
"I sent in some supplementary materials during the application process that were not noted during my initial application… because it shows a continued motivation and perhaps genuine dedication to academic pursuits. Be careful, however, to not send in things that are extraneous (something that already is shown in your application) or irrelevant."
(2) If there is a significant improvement to your academic record – a significant test score or GPA increase – update your application:
"I decided to send in an additional recommendation and retake my math SAT subject test. I would really recommend sending additional materials in to show the school that you are willing to work hard to meet their standards."
(3) Send an extracurricular update if it represents a significant boost to your activity resume:
"I sent a resume of accomplishments for the extracurricular activity I was most committed to– even if they never respond and say they read it, it'll show continued interest."
(4) If you believe your candidacy would be better supported with an art or writing supplement that you didn't already include:
Annie.E (Harvard 2018)
"I sent in additional materials as a supplement. Which was super important. Sending in supplements is often overlooked, but it can be extremely valuable if you have special talents especially in the arts. I submitted a music supplement and a small journalistic supplement. I highly recommend it."
(5) Update your application if a recent achievement strengthens your central theme/narrative:
mel10 (UChicago 2021)
"I marketed my consistent passion and advocacy for social change and anti-oppression. If you go through all of my activities, you will see a trend… Try to make sure that all facets of your [trend] are shown, with evidence, throughout these materials, and try to bring some new information to the table with everything you submit."
(6) Or you may want to bring a new perspective to your existing application if you believe there's an area about yourself that was not properly fleshed out in your original application:
"I wasn't planning on submitting anything after my deferral but I wrote a great creative piece on the fall of humanity that showcased a NEW SIDE of me (not a science-y side). All my teachers loved it so I sent it in… but the best material to send is something that will shed new light on you."
–––––
If you want to read the essays and writing supplements of these students, unlock this package. You'll gain access to their full essays as well as advice about the admissions process, such as what may increase your chances and their schools, what they'd change about their application process, and interview prep.
* BONUS TIP * In the event a school doesn't allow supplementary materials, Katiesawildcat advises you to write a thoughtful letter or email admissions to explain and summarize what you believe is a critical missing component of your application and seek permission to include it:
"I went to an art boot camp in New Jersey during the summer where I prepared a visual arts portfolio in hopes to use this in my application to give me a boost in the extracurricular/talent sense, which most schools like. Since I applied Early Decision to Northwestern University, and I already knew I wanted to do so at the end of summer/start of senior year, I did a lot of research on their website, only to find out that they "do not accept unsolicited supplementary material" of any kind. My hope was almost shattered, until I reread that statement. What did "unsolicited" mean? Did that mean there could potentially be a chance for me to send things in solicited-ly?..."
Unlock Katie's profile to read her entire explanation of how she convinced Northwestern admissions that an art portfolio was a necessary part of evaluating her application.