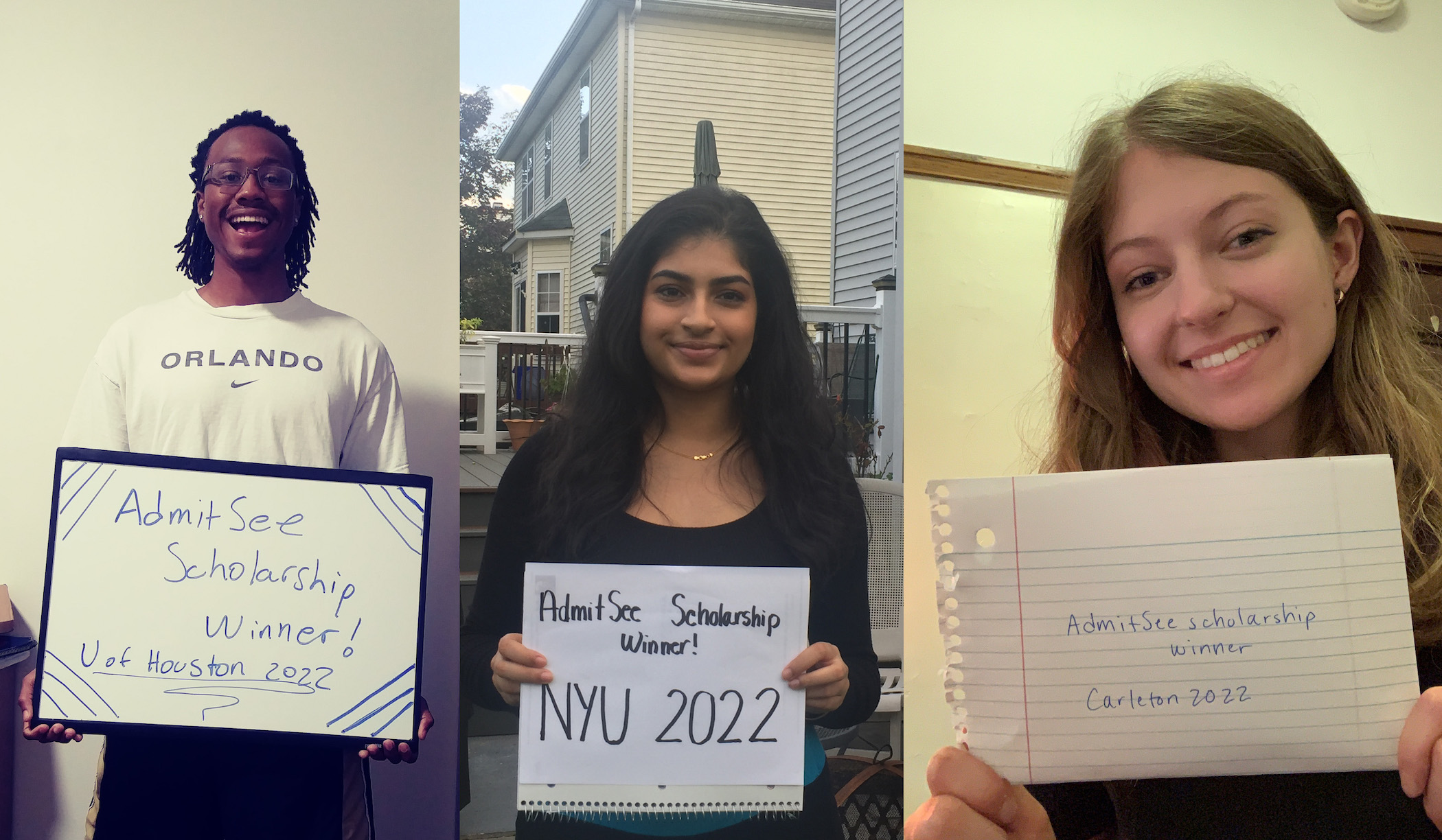 We are so excited to announce that for this year's scholarship, we selected five scholarship winners to maximize the impact of our $5,000 college scholarship prize money. It's been a difficult year for many students and we hope this scholarship will help lessen the financial burden of college for a handful of deserving students during this pandemic.
The five winners were chosen from a randomized pool of entries and ultimately selected for their thoughtful, well crafted, and authentically shared responses.
Below, we share admissions advice from these 5 students as well as what they see as the value of AdmitSee for current applicants. Unlock their profiles to learn more about their college applications and their specific insight for prospective students interested in their respective schools.
​Aaghoshh, NYU Stern 2022
College applications are not just about matching your GPA, SAT scores, and AP scores to people who are attending your dream college, but it is mostly about making a personal statement that is a fiery display about your passion. In this exercise of soul searching, I tried to truly identify my personal values. By tapping into the AdmitSee collection of varied profiles you can approach college with confidence. You can express yourself authentically and validate your strategy through multiple mentors.
Unlock how she stood out from the competition to get admitted to NYU Stern.

Tkreadus, U of Houston 2022
The institutions that will be accepting you and giving you money want to know your story and how it has impacted your decision to go to college. Spend some time with yourself and define your story. Who or what motivates and inspires you? What have been some of your failures and how did you bounce back? Shape your story and be as authentic as possible. Had I known about the resources that AdmitSee offers, I would have a better idea of how to best shape my essays to answer the prompts.
Learn what this winner recommends to strategize, get organized, and save for college.

Carletonco2202, Carleton 2022
As the oldest child in my family, I didn't really know where to start when looking for colleges. I didn't know myself well enough to gauge my "fit" with certain schools, and any time I turned to Google for advice, I was bombarded with an often conflicting abundance of information that just served to overwhelm me. AdmitSee is the ideal platform for high school students to access relevant, timely, and accurate application information from real college students rather than wasting time on outdated or irrelevant information.
Read why you should commit to your interests over crafting a "perfect" application.

Mahala, Louisville 2022
The crowdsourcing model is current and contemporary. A good deal of the college application tips available to high schoolers were written by adults that were accepted into college years and years ago. Times change! Admission standards shift! Grades and test scores are important for getting your foot in the door, but the people viewing your application want to see something different. They want to know that you are unique, and worth remembering.
See why your application should answer the "why" more than the "what."

Kvillard11, USC 2024
I would have deeply benefitted from a service like Admitsee when applying to college. I was someone who was so overwhelmed by the many aspects of the admissions process it was hard for me to focus my energies. The best advice I would give someone applying to the University of Southern California is to tell their truth. As cheesy as it sounds, I really do believe that it was not my test scores or GPA that got me admitted, but rather the character that I was able to reveal through my supplements and essay.
This winner advises applicants to let their unique personality traits shine through.
Want a chance at next semester's giveaway? Create a college account today or update your existing AdmitSee college profile! Learn more about how AdmitSee pays college students for paying it forward to future applicants.