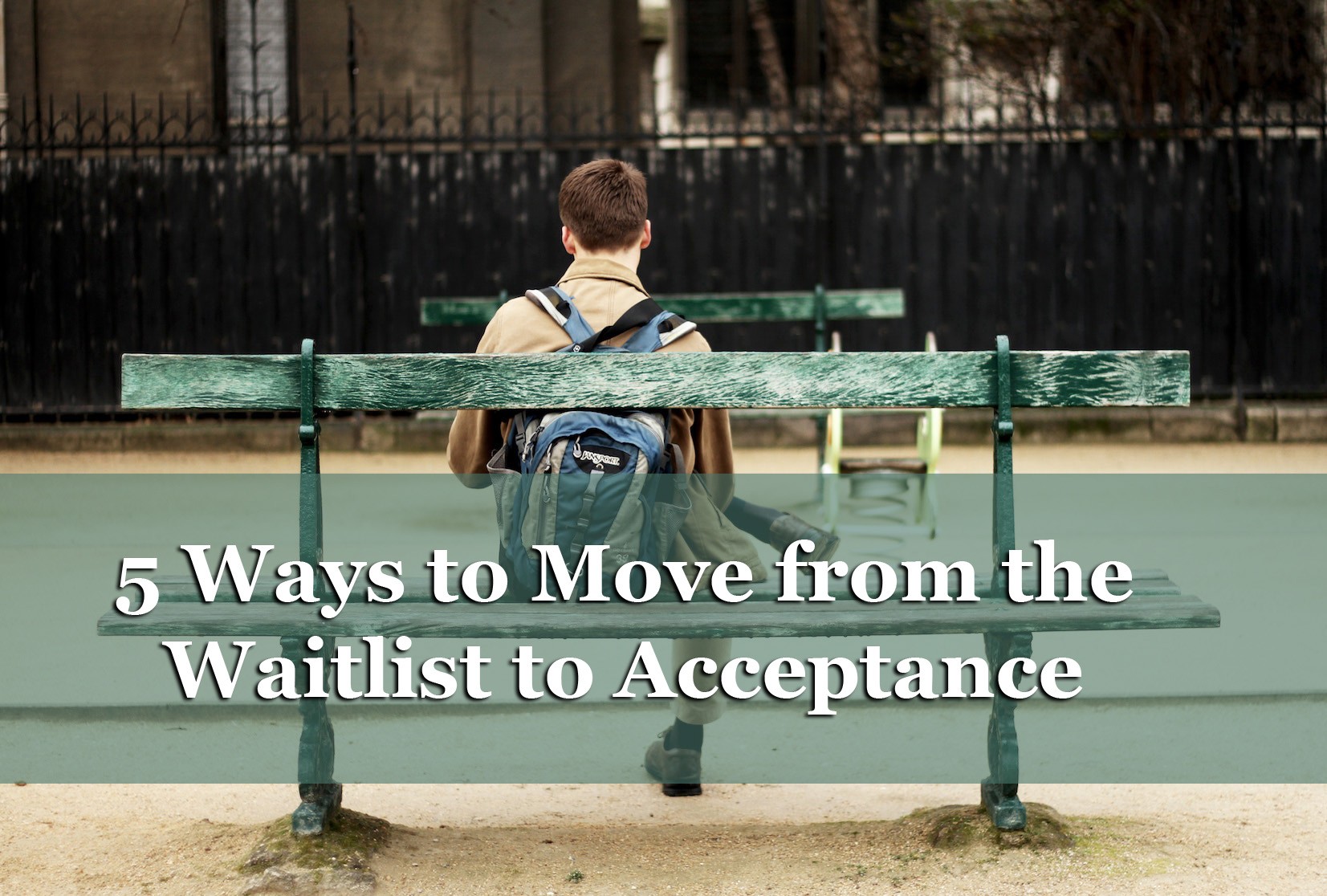 You've probably heard back from most of the schools you've applied to. If you've been accepted by your dream school, congratulations!!! That is a huge accomplishment! But this blog post is not for you. This blog post is for those who've heard back but have been placed in wait list limbo for another month.
Don't worry. At AdmitSee, we've all been through the waiting game. And, if you're feeling up for it, you can still take proactive steps to move from the wait-list to the accepted pile. Here's what our college admits suggest.
1) Letter of continued interest
"If you are deferred or waitlisted, colleges usually look for a letter of continued interest. Find a contact in the admissions office—usually a regional admissions officer—and compose a detailed email introducing yourself, describing your situation, adding any updates since you submitted your application, and explaining why you are still interested in attending the college. It may also help to state why you believe you are a good fit for that college and how you would get involved on campus.
If the college gives you specific instructions about what to do, read them closely! Some colleges don't want additional materials, while others welcome them."
2) Additional letters of recommendation
"Poor Harvard. I sent them ten additional letters of recommendation, two more video art supplements, and most importantly a personal letter that addressed why I want to go to harvard, and why harvard should want me. All of these additional submitted materials made some reference to my skills in the performing arts and how I would be a good fit for Harvard's brand new "Theatre, Dance, and Media Studies" concentration. The letters of recommendation came from teachers and directors that I had worked with across the country. What seemed like an overload of information actually WORKED! They got a very comprehensive understanding of me as a student, performer, and friend. They said that they loved seeing how passionate I was about attending their school."
3) Updates to your accomplishments
"Give a BRIEF (one paragraph) summary of your accomplishments since you submitted your app. If your GPA has increased, then mention that. If you got promoted in your club or received an award, then mention that. But DO NOT write them a full-length essay. Besides the letter, I'd recommend only sending additional material if you have something really significant to share with them, but don't send them stuff they already have with a few slight changes."
4) Additional materials or portfolio
"If you do plan on sending in additional materials, a word of caution: DO NOT send the materials to the school through email. I sent my essay and my teachers sent their letters to the Harvard Admissions Office email only to find out later—much later—that Harvard doesn't open email attachments. So that was bad. Instead, you should upload additional materials onto your student portal and have your recommenders fax them.
Finally, be careful with uploading music/art supplements (whether after getting deferred or in the early round). Your work will be compared with students who are completely invested in that art form, so sending in a rinky-dink painting because mom liked it can actually hurt your application. My rule is that, unless you are majoring/minoring in your chosen art, don't bother to send in a supplement. I mean, I am a paid art instructor that didn't upload artwork and it worked out fine!"
5) Adding a unique personal touch
"After being deferred from Brown, I immediately sent a FIRST update in the form of a handwritten letter to the Dean of Admissions, telling him (in an upbeat tone) why l still loved Brown (the warm, welcoming student body towards a random high school student sitting in on classes & the amazing faculty I encountered during my visit) why Brown was a good fit for me (Open Curriculum, various organizations I would join, college atmosphere), and that I would commit if accepted RD. I got an email back from the dean saying he appreciated my handwritten letter and my experiences with named faculty."
*BONUS: Unlock madisonf's profile to read the actual full letter she sent in to the admissions office.
The key thing to keep in mind with all of these suggestions is to determine whether what you're submitting to the school is truly a value-add to your application or whether it could potentially detract or convolute your application. A letter of continued interest is typically expected from students who feel very strongly about a school. However, everything else is optional. Only submit them if you believe they will substantively make your application stronger. Don't submit materials that reiterate what's already apparent in your application or is a new piece of information that isn't aligned with your application narrative or wouldn't support the type of program you're applying for.
Aside from waiting for waitlist results, this is a great time to learn as much as you can about the schools you've actually already been accepted to. Attend accepted students' weekend. These help you gain a much better idea of what a campus is like and whether you can envision the next 4 years with your fellow classmates. Also use this time to make a targeted list of the factors that are most important to you, so you know what elements to look for if you do visit the school or how to make that final decision before May 1st.
Chat with any of our college students to learn about what THEY love about their schools and/or how they made the decision to attend their school over their other options. You can also reach out directly to the students featured in this blog post to ask them about their waitlist experience!