With spring break and summer vacation on the horizon, it's time to discuss when and how to plan a successful college tour.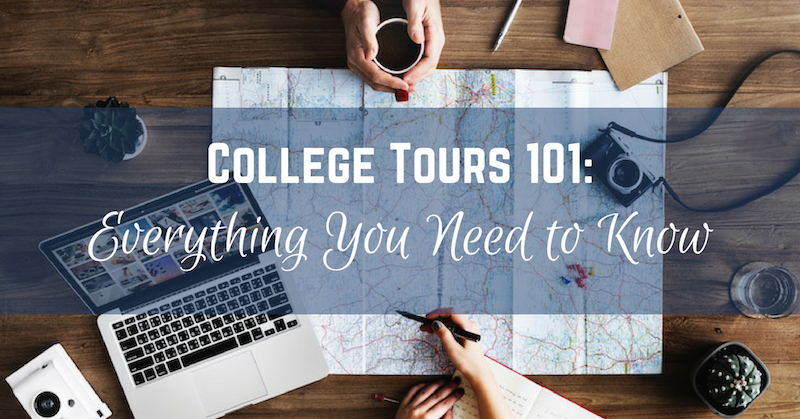 What's a College Tour? What's the point?
Let's start with the basics. The college tour is exactly what it sounds. It's a tour of the colleges you're interested in applying to and attending for 4 years. Depending on how much time and the budget you have, students will typically tour 7-10 schools over a one week period with their school or family.
The point of a college tour is for you to learn more about each school: the programs, the faculty, the student body, and so on. It'll give you an opportunity to speak with the admissions office, as well as current students, to get answers to specific programs and also to just get a sense of what it feels to be a student there.
In short, the point of the college tour is to help you decide which schools to apply to.
Planning the College Tour: The List
To do the college tour, you'll need a list of colleges. So, how do you come up with this list? Start with looking at a list of physical attributes of a college:
Enrollment Size: Do you care how big your graduating class will be? Small (~1,000), Medium (~5,000), Large (10,000+)?

Location: Does the geographical location matter to you? Just east coast? Or are you willing to consider schools in the Midwest? Do you want to be close to home?

Weather: Do you mind the cold? Do you want to experience the four seasons? Or do you want beautiful weather all year round?

Greek Life: Want to see what Greek Row is like? Is it integral to your college experience?

College Sports: Do you want to go to a college with competitive sports? Ohio State for Football, or Duke for Basketball?

Campus Setting: How vibrant do you want your off-campus environment to be? Think urban, suburban, or rural.

Campus Size: Do you want a campus? Do you want to be able to walk across across easily to get to class? Do you mind needing a car or campus shuttle to get to class?
Since you'll be physically visiting these colleges, it's a great opportunity for you to find out how much you care about these factors. Are there are any that you have a strong opinion about? Let me give you two examples:
Example 1: I want to go to school on the east coast. I don't care about college sports. I think I prefer to have a campus. The rest I'm not too sure about.
Georgetown University
Johns Hopkins University
University of Maryland
University of Virginia
Amherst College
Boston University
Boston College
For students similar to example 1, this is a list I'd recommend to help them narrow down their college list. Of course, keep in mind there's a lot of other factors to consider when choosing a college, but here's what's interesting about this list and helpful when it comes to a college tour.
DC vs. Baltimore: Georgetown and Johns Hopkins are relatively about the same size and are both urban universities. The main difference is the city it's in, which of course adds to the culture it embodies. You might not realize it yet, but the city you're in or neighboring might also have an influence on your choice.
State schools: UMD and UVA are both in college towns, which have their charms. You're able to juxtapose that with bigger cities Georgetown and JHU are in, as well as how comfortable you are with the size of a school.
Enrollment Size: Boston College and Boston University are both in Boston. Main difference is their size. While Boston University is bigger than Boston College, it's also much smaller in comparison to UMD and UVA. Seeing all the different sizes will help you figure out which one fits you best.
Urban vs. Rural: Once you've visited the schools in Boston, make your way to Amherst. Are you excited to leave the city behind? Or does it give you anxiety?
Example 2: I think I'm interested in a small-medium college, definitely with a campus. I'd like to go to school on the coasts, but not sure about campus setting or size.
Pomona College
Occidental College
University of Southern California
Pepperdine University
Northeastern University
Babson College
Brown University
Wesleyan University
If you already have a few requirements, then start from there! Similar to example 1, choose schools that already match your requirements but are different in areas you're still not too sure about.
West Coast Schools
Start with the Claremont Colleges: There are 5 colleges you can explore: Claremont McKenna, Pomona, Harvey Mudd, Scripps and Pitzer. You don't have to go to the information session for all 5 colleges, but walk around and see what the Claremont Colleges offer. They are all right next to each other!
Campus Size: Both Occidental College and USC are both in Los Angeles. USC is closer to downtown and is much bigger than Occidental. Since they are in the same area, it's a great way to compare the two and see which one you'd prefer.
Oceanside: The perks of going to college by the coast is your access to the water. Of course, the weather on the west coast will be far superior, and can certainly be part of the consideration. Visit Pepperdine in Malibu! It's close enough to LA to give you the city life that you may want, but can also give you immediate beach access whenever you want.
East Coast Schools
City vs. Suburb: Visit Northeastern and Babson to get the comparison. Northeastern has a campus of its own in the city of Boston, while Babson is a 30-40 minute car ride from Boston. Babson is located in the suburbs and doesn't offer the same hustle and bustle that Northeastern does by being in the city. See which one is for you!
Providence vs. Middletown: Now we're getting further away from the big metropolitan cities and moving towards smaller cities. They might all be the same to you, but the differences might also be not as appealing.
These two examples and the corresponding college lists help you visualize and understand what you should be looking for and comparing when you go on your college tour. Pick schools that are different in areas you're not sure about and it will help you decide how important they are to you. Again, don't just look at the physical attributes of a college! There are also many other factors that you should also be thinking about that'll help you narrow down the list.
Map Your College Tour Route
Once you have a tentative list of schools you want to visit, map your route. It's probably the most cost efficient to do a college tour road trip, especially if your the colleges you're visiting are all in the same general area.
If there are a few that are out of the way, consider dropping them from your college tour list. Is there already a similar school on your list? Be judicious about the which schools you visit. Unfortunately, you are unlikely to have the time to visit all the schools you want to go to. Having said that, remember, trust your gut! If your top choice is a little out of the way, insist and go visit. You can always switch some of the other schools on your college list around to fit it in.
Do Your Research & Schedule Campus Tours
Again, this is about how to make this a successful college tour. Don't turn up to one to your college visit without doing any research. This is your chance to go check out the departments you're interested in and visit parts of the campus you've heard about.
As you're doing your research, register for your campus tour and information sessions. It's definitely helpful to have a guide to show you around. It's also an opportunity for you to ask questions you can't find answers to online.
The college tour is usually really tightly scheduled. As much as you try to stick to your schedule, it may not work out as you planned and that's okay! Once you've made it on campus, you can always grab a campus map from the admissions office and learn about the school on your own. The admissions office will also be happy to answer any questions.
How do I "know"?
It's difficult to explain in words, but there will be colleges you visit you feel really strongly about. Call it a gut feeling where you're like "I can definitely see myself being a student here", or simply "it feels like home". That's the magic of visiting college campuses. Of course, this happens as you are absorbing information about the school, so the more you hear that align with you priorities, the more excited you'll get.
Similarly, you might get the "I never went to go here" feeling. Don't discount that. Even if all of your other priorities check off, there's something about the school or campus that didn't feel right to you. Stick to your gut and what it tells you.
Our premium plans offer different levels of profile access and data insights that can help you get into your dream school. Unlock any of our packages or search our undergraduate profile database to find specific profiles that can help you make an informed choice about where to apply! We have 60,000+ successful college application files uploaded by college students. See how they got in, and how you can too!