Georgia Institute of Technology, or more commonly referred to as GT, is a public university located in the heart of Atlanta, GA. Though well known for its strong college football program, GT has a lot more to offer and a lot of history behind it. Don't know what they are? Here are 10 fun facts about Georgia Tech you need to know!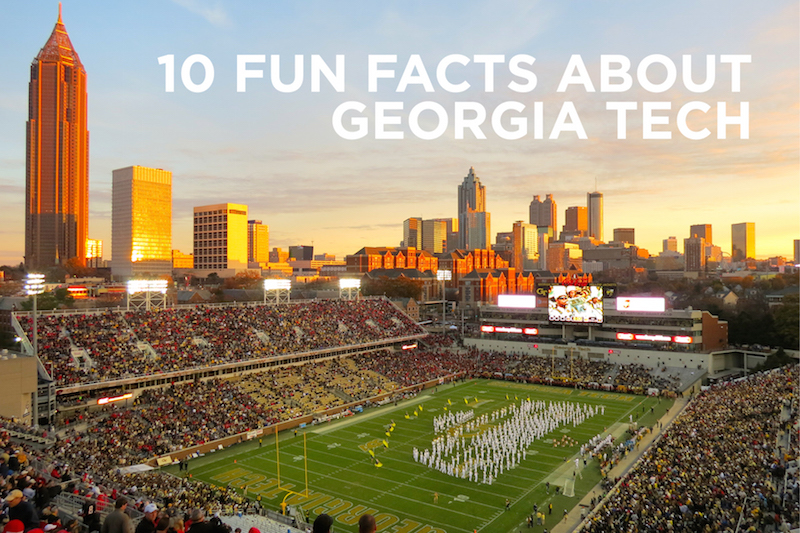 1. Can you believe it's only been 64 years since women were first accepted to Georgia Tech in 1952?
2. GT's world famous fight song, "Ramblin' Wreck" is inspired by an old folk ballad called The Sons of the Gamboliers.
3. GT's campus was the site of the official olympic athlete village for the Atlanta Summer Olympics in 1996.
4. In 1961, the Ramblin' Wreck car made its first appearance and led the football team on to the field for the 1st time. The vehicle is a 1930 Model A Ford that was donated to the school by Capt. Ted Johnson.
5. There's actually more than one Ramblin' Wreck: one for Homecoming games, one for Alumni events, and at the Georgia Tech Hotel lobby.
6. Today, there are 26,806 undergraduate students enrolled at GT. Can you believe the first class in 1885 only consisted of 84 male students?
7. Think you'll escape the bell after high school? Georgia Tech's campus has a steam whistle that blows 5 mins to the hour to end classes on Mondays, Wednesdays and Fridays, with a different schedule on Tuesday and Thursday.
8. GT has a lot of great history. During the Civil War, the surrender of Atlanta took place where Georgia Tech is currently located.
9. Home to the GT Yellow Jackets, the Bobby Dodd Stadium at Historic Grant Field is the oldest used on campus site for college football in the South. It was built in 1913.
10. If you're a current freshman, you'll know what RATS week is. RATS is short for "Recently Acquired Tech Students" and is a week of orientation events for first years.
Are you looking to apply to Georgia Tech or just starting to build out your college list? Make sure to search through profiles of students accepted to see essays, stats, and advice. See how they got in, and how you can too!