Located in Vermont, Middlebury College is one of the top liberal arts colleges in the US. It was ranked the 4th best liberal art college in the US, but what about the school really attracts its students to campus? Check out these 10 fun facts about Middlebury and learn more about its history and culture.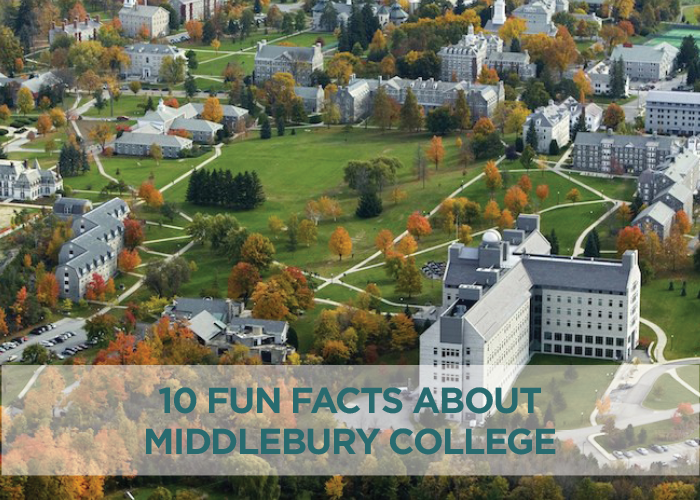 1. How much do you love skiing? Because Middlebury has it's very own ski slope. The Middlebury College Snow Bowl is owned and operated by the college.
Bonus fun fact: It's the only other college-owned ski areas in the US. The other is owned by Darmouth College!
2. Middlebury was formerly an all-male liberal art college. It was one of the first in New England to become a co-educational institution in 1883.
3. Watch The League? Did you know Jason Mantzoukas (Rafi) went to Middlebury? He started his career at Otter Nonsense Players, an improv comedy group on campus.
4. All these actresses seem to have one thing in common - a degree from Middlebury! Anna Belknap from CSI:NY, Kristen Connolly from House of Cards, Cassidy Freeman from Smallville.
5. It shouldn't be surprising that Middlebury has also attracted a lot of Olympic skiers to their campus. Hedda Burnsten ('99), Dorcas Denhartog ('87), Simi Hamilton ('09), Andrew Johnson, and Garrott Kuzzy ('06) were all part of their country's' Olympic team.
6. Painter Hall of Middlebury College is the oldest college building in Vermont and was built using entirely by donated materials!
7. Legend has it that the Panther mascot was chosen after a local merchant hosted a contest to choose the symbol in 1922. Though many Middlebury students would like to change the mascot as it has little connection with the actual school.
8. A fan of The Bachelor? Tessa Horst, winner of Season 10, is a graduate from Middlebury's Class of 2003!
9. Alexander Twilight is the first African American to graduate with a bachelor's degree in the U.S. at Middlebury College.
10. Ice sculpture competition at the Middlebury Winter Carnival used to be incredibly intense and each fraternity would participate in making complex sculptures.
Are you looking to apply to Middlebury? Make sure to search through profiles of students accepted to see essays, stats, and advice. See how they got in, and how you can too!