Located in upstate New York, Syracuse University is basically 2 hours from anything and always covered with lots of snow. So, what's new? I'll tell you what's new. In fact, I'll tell you 10 new things.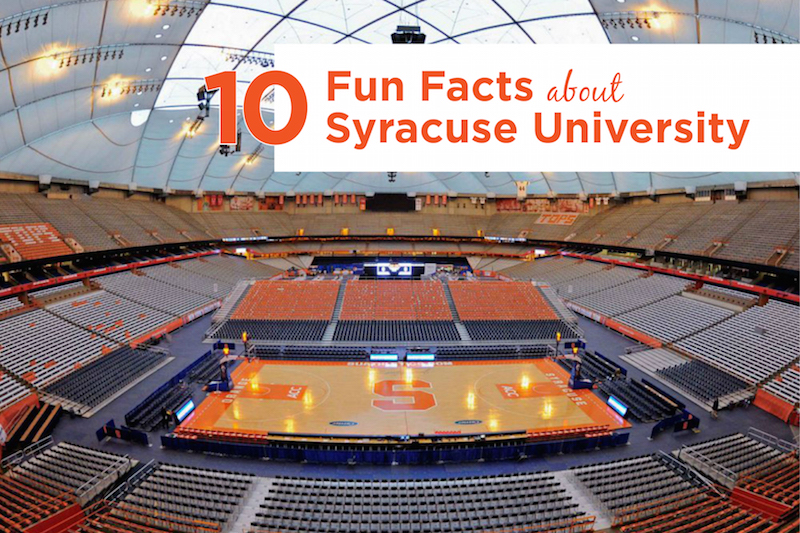 1. Syracuse has the largest snow plow in the world. Average snowfall is over 110 inches every year, a normal one won't do!
2. Ernie Davis was the first African American to win the Heisman Trophy in 1961 and was inducted into the College Football Hall of Fame in 1979. Yep, he went to Syracuse University.
3. 2 time Olympic gold medalist, 8 time NBA All Star and 6 time All NBA selection Carmelo Anthony is a Syracuse alumni. He brought Syracuse the NCAA 'ship in 2013 and won the Most Outstanding Final Four Player award that year.
4. Carrier dome - home to the Syracuse basketball, football and lacrosse teams - is the largest domed stadium of any college campus. In fact, it's the largest domed stadium in the Northeast!
5. If you stand in between the columns of the Dome and jump up to stomp really hard, the sound vibrates off of the walls and make a really cool sound. It's hard to describe, but it sounds like you're standing in the middle of a Star Wars battlefield - light sabers and laser beams.
6. Speaking of big movies, Aaron Sorkin, screenwriter of hits like The Social Network, The West Wing, Moneyball and Steve Jobs is a Syracuse alumni. Not bad, eh?
7. Vice President Joe Biden is also an alumni from Syracuse University College of Law.
8. Syracuse University has been supporting the rights of, and opening doors for, their female students since 1857. Famous alumnae include Belva Ann Lockwood, the first woman to argue before the Supreme Court, and Sarah Logeun, the first African American woman in the U.S. to become a certified doctor.
9. The famous Dinosaur Bar-B-Que started in Syracuse NY and now has 9 additional locations throughout the northeast.
10. Syracuse has the longest running, and the most fun, State Fair in the country (which started in 1848). Ok the "most fun" isn't factual, but it definitely should be - who do we talk to about that?
Are you looking to apply to Syracuse? Make sure to search through profiles of students accepted to see essays, stats, and advice. See how they got in, and how you can too!