Thinking about applying to Texas A&M? Well before you take a look at our successful college profiles from Texas A&M, you should learn just a little more about the school and it's history! Check out these 10 fun facts about Texas A&M University.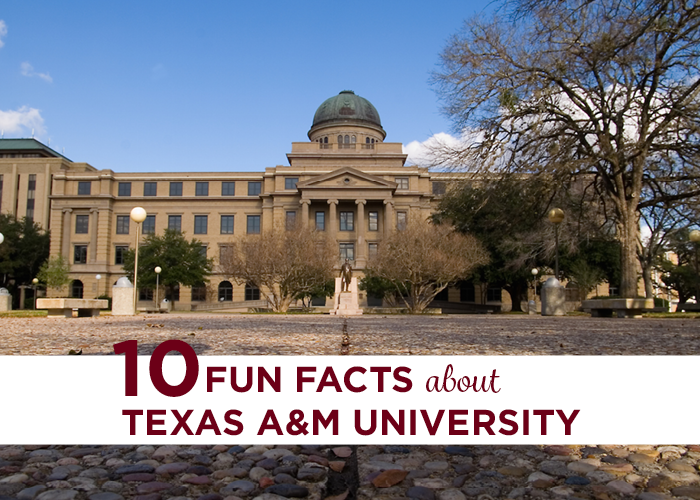 1. Did you know Texas A&M has a real life dog mascot? Reveille is a Rough Collie that's been around since 1931!
2. Most people don't know that Texas A&M is actually the oldest higher education institution in the Texas. It was founded in 1876.
3. Reveille holds the highest ranking of the Texas A&M Corps of Cadets, a student military organization.
Bonus fun fact: Corp of Cadets is Texas A&M's oldest student organization.
4. All Reveilles (there are now 9) are all buried at the North end of the Kyle Field football stadium so their bodies always face the scoreboard.
5. Texas A&M's football stadium, Kyle Field, is the tallest structure in College Station.
6. Jason Castro from Season 7 of American Idol was a junior at Texas A&M studying Construction Science. He placed 4th that year!
7. It's a campus tradition to put a penny on the foot of the Sul Ross statue for good luck on their exam.
8. Texas A&M's football team has a 12th man tradition that dates back to 1922, when a former football player stood at the ready to help his teammates.
9. The Big Event, which is appropriately named, is the largest single-day event with over 20,000 student pitching in to participate in community and service.
10. Texas A&M has a Midnight Yell pep rally every year, where the lights are turned off for a period and students kiss their date in the dark! If you don't have a date, you flick a lighter to signal other singles.
Are you looking to apply to Texas A&M? Make sure to search through profiles of students accepted to see essays, stats, and advice. See how they got in, and how you can too!