The California Polytechnic State University San Luis Obispo is home to some of the most unique places that California has to offer. See why famous companies like Urban dictionary and Jamba Juice were founded by students attending Cal Poly SLO!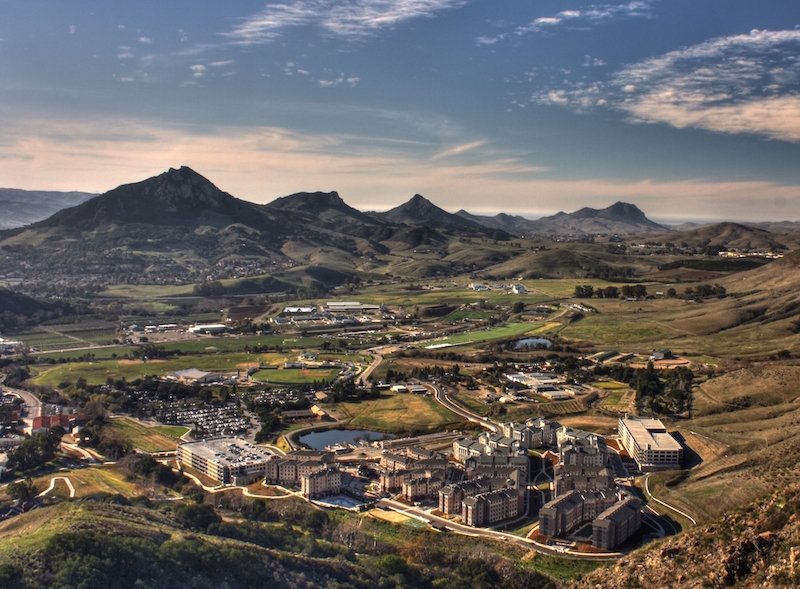 In 2013, a Cal Poly alumnus donated a live horse named Chase to serve as the Cal Poly mascot.

On a hillside next to Cal Poly there is a white concrete "P' on the side of the mountain. It is a long standing tradition for students during the school year to decorate the P to spell out messages like names of clubs, fraternities, and sororities.

The palm theatre located in San Luis Obispo is the first solar powered theatre in the United States.

San Luis Obispo is home to the famous tourist attraction, Bubblegum Alley, a walkway 70 feet long and 15 feet high with millions of pieces of gum lining the walls.

The hike up Serenity Swing is a Cal Poly favorite. So much so that students set up a trampoline at the end of the trail for more instagram moments.

On Saturdays from 10AM - 1PM, the crop fields are open for U-pick hours where students can pick crops that the Horticulture and Crop Science students grow on campus.

The famous smoothie joint, Jamba juice was actually founded in SLO. Formerly known as Juice Club, Jamba Juice started as a senior project by a group of Cal Poly and Cuesta students in 1990.

Aaron Peckham a former student at Cal Poly started the website, Urban Dictionary as a freshman and it has since become one of the largest crowdsourced online dictionaries that has every new word or slang term.

John Madden a former NFL player, Super Bowl winning coach of the Oakland Raiders, and former NFL commentator, graduated from Cal Poly in 1961.

You can't attend Cal Poly without going to the farmers market on Thursday nights where many college students go to eat dinner, get fresh fruits and vegetables, and hang out with friends.
Are you looking to apply to Cal Poly or just starting to build out your college list? Make sure to search through profiles of students accepted to see essays, stats, and advice. See how they got in, and how you can too!