Do you know why The University of Oregon's athletic equipment is all sponsored by Nike? Find out why Phil Knight, the co-founder of Nike, chose to attend this beautiful school in Eugene, Oregon.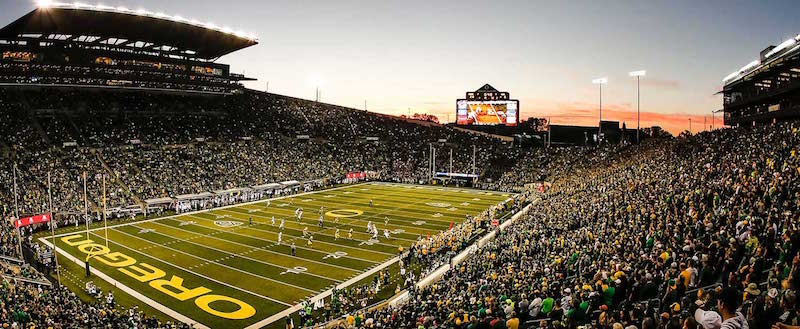 1. The University of Oregon is the only university that has a Disney character mascot - Donald Duck!
2. Phil Knight, co-founder of Nike, earned a journalism degree at UO in 1959. He later then co-founded Nike with his then track and field coach, Bill Bowerman, in 1978.
3. Since the founder of Nike is an Oregon alum, all of their sports apparel are sponsored by Nike and as of December 2012 a physics professor calculated that Oregon Football had 9,984 different uniform combos.
4. Ty Burrell who plays Phil Dunphy in Modern family studied theatre at the University of Oregon in 1987.
5. The Historic Hayward Field is one of the most famous track and field- only facilities in the world. They have hosted the US olympic trials 5 times and is the only field to host three consecutive Olympic team trials.
6. The football rivalry between the Oregon Ducks and Oregon State University Beavers is the 7th oldest rivalry in the nation. They end each regular season in late November with the "Civil War" rivalry game.
7. The University of Oregon has a liberal arts honors college that only accepts 17% of its applicants.
8. Interested in sports marketing? The University of Oregon has the number one program in the country.
9. With a total enrollment of over 24,000 students, it comes as no surprise that the student body includes students from all 50 of the United States, the District of Columbia, two U.S. territories, and 102 countries around the world.
10. Despite having one of the best football programs in the nation, University of Oregon has never won a national championship.
Are you looking to apply to Oregon or just starting to build out your college list? Make sure to search through profiles of students accepted to see essays, stats, and advice. See how they got in, and how you can too!