Located in Seattle, WA, University of Washington is one of the oldest universities on the West Coast. Did you know what was first invented on the UW campus? Read these 10 fun facts to find out!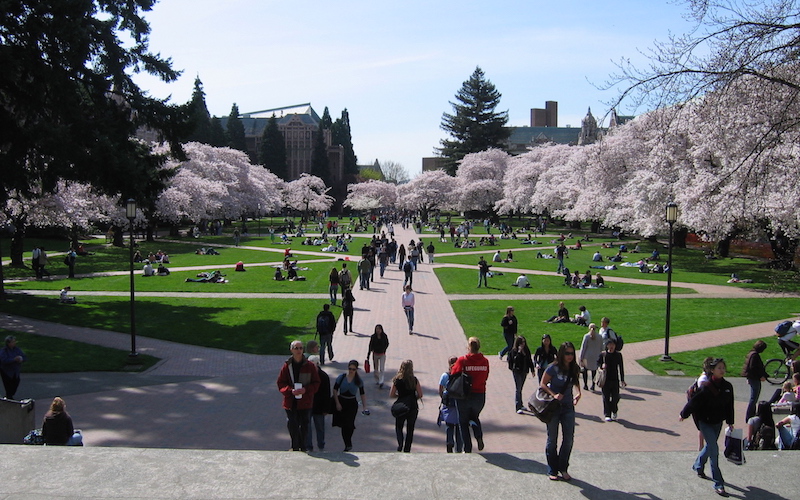 1. UW is a hub for innovation - bubblegum, vinyl, synthetic rubber and the color TV tube were all invented on campus!
2. The University of Washington football team played its first collegiate opponent — Stanford — on Dec. 29, 1893, losing 40-0 before 600 spectators in West Seattle.
3. Through 2009, 237 football players have gone on to play at the NFL after playing college football at the UW.
4. UW has also produced a few comedians, including Rainn Wilson from the Office, who later transferred to NYU, and Joel McHale, from Community, who graduated in 1995 with a Bachelor of Arts degree in History.
5. The famous martial artist, Bruce Lee enrolled in 1961 and met his wife, Linda Emery, at University of Washington. He later dropped out.
6. The process that brought us color television was invented by UW alumnus Willard Geer, a 1927 physics graduate.
7. Founded in 1861, University of Washington is one of the oldest universities on the West Coast in the U.S.
8. UW has always been known to have strong football program. The most players drafted out in one year is 11, and this was done twice in 1984 and then again in 1992.
9. You know the Wave you do at sport stadiums? The idea was first developed in 1981 by Robb Weller, '72, a former UW yell leader, and Bill Bissell, the Husky Marching Band director.
10. UW's college football fans are on another level. In fact, the Husky Stadium has the record for having the loudest game in college football history: 130 decibels in 1992 against the Nebraska Cornhuskers.
Are you looking to apply to University of Washington or just starting to build out your college list? Make sure to search through profiles of students accepted to see essays, stats, and advice. See how they got in, and how you can too!