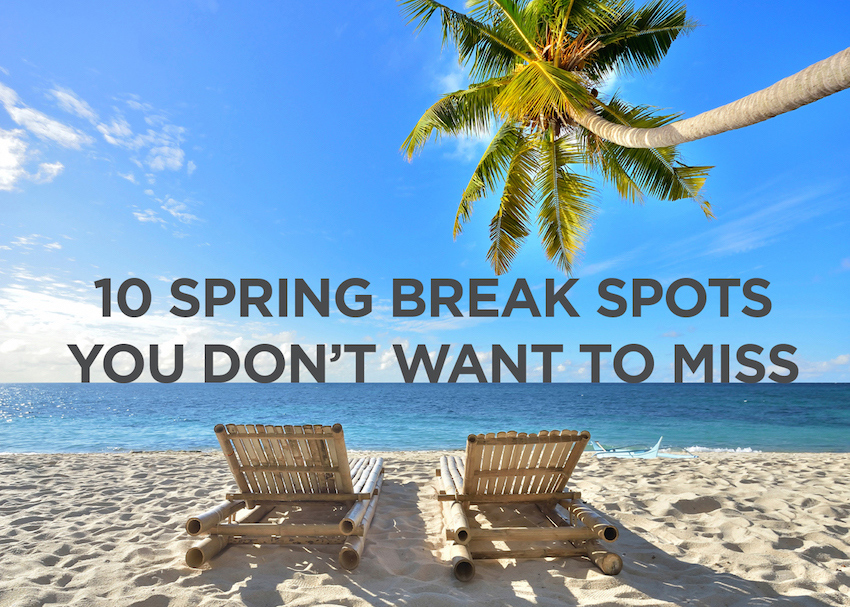 Spring Break is coming up quickly, and there are, undoubtedly, many of you who haven't quite planned your vacation yet. You're not alone - a lot of students wait until the last minute to figure it out. We decided to help out and give you a few places to look into for your time off. In no particular order, the 10 places you should go for Spring Break:
Austin, TX. Austin might not be the first place that comes to mind when you think Spring Break 2016, but give it a chance. It's home to one of the best music scenes in the country, with big names and local artists alike constantly stopping through town. Great food, fun nightlife, and warm weather make Austin an underrated spot to check out.

Nassau, Bahamas. If you want the international beach resort life, look no further. The Bahamas are a quick flight from Miami and will give you the opportunity to lay in the sun while truly enjoying break. Plenty of college students head to the many beachfront hotels and resorts, so there's sure to be plenty to do.

Miami, FL. Speaking of Miami, no list of Spring Break spots would be complete without including one of the most famous destinations in the US. You'll have absolutely no problem finding something to do during the day, and you'll have even less to worry about at night. Beaches, warm weather, and fun. Lots of fun.

San Juan, Puerto Rico. If you're looking for something a bit different than the normal Spring Break trip, head to San Juan. The city has great history to learn about, and you'll have every chance to enjoy beach weather and good food. The cobblestone streets of Old San Juan contrasted by the more modern New San Juan make for an interesting vacation, one that you likely won't forget anytime soon.

New Orleans, LA. Home to Mardi Gras and crazy parties, New Orleans is definitely a place to consider for Spring Break. The city itself has a unique culture of food, music, and partying in the streets. They're not afraid to have fun, and will invite you to join them. The best part? New Orleans is pretty easy to get to, no matter where you're coming from. It might be hot and humid, but it'll be worth it to have a great time.

Cancun, Mexico. Another city that simply cannot be left off of a Spring Break list is Cancun. This Mexican spot has been one of the most vibrant Spring Break destinations for decades, as tourists head to see the beautiful beaches and experience the crazy nightlife.

Kingston, Jamaica. Some of the best Spring Break vacations are the lesser known travel destinations. Kingston (or any stop in Jamaica) definitely falls into this category, since it's not exactly a place that a lot of people would suggest. You still get the wonderful beaches, great weather, and interesting people that you would in other places, but in a more relaxed setting. Of course, you can still find great nightlife, but surely less populated.

Las Vegas, NV. No explanation necessary.

Cabo San Lucas, Mexico. Over four years in college, plenty of college students will get to Cabo at least once. Spring Break in Cabo essentially turns into a bathing-suit-filled weekend that's one long party. Most people can't last in Cabo for longer than a few days, but it usually ends up being the highlight of that year.

South Padre Island, TX. One of the most unique Spring Break spots on the list is definitely South Padre Island. Turns out, this skinny stretch of island is one of the more popular places to go for Spring Break. You'll likely meet plenty of students from other schools, since there isn't actually that much space on the island itself.