To celebrate the holidays and the end of the year, team AdmitSee presents you with the 12 Days of AdmitSee fun facts! We want to express our appreciation to all high school and college users who use our platform, and share some helpful admissions data trends to help you get into your dream school. Take advantage of this last week, and perfect your applications.
Is it even 12 Days of Christmas if there are no gifts? Take 57% off our annual premium plan! Save $40 and subscribe now. It's the last deal of the year, and certainly something you don't want to miss out on.
Day 1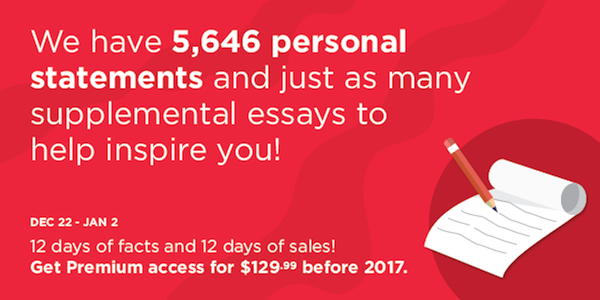 You can read all of the application essays in our database! Filter by school, essay topic, GPA and more.
Day 2

See the differences in essay topics on our packages page. You'll find packages of our AdmitSee profiles carefully curated by admissions experts, by school attended and by similar essay topics.
Day 3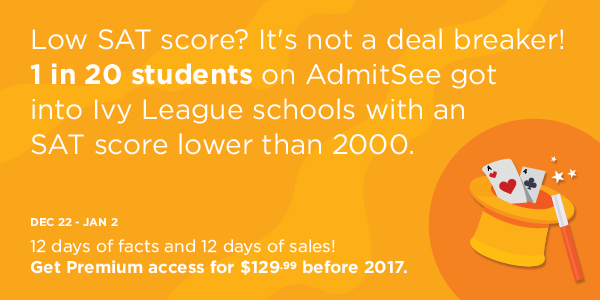 Don't believe us? See for yourself in our data insights chart. Not only can you see the score ranges of students who got accepted into specific schools, but you can also see what extracurriculars they did and read their application essays.
Day 4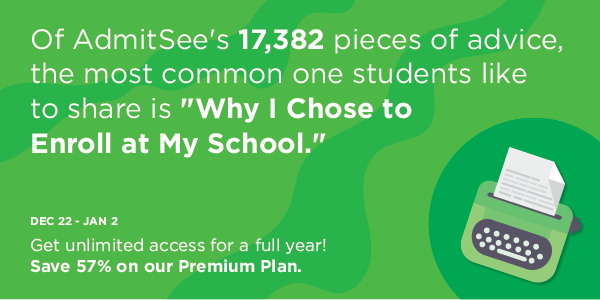 Getting accepted is the hard part, but choosing where to go after isn't that much easier. When you have to weigh the benefits of location, academics and cost, the decision can be tricky, which is why almost all of our college users have shared why then enrolled the school they're at.
Day 5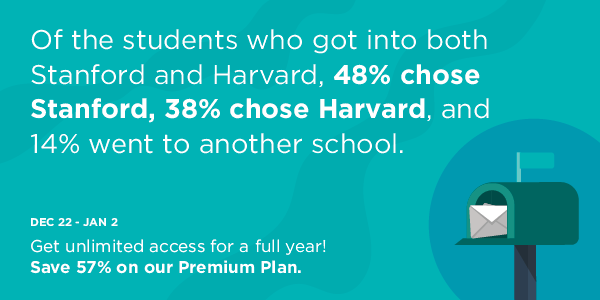 There seems to be a life long rivalry between Stanford and Harvard. What is your pick? The top university on the West Coast or East Coast? From AdmitSee's data, there seems to be a preference for Stanford! If you're trying to decide which school to go to, this data insights chart might be helpful to you.
Day 6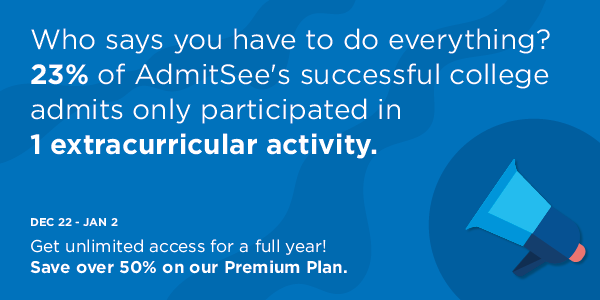 Showing you are passionate about one extracurricular activity can go a long way, and our college admits are examples of that. Search our database of college applications to find students with similar resume and background!
Day 7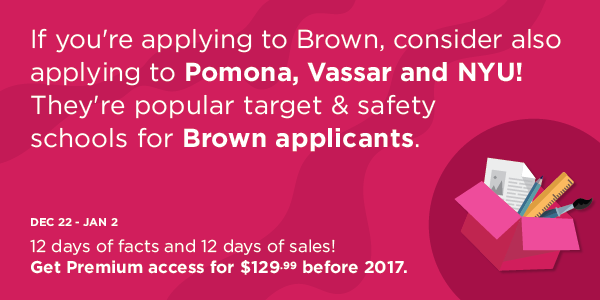 Coming with a list of colleges is not an easy task. Once you've nailed down the top priorities you look for in a school, how do you find all the schools that match the list? Well if you know a few schools you really want to apply to, we have the tool to help you figure your list out. Take advantage of the research other people who applied before you have already done.
Day 8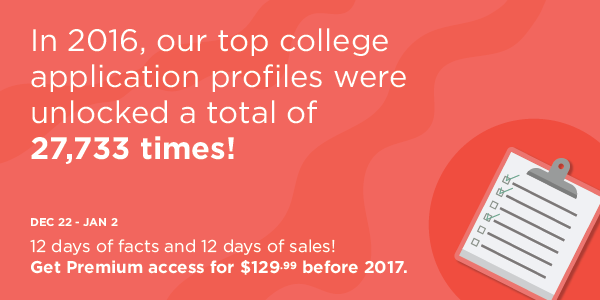 So many other college applicants are taking advantage of AdmitSee's database to help them craft their best college application. Use your
free unlock
and see why applicants want AdmitSee by their side during the application season.
Day 9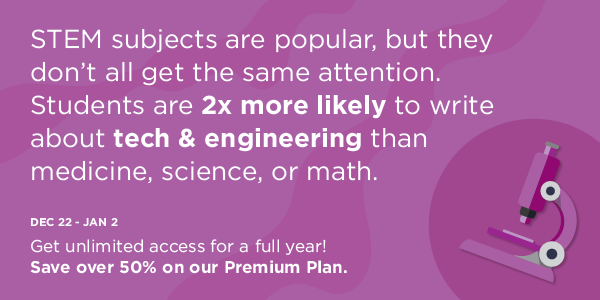 Want to read some STEM oriented personal statements? We've curated packages centered around interest in STEM majors, and more!
Day 10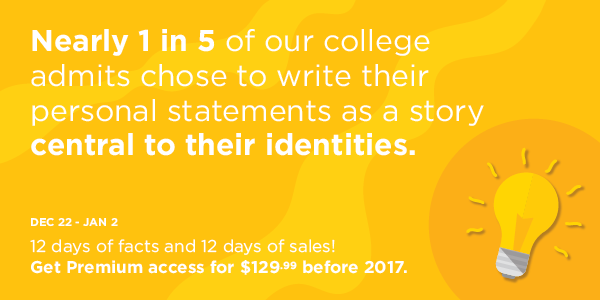 It's no surprise that's the most popular essay topic when it comes to the personal statement. Now you can see individual essays and see how they stand out from their crowd. Or, how they used their personal statement to tie the rest of their application together.
Day 11
See what our users know about
liberal arts colleges
that you don't! You don't want to be the only one with FOMO.
Day 12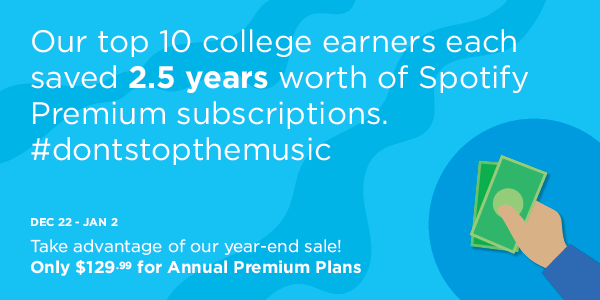 Hey, College Admits! We haven't forgotten about you. in fact, thank you so much for sharing your application journey with AdmitSee and all of our users. We hope to see more of you on our platform soon!
Bonus!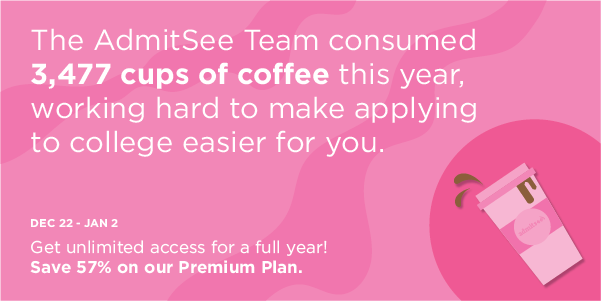 We promise to drink even more coffee and work even harder to bring you a better AdmitSee platform in 2017!
—
Stay tuned for more!