Aliyah is currently a student at California State University, Los Angeles and the first in her family to attend college.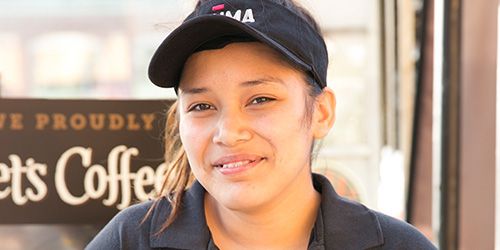 Juma Ventures offered her an opportunity to work as a vendor at AT&T Park, home of Major League Baseball's San Francisco Giants, when she was just 15 years old. What Aliyah expected to just be a job turned into much more with Juma's focus on providing her with financial literacy support, college savings, and academic mentorship:
"Initially, I thought it was just about getting a job. But when they started talking about how Juma could help us with financial literacy and saving up for college and provide mentorship, I thought a person like me really needs to be in a place like this. I had just transferred to Galileo High School. I was bullied at my previous school, was timid and shy, and for the most part, I kept to myself. Through Juma, I learned how to make friends with the right people, how to think for myself, how to study and how to set goals. I didn't have a lot of goals for myself before because I didn't think the way I think now. Being around positive people definitely helps to change your mindset."
Support Juma and make a difference today with AdmitSee's #12ReasonsToGive campaign. Create an AdmitSee profile and we'll contribute to Juma's program from now until Christmas Day. Together, we can help Juma pave the way to work, education, and financial capability for more low-income youth like Aliyah across America.