Pokemon Go is taking over our lives. There is no use in trying to deny it. See these 13 tweets that show how this trending virtual reality game is taking over the lives of American people.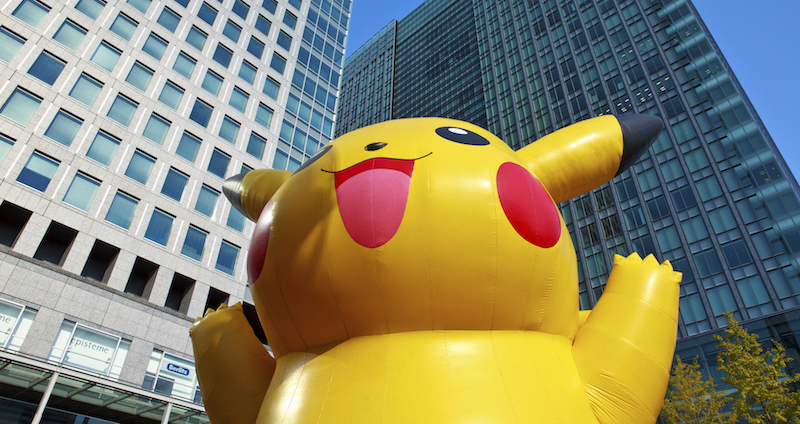 Some law enforcement officers are even worried for the safety of the American people.
Warning: Gamers using #PokemonGO - Don't get so engrossed you aren't aware. Heads up, phones down. #BeSafe

— Wood County Sheriff (@woodctysheriff) July 13, 2016
Ha! Just saw this over I-43 in Milwaukee. #PokemonGO pic.twitter.com/ForpzScz0W

— Mike De Sisti (@mdesisti) July 13, 2016
Meanwhile others are a bit more encouraging…
west hollywood cops on bikes telling crowds of people which direction to walk for certain pokemon, try telling me #PokemonGO isn't beautiful

— Tyler Oakley (@tyleroakley) July 13, 2016
This is getting out of control #pokemongo pic.twitter.com/9ceuokcIh6

— Pokemons (@getpokemons) July 12, 2016
Some people even say that the app is driving insane amounts of sales.
#PokemonGO is pretty big—just look out a window here in SF. But for business owners, it's helping drive sales. https://t.co/44TmMeZs5P

— Square (@Square) July 13, 2016
For those who have never have the inclination to get out of bed… Pokemon go is now a motivation factor.
There may be days where it's difficult to get out of bed, but now there's #PokemonGO so get up and try to be the very best

— Grayson Burger (@pirategrayson) July 13, 2016
Could Pokemon finally be the motivation for Americans to get some exercise?
I've walked an avg of 4.2 miles a day since PokemonGO came out. This is an addiction I can get used to!

— RivingtonBisland III (@RivingtonThe3rd) July 12, 2016
However there are appropriate times to play and sometimes not so much…
My intern caught this at the Texas Supreme Court. Correction: *former* intern.#PokemonGO #SCOTX ⚖ pic.twitter.com/Xn4eIrq0hX

— Justice Don Willett (@JusticeWillett) July 12, 2016
It could be said that people are putting a little too much effort into this…
People out here looking for imaginary animals, harder than they look for jobs!! #PokemonGO

— Dré Flex (@dabesdrummer) July 13, 2016
There are some definite haters..
Things I hate: 1. People with Pokemon Go

— Aqueel Majied (@AqueelMajied) July 6, 2016
But come on how bad could getting outside to catch virtual characters really be?
How #PokemonGo is improving mental health https://t.co/EP6Qvv7B0g More time outside is one benefit! pic.twitter.com/GjPlh4aQXM

— MotherNatureNetwork (@MotherNatureNet) July 13, 2016
Pokemon go could even create new jobs.
30 years ago: Don't get into cars with strangers. Now: Pay strangers to drive you around to catch Pokémon.https://t.co/lx4q9A9FpL

— Polygon (@Polygon) July 12, 2016
But most of all which team are you really on…?
Who are you?#PokemonGO pic.twitter.com/vdnwX71Mim

— **** Valor (@FuckValor) July 12, 2016