At AdmitSee, we believe that getting accepted to college is more art than science, but analyzing millions of unique data points gathered from our application file database turned out to be an incredible exercise. Here, we look at how men and women differ in how they approach their college application essays.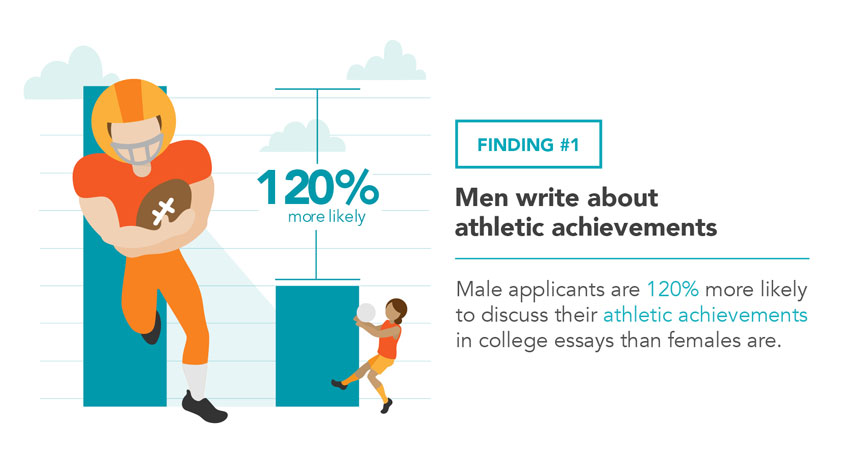 Boys are much more likely than their female counterparts to make their athletic achievements the focus of their college essays. One reason for this may be that sports are a more popular extracurricular amongst male applicants. Or, we can attribute it to inherent systemic biases in which society has higher expectations of athletic achievement for boys than girls and, consequently, athletic excellence is more ingrained as an identifying characteristic for men.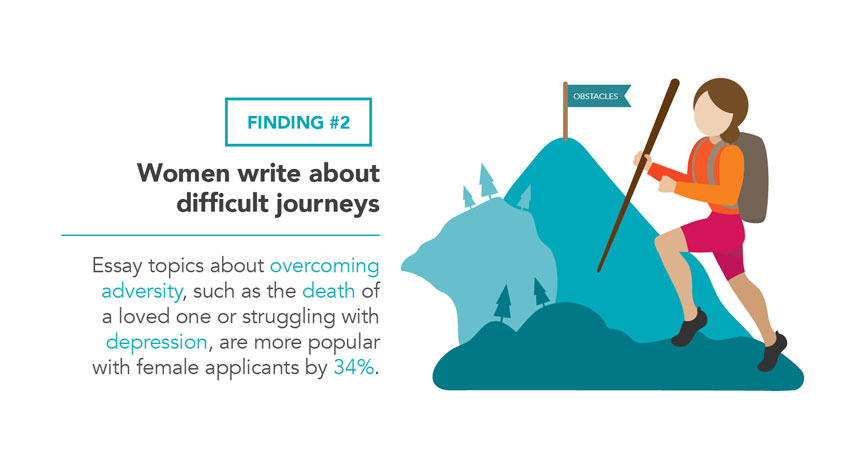 Women are 34% more likely than men to discuss facing and overcoming adversity as the main theme of their essays. These obstacles include personal disabilities, family financial obstacles, mental health issues, and the death of a loved one. These essays emphasize the process of surmounting hardship and subsequent lessons learned. The emphasis on the journey may be a reflection of gender differences in learning: growing up, girls are better at synthesizing and contextualizing information and more adept at critical evaluation. Conversely…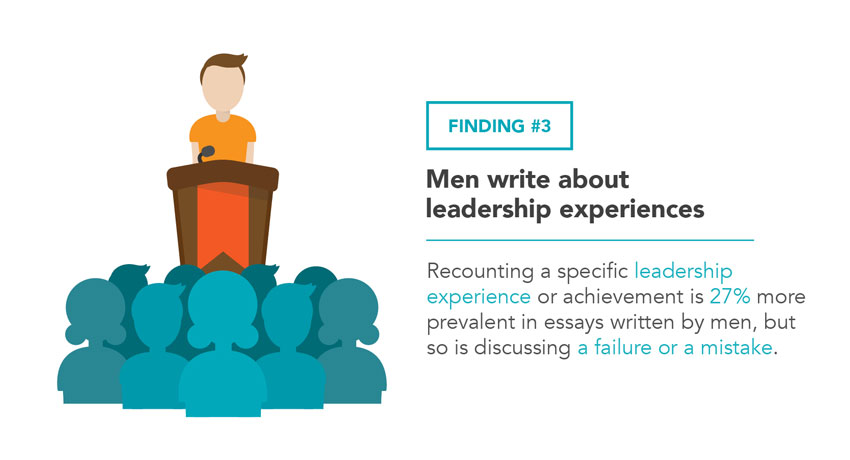 Male applicants are 27% more likely to write about discrete experiences in which they showcase their leadership skills and accomplishments or, on the opposite end of the spectrum, discuss failures or blunders. Their achievements as well as shortfalls are more likely to revolve around specific events. One explanation for this may be that boys learn best by compartmentalizing information while girls tend to gravitate toward relational learning.
___________________________________________________
These explanations are simply one way to interpret the data; there are obviously a multitude of ways to consider these results. We also recognize that our data is a subset of the total applicant pool. Nonetheless, noteworthy differences emerge, especially in the context of gender-specific learning and childhood development
In that vein, we also found that female applicants are 30% more likely than males to recount a memory from their childhood as the focal point of their essays. One explanation for this may be that girls develop speech earlier than boys and are therefore more likely to store descriptive, linguistically detailed memories.
Our database of thousands of successful application files allows us to continuously uncover groundbreaking admissions trends. We hope that our data offer more than just interesting discoveries. The hope is to facilitate the discussion of how to level the education playing field and optimize higher ed learning for all.
___________________________________________________
Additional data findings featured in Forbes article 10 Reasons Your Daughter's College Essay Won't Resemble Your Son's.
Author: Stephanie Shyu, AdmitSee Co-Founder