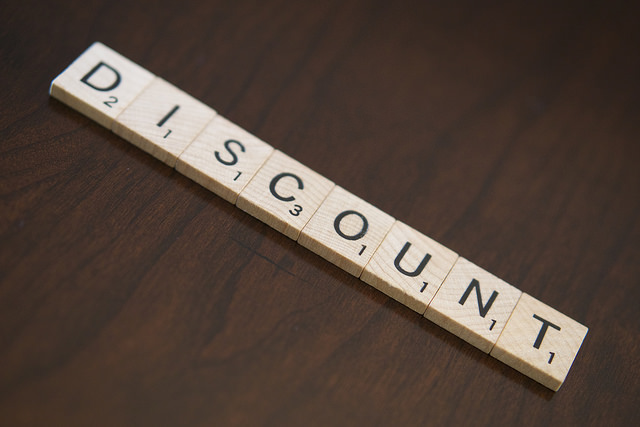 Since back-to-School season is out in full force, students and parents are spending money quickly. Whether it's the major expenses like TVs and computers, or the small necessities like toothpaste and shower sandals, costs are piling up. Your first few weeks of school might consist of spending a lot of money, more than you ever thought necessary. Luckily, a lot of stores offer discounts for back-to-school.
Unfortunately, though, those discounts don't last forever. But you're in luck – as a student, there are plenty of student discounts to take advantage of. Oh, and we forgot to mention – they last all year. Here at AdmitSee, we journeyed and searched the depths of the internet to find the best discounts available. Everything from clothes and technology to travel and insurance, here are the 33 discounts you need to know about.
Note: If you don't see your favorite store on here, it's always worth asking if they have student discounts. It's also worth checking out the Student Advantage Card, which, for a low annual price, offers dozens of discounts on this list.
Stores
Amazon – In what might be the best discount on the list, Amazon offers 50% off Amazon Prime for 6 months, which includes video and unlimited two-day shipping.
Banana Republic – Students and teachers receive 15% off on all full-priced, in-store items.
Champs Sports – With the Student Advantage Card, you can earn 10% off over any purchase of $50 or more.
Club Monaco – Sign up with your school email to receive a code worth 20% online. If you're in-store, you earn the 20% off with a valid ID.
Dockers - Register to receive 20% off online.
EMS – Earn 15% off in-store with your student ID.
J. Crew – J. Crew offers 15% off in-store with your ID.
Levi's – If you're in the market for new jeans, Levi's offers 15% off in-store (and if you sign up here, you'll receive a code for 15% off online purchases).
Sam's Club – Though it varies by store, Sam's Club offers a $15 gift card when you sign up for a Sam's Club Collegiate Membership.
TopShop – Visit the TopShop site to learn more about their 10% off student discount.

Electronics and Technology
Apple – Students earn 5% off most purchases through their education discount. You can also save up to $200 on a new Mac or iPad.
Adobe – If you're a designer, photographer, or just a creative in general, Adobe offers big discounts on software, including a 65%+ discount on their Creative Cloud.
Dell – Dell offers online discounts on laptops, desktops, and plenty more.
Microsoft – With a variety of different discounts, from almost $200 off a Surface Pro 3 to 10% off on accessories, Microsoft's website lists more information on their great offers.
Sony – If you sign up online, you can save 10% on Sony merchandise in their Student Store.
Entertainment
Cinemark – Discounted movie tickets. Make sure to look at your local theater's offers for student days and times.
Regal Cinemas – It varies by location, but your local Regal Cinemas might have a good discount available.
MLB – Most baseball teams these days offer a student discount on tickets. Check the nearby team to see what offers they have on discounts (especially for student groups).
NHL – Just like the MLB, most hockey teams offer student ticket pricing. Visit your local team's website to check for offers.
NBA – NBA teams have great offers for students. The Phoenix Suns have last minute student access, with tickets as low as $5. Make sure to keep an eye on your local team's website for offers.
Museums – Most museums, orchestras, operas, and other art performances have student discounts available. Always bring your ID or check before going – you can save big time.

Cell Phones
AT&T – Visit their website and enter your college email to see if you qualify for a discount.
Sprint – Sprint offers at least 10% off if you qualify under their Discount Program. Enter your school email address on their site to check.
T-Mobile – Check their website to see if you're eligible for a student discount.
Verizon – Visit their discount site to see if your school is eligible.
Transportation & Insurance
Allstate - For getting good grades, Allstate offers huge discounts on insurance. Visit their website for more information.
GEICO - If you have at least a B average, full-time students ages 16 to 25 can save up to 15%. Visit their website for more information.
State Farm - Students up to 25 years old can earn 25% off by maintaining good grades. Visit their site to learn more.
Travelers - Just like the others, Travelers offers discounts to students maintaining a B average. Visit the Travelers website for more info.
Nationwide Insurance - If you're between the ages of 16 and 24 and you're enrolled in school full-time, you're eligible for a discount on insurance. Learn more on their website.
Essentials
The Economist – For full access to their weekly print copy, Economist.com, and The Economist apps, student subscriptions start at under $2 a week when you order online.
The New York Times – Sign up with your college email address and you can receive a student discount. You'll get access to the apps, website, and more.
The Wall Street Journal – For just $1 a week, you can have access to The Wall Street Journal through their student program.
Know of other student discounts? Let us know in the comments below.