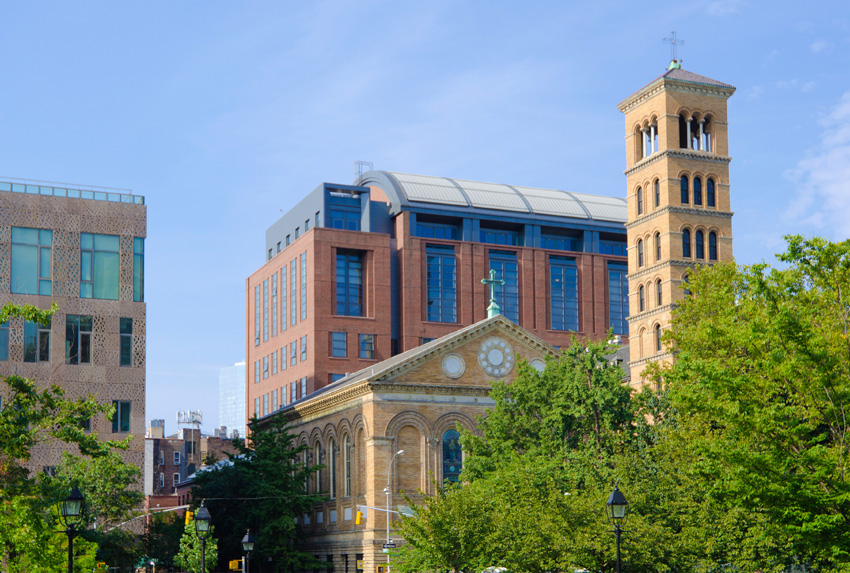 New York University, NYU, is located in the city that often feels like the capital of the world. This has pros and cons. You will find many distractions from your visit (and from your studies!), but you will also be able to enjoy a rich tapestry of experiences that are available nowhere else on earth. Here, we (current NYU students) will try to stay focused on your tour of the undergraduate program, as well as key highlights around campus.
NYU is an urban campus, meaning its facilities are nestled in Greenwich Village among residential, commercial and corporate neighbors. You will not get that "campus feel" of many other universities, which may be exactly what you're looking for. On the other hand, given the sheer number of undergrad students enrolled at NYU—nearly 20,000 undergrads—you are likely to run into other students in the blocks around campus housing and the academic buildings.
11:00 am
As always, it's a great idea to start your visit with lunch. You can observe students coming and going, and check out your schedule to make sure you have your activities for the day lined up. NYU students have loved Gray's Papaya for decades. Perhaps this is because it is inexpensive, or perhaps this is because it offers a quintessentially New York experience.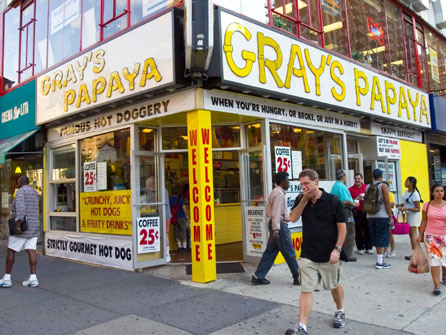 If you prefer a sit-down lunch spot, try Rai Rai Ken. The ramen here is delicious! It is located near an area known as Little Japan, which begins at the Sunrise Mart Japanese supermarket. If you want to browse the Japanese options, check out the entire block of East 9th Street between Second and Third Avenues. If you want to try Venezuelan arepas, head to the Caracas Arepa Bar in the East Village.
1:00 pm
NYU has a well-planned campus visit program, which lasts approximately two hours. It includes a student-led campus tour as well as information sessions hosted by the admissions office. The school recommends you reserve a spot in advance. They also offer the option to sit in on classes, which you also must organize in advance of your visit.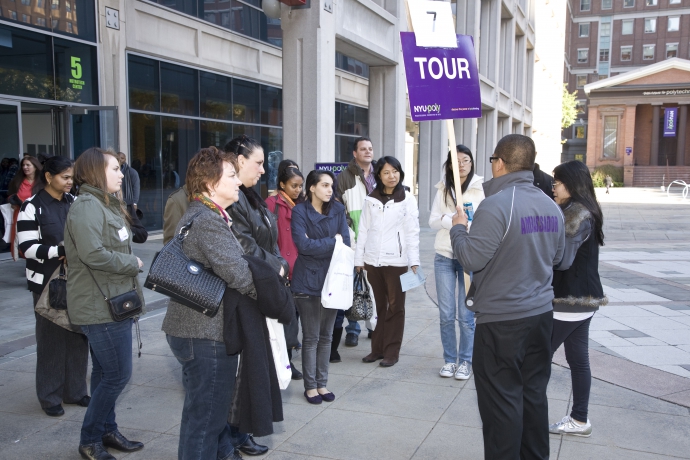 3:00 pm
After your organized tour, hang out in Washington Square Park. This park truly represents the spirit of the neighborhood where NYU is located. You will see a dog run, an area where people play competitive chess, musicians and other performers, a playground filled with children, and in warm months the fountain will be on.

Next, explore St. Luke's Place. This street is known for its charming vine-covered Greek and Renaissance Revival townhouses. Several celebrities lived here including Mayor Jimmy Walker, and writers Sherwood Anderson, Marianne Moore, and Theodore Dreiser.
Also check out Washington Mews. It's a private street just north of Washington Square that was originally part of a Lenape trail, and later served as housing for service workers in the neighborhood. On this street, you will feel the city noise melt away and you will feel transported to another time in history.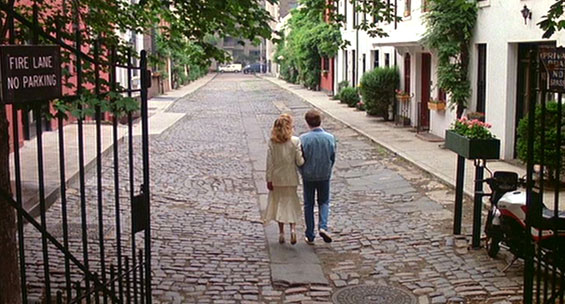 7:00 pm
See an Off-Broadway play or a musical performance in the Village. Greenwich Village has several venues that are worth checking out including music at the Village Vanguard, Blue Man Group at the Astor Place Theater, Stomp at the Orpheum Theater, and blues at the Blue Note.

If you prefer to have a sit down dinner, Beauty & Essex is the perfect place to go with a hungry stomach, and even if you are dining with picky eaters.
Where to Stay
There are lots of options for places to stay, from upscale hotels to renting directly from New Yorkers through AirBnB. One option on campus is the Washington Square Hotel. This is one of the few family-owned hotels in New York City.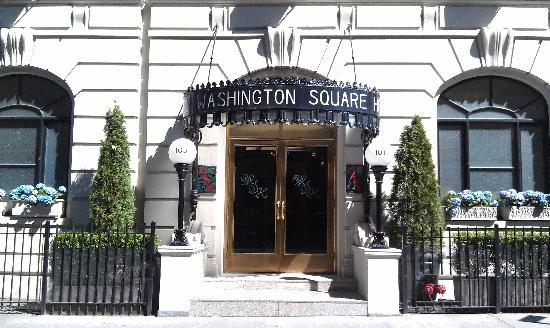 The Wyndam Garden. This hotel is a lower cost option yet still quite comfortable. It's located in Chinatown, which means you will have a 20-30 minute walk, but you will have a whole new neighborhood to explore. The Indigo Chelsea is a 20-minute walk, and it offers basic accommodations. You can often find great deals for this hotel with NYU. The Hampton Inn Soho consistently offers rooms that start below $200, which is a great price point for NYC. The location is unbeatable at just seven blocks from NYU's campus.
Explore Nearby Schools
While you're in NYC, you may want to visit other colleges on your list. Many students who apply to
NYU
also apply to
Columbia
and
Barnard
, Columbia's sister school. Parsons and Fashion Institute of Technology are global centers for art, design, and business - definitely worth a visit!
Applying to NYU? Read the application files of accepted students! Already a student? Get paid for sharing your old college app essays!