No matter what stage of the application process you're in, you don't want to miss out on these 5 college admission tips from C2 Education.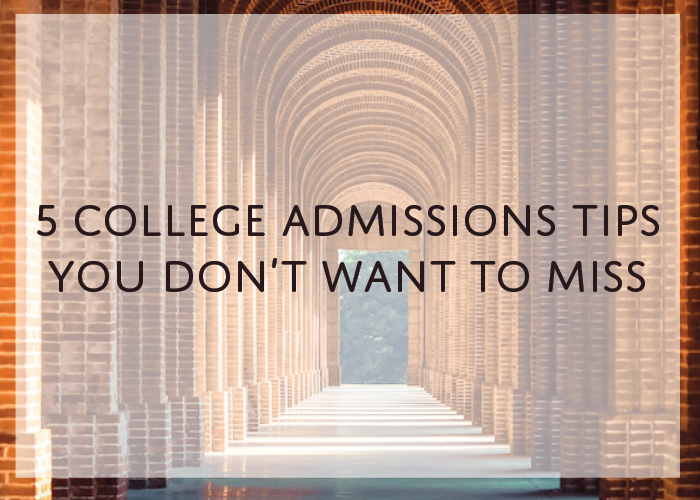 1. Show Interest
If you already have a list of colleges you're interested in, make sure they know. Take the summer to go visit the campus, build relationships with admission officers and take the initiative to learn more about the university's community and academic opportunities. You can even set up times to chat with university professors to learn more about a department's curriculum and research. Most importantly, you can apply through Early Action programs, which are non-binding, to let them know you're interested.
2. Be Careful when Applying through Early Decision programs
Unlike Early Action programs, Early Decision programs are binding. In other words, if you are accepted, you have to enroll in the Fall. This is the ultimate action to show you're really interested in attending the university you're applying to, but make sure you do your search and know that's what you really want.
3. Keep Finances in mind
It's exciting to get into a selective university, but it's heartbreaking when students find out they aren't able to attend despite being accepted due to financial reasons. It's important to speak to your parents, know the risks, and apply to schools that would be more affordable. With that said, you can also remember to put in the effort to fill out your FAFSA early and be organized about applying for scholarships.
4. Be Open Minded
There are over 2,000 4-year universities in the U.S. While each university will certainly have their own characteristics, Many universities share similarities with others. Keep an open mind - you might come across a school you've never heard of that ends up being your perfect school.
5. Don't Limit Yourself by Numbers.
GPA and standardized test scores are important, but they aren't everything. If your scores are a little lower than the average accepted applicant at some schools, don't be too quick to rule them out. The college application includes the numbers, your extracurriculars, essays and so much more.
Want to get the edge this summer on your college applications? Get a free consultation with C2 Education.
This piece is originally from C2 Education.
Choosing where to go to college is an incredibly important decision. Make an informed choice by accessing the 60,000+ successful college application files uploaded by college students in our database. AdmitSee is a community of students helping students.