As a whole, Americans owe more than $1 trillion in student loan debt. On an individual level, the average 2017 graduate has $39,400 in personal loan debt. While having five- and six-figures in student loan debt can seem like an endless cycle of monthly payments with little payoff, it's possible to pay off your debt much more easily than you might anticipate. Here are five tips for paying off your student loan debt faster.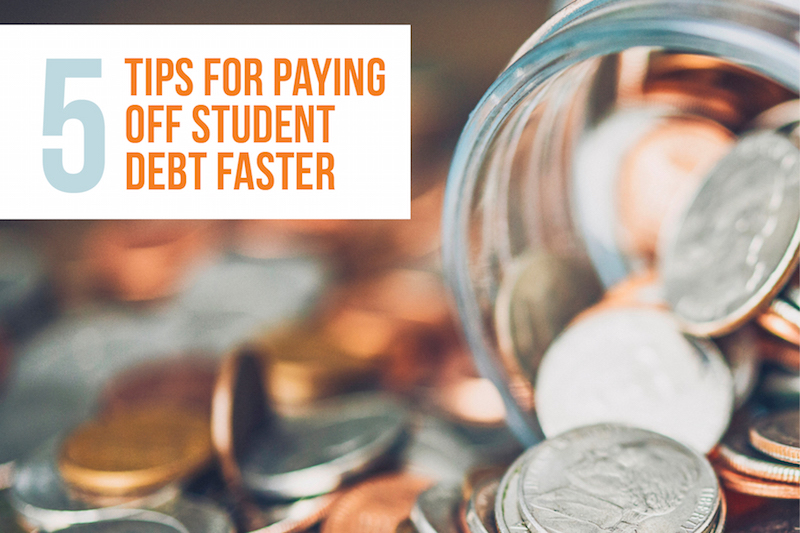 1. Create (and Use) a Monthly Budget
You manage what you monitor, and without monitoring your monthly income and expenses, it can be very difficult to manage debt payoff. Create a simple spreadsheet with expected vs. actual income and expenses so you can anticipate how much you spend monthly on your major expenses, and set targeted payment amounts for your loans. Monitoring your expenses can also hold you accountable and help you make budgetary decisions in the moment. Is that pizza really worth it when you could put that $20 to a loan? Probably not.
2. Pay More Than the Minimum Payment
The majority of a loan payment is applied to interest; very little affects your principal balance, which is why it can take decades to pay off larger loans — and that's how loan providers want it. They make money off your interest payments, so the sooner you pay them off, the less profit they make. By paying more than the minimum payment every month, you can take months — and even years — off your debt payment schedule and save yourself thousands of dollars in interest payments. Want to see how much you could save? Check out tip #3.
3. Create and Monitor an Amortization Table
An amortization table allows you to track your debt and interest accrual over time. It can also be a great tool to help motivate you to pay off your loans faster. Create one in a spreadsheet or use a simple online tool like this one to see how much time and money you'll save yourself by paying more than the minimum payment.
4. Focus on Paying Off One Loan at a Time
If you have multiple loans, paying off debt can seem daunting. Managing five or six monthly payments can leave you feeling frustrated with no light at the end of the tunnel. This is why it can help to focus on paying off a single loan at a time. There are two approaches to this strategy:
Pay Off Your Highest-Interest Loan First
This strategy makes the most financial sense because you'll save yourself more money in the long run if you tackle your highest-interest loans first. But there's another option that can provide some momentum to kick off your debt payoff plan.
Pay Off Your Smallest Loan First
If you have a loan that's only for a few thousand dollars, you might consider targeting that as your first payoff loan for a couple reasons. First, the feeling of paying off an entire loan can help you stay motivated as you work to pay off others. Second, it can be a faster way to remove a minimum payment from your monthly budget. Which brings us to the next tip.
5. Compound Your Payments After Your First Payoff
After you pay off your first loan, try not to see that monthly payment as new income. Instead, apply that monthly payment to your next target loan. After all, you've gone this long without that income; what's another year or two?
When it comes down to it, there's no magical formula for paying off student loan debt. But these tips can help you pay off your loans faster to enjoy a debt-free life sooner than you thought possible.
Was that helpful? What other tips would you recommend when it comes to paying off your student loans?