The University of Chicago is one of the most competitive U.S. universities known for its economics, statistics and mathematics undergraduate programs. But for college applicants, the school is probably best known for its out-of-the-box, creative supplemental essay prompts.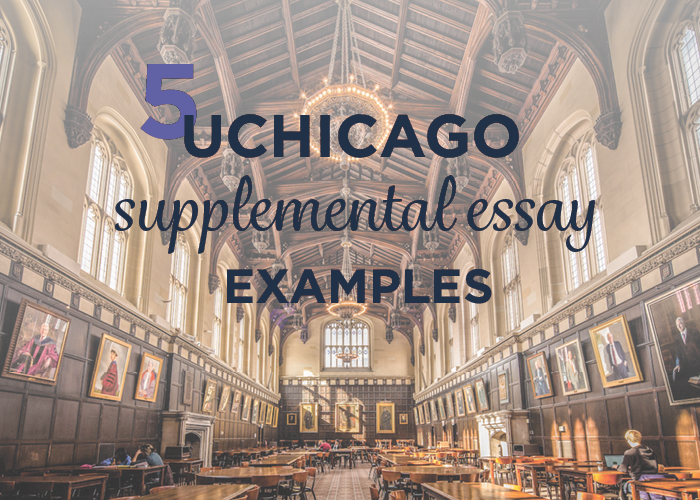 To apply to UChicago, students must submit an additional supplemental essay – what's referred to as the Extended Essay. UChicago releases 5 new essay prompts inspired by their students every year, along with a set of past prompts applicants can choose from.
While students are encouraged to be creative, how creative can you (or should you) be? For those interested in applying to UChicago, here are a few examples of essays that worked:
Prompt from 2016-2017 season:
Vestigiality refers to genetically determined structures or attributes that have apparently lost most or all of their ancestral function, but have been retained during the process of evolution. In humans, for instance, the appendix is thought to be a vestigial structure. Describe something vestigial (real or imagined) and provide an explanation for its existence. —Inspired by Tiffany Kim, Class of 2020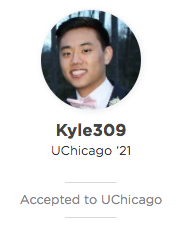 University of Chicago '21
"People often ask me if I'm scared that I'll go deaf in the other ear, too. The thought echos in my head sometimes, and it's certainly an ear-y thought, but I'm not too worried. In some ways, losing a part of my hearing has made the world louder. Instead of focusing on what I lost, I began to appreciate what I always had. Every moment—whether it be the off-tune singing of my little brother in the shower, or the melodious chords from my ukulele—is something to note."
Prompt from 2015-2016 season:
Joan of Arkansas. Queen Elizabeth Cady Stanton. Babe Ruth Bader Ginsburg. Mash up a historical figure with a new time period, environment, location, or occupation, and tell us their story. — Inspired by Drew Donaldson, Class of 2016
University of Chicago '20
"The ball flies to Scottie Pippen, he pulls up, but the shot bounces out. The crowd goes silent. But Rodman grabs the rebound, hooks it to Jordan who scores a three pointer. Everyone in the stadium goes wild, except one man: Napoléon Bonaparte. "All according to plan" he whispers to himself.
Little does the public know, Napoleon instructed his stars to keep the game close. In reality his superstars could have won easily. But he needs to attract national attention for the next part of his plan.
As a child Napoleon obsessed over pop culture. He couldn't believe the power celebrities held in society; people would trust them with their children, beliefs, and even their spending. After Reagan's election, he strived to tap into this power. Napoleon would conquer America."
Prompt from 2014-2015 season:
A neon installation by the artist Jeppe Hein in UChicago's Charles M. Harper Center asks this question for us: "Why are you here and not somewhere else?" — Inspired by Erin Hart, Class of 2016.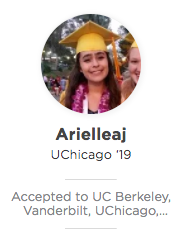 University of Chicago '19
"I am here because I can't be in two places at once. That's definitely a law of physics or some kind of science I don't know much about, but that's the short answer to why I'm not somewhere else, or lots of other places. To know why I'm here, on Earth, in America, in California, in Berkeley, at my house sitting on my favorite worn leather couch, with light from three windows making it hard to see my laptop screen, is a longer story."
Prompt from 2014-2015 season:
In French, there is no difference between "conscience" and "consciousness". [...] All of these require explanation in order to properly communicate their meaning, and are, to varying degrees, untranslatable. Choose a word, tell us what it means, and then explain why it cannot (or should not) be translated from its original language. — Inspired by Emily Driscoll, Class of 2018
University of Chicago '19
"Raising the issue of translatable versus untranslatable words is futile; new words should enter a language because of a cultural need to express a specific idea, not just because they can be translated from other languages. Terminology is always a function of development: when a new concept – be it tangible or intangible – enters a society, the language evolves and adapts so that its speakers can discuss the new topic."
Prompt from 2014-2015 season:
What's so odd about odd numbers? — Inspired by Mario Rosasco, Class of 2009.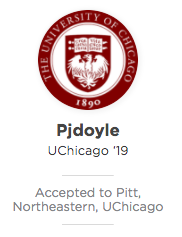 University of Chicago '19
"Why was Six Afraid of Seven?
In the beginning there was zero, and then there was One. Zero and One ruled the universe with undisputed power; together they formed the perfect union. Perfection diminished when One began to feel superior to Zero, and departed his company to rule alone. He quickly discovered the powers of addition, and created Two. Two was to be his new companion, to help oppress the rest of the numerical universe. One began training Two in the dark magic he had discovered. However, Two found One to be a little unhinged, and he sensed a certain instability."
———-
Interested in reading these students full personal statements, and their creative responses to UChicago's supplemental essay? Unlock all of them in one go with our curated package!

Our premium plans offer different level of profile access and data insights that can help you get into your dream school. Unlock any of our packages or search our undergraduate profile database to find specific profiles that can help you make an informed choice about where to apply!