Vanderbilt University doesn't require many other supplemental essays in their application. While this means there's less to work to do, it also means you need to put a lot more effort into your personal statement.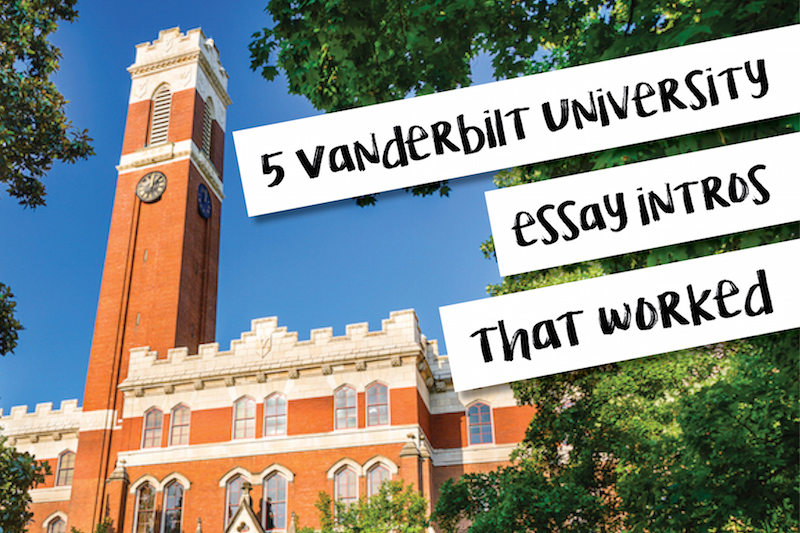 To help get that brain of yours moving, here are 5 essays from students who gained acceptance at Vanderbilt:

Vanderbilt '17
My grandfather waited patiently for me to surrender the blocks to him after my frustration sunk in. I remember the large crevices and calluses on his hands and marveled at how such large extremities could move with such gentle grace, while my tiny smooth hands barely had the coordination to grasp a single block. He never comforted me, praised me or showed affection; it was part of his culture. Instead, he always reminded me that patience is key. Growing up and developing coordination takes time, there was nothing I could do to rush the process besides wait for the frustration to pass and try again. View full essay.
Vanderbilt '19
I am a different person than I was two months ago. Before the summer, even during the summer, I was convinced it wouldn't happen. I couldn't understand why, but the program wasn't "working" on me; I wasn't having the life-changing experience past fellows had promised. And yet, here I am - I've changed. Our summer English assignment had been to create an anthology of three poems that "deserve to be read for as long as poetry is read in the English language" and also to compose three poems. During the first week of school, we each had to share our reflections. I've never struggled to speak in class, and before this summer, I was certain I had it all together. As I prepared to reveal the complete state of confusion that I had found through my experience on Bronfman, I listened to the first few students read from their anthologies and heard them conspicuously avoid their own work. Finally, I stood and offered my voice, "I'll read." Keep reading.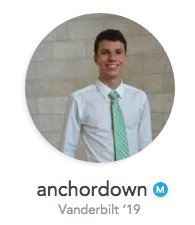 Vanderbilt '19
If the 500-yard freestyle didn't have counters, I would still be swimming. (Actually, that happened once and I ended up swimming a 550.) When I compete in the 500, I'm not thinking about the race. I don't think about my speed, and I don't think about the people swimming on either side of me. The moment I dive into the water, none of that matters. I set my pace, my overworked brain shuts down, and my subconscious takes over. Read on.
Vanderbilt '18
If there is one place in the world where I am content, it is Sunday dinner at my Grandma's house. There are three courses of the Italian food that no one will ever be able to cook just like my grandmother does. The oval table it's served on is surrounded by three generations of my mom's family all taking the opportunity to relax at dinner together to take a breath and rejuvenate for the upcoming week. Although the weekly tradition has become less consistent as my cousins and I have grown both older and busier, Sunday dinners will always hold a special place in my heart. Continue reading.
Vanderbilt '20
C, G, Em, D: over and over I strummed these chords on my first acoustic guitar. Every time, the transition between each chord became a little quicker; the sound rang out a little more clearly. It was final exam week of the first semester of my freshman year, and I was trying to take a mental break from studying. By winter break though, these simple chords came together as I learned to play my first songs. I looked up how-to-play videos on YouTube, bought different chord books, and practiced every day. I doubled, tripled, and then quadrupled the amount of chords and songs I knew. Keep reading.
——
Interested in reading these students full personal statements that got them into Vanderbilt? Unlock all of them in one go with our Vanderbilt package!

Our premium plans offer different level of profile access and data insights that can help you get into your dream school. Unlock any of our packages or search our undergraduate profile database to find specific profiles that can help you make an informed choice about where to apply!
Not sure if you want to apply to Vanderbilt yet? Do your research and browse through profiles of students accepted to see essays, stats, and advice. See how they got in, and how you can too!