At Lion's Heart, we encourage our members to get out there and give back. Serve your community individually, with other Lion's Heart members, or bring a friend along to share the experience and make a difference.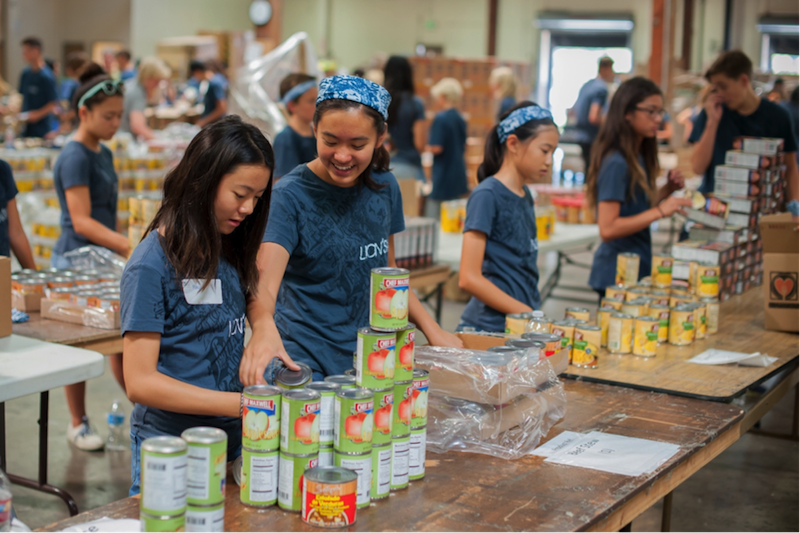 Teens not only show compassion and empathy for their favorite causes by volunteering, they also learn important leadership qualities, and boost college resumes in the process. A study by University of Exeter, states that volunteering may improve your mental health and help you live longer. Here are 7 easy ways that you and your teen can volunteer this summer.
1. Animal Shelters
Local animal shelters almost always need volunteers. You can be a dog walker, do administrative work, or even be a pet soother. Fostering an animal is also a wonderful way to give back. VolunteerMatch has a lot of animal based volunteer opportunities, and you can also visit the Humane Society for a list of shelters near you.
2. Food Banks or Soup Kitchens
Food pantries and soup kitchens can always use a hand organizing a local food drive or serving hot meals to those in need. FoodPantries.org and Feeding America are great resources for finding a place that needs volunteers!
3. Community or National Parks/Beaches
Go outdoors and enjoy the scenery while helping to clean up at the beach or local park. Try Volunteer Clean Up to find activities near you.
4. Red Cross
You can give blood, or you can volunteer with the American Red Cross. They have a youth sign-up form on their website.
5. Local Libraries
Libraries usually need help organizing the book shelves, helping kids with their homework, and special events like book signings and special programs. Libraries, also, typically have a summer reading program where teens can volunteer to read to the younger kids over their summer break. Check your local library!
6. Retirement Homes/Senior Centers
Find your local senior center. You can offer to run errands or be a companion for a senior. Check out Create the Good and Elder Helpers.
7. Champion Your Own Cause
Care about the drought? Children in war-torn areas? A specific disease that's affected a friend or family member? The opportunity to make a difference stretches as far as your imagination. DoSomething.org has some great examples of do-it-yourself service projects.
Volunteering is rewarding in so many ways. So, be the change you want to see in the world, and give back to your community.
Lion's Heart inspires teens to have a positive impact in their communities through leadership and participation in volunteering, providing needed resources for causes that ignite their passions. Join us!
Sources: University of Exeter, news release, Aug. 22, 2013