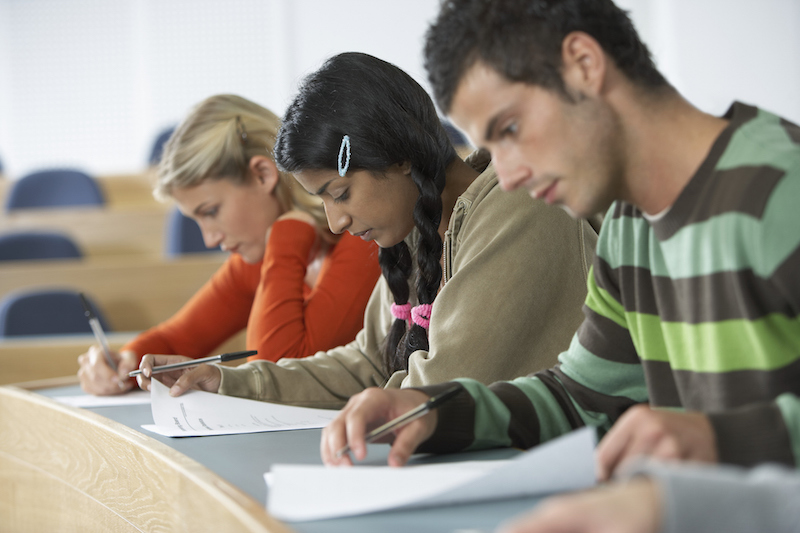 Spring semester is nearing its end and students are beginning to settle into their favorite cubicle to prepare for finals. It's second nature for students to study and prepare for tests and exams that have become routine since middle school. But that doesn't mean they don't still get nervous. And for some individuals, the anxiety can be severe. If you're one of those unlucky individuals, here are 7 tips that will help with your exam anxiety:
1. Meditate
Meditation is one of the most effective ways to give your mind a break. Allot yourself 15 minutes every day to do so and clear your mind. It will help your reduce pre-exam stress and keep calm when you're studying for exams.
2. Listen to classical music
Students often study while listening to music, but most probably aren't aware of the benefits of listening to classical music. A number of academic studies have shown that listening to classical music actually benefits helps boost your brainpower and elevate your mood. If you've never tried it before, give it a try!
3. Set aside time for yourself
Being prepared for your exam is key to doing well on your exam, but that doesn't mean you should lock yourself in your room and study 24/7. It's important to give yourself a break and do something for yourself as well. Go grab a quick meal with your friends, or treat yourself to an hour of Netflix! Just remember this is not an excuse to procrastinate!
4. Exercise
Research has proven that exercise can help with your memory and brainpower. You don't have to go to the gym, or run 3 miles, but make sure you go out and get some air! A 15 minute stroll outside now and again will d you some good.
5. Play with Puppies
Many colleges these days host Puppy De-stresser parties during finals week on campus, so make sure you head over! Puppies are full of love and their cuteness will melt all your stress away. No puppies at school? Check out these puppy videos - it'll do the trick!
6. Eating Dark Chocolate
Ever wondered why you binge on chocolate when you're stressed? It's because chocolate stimulates the release of endorphins to help you fight stress. Dark chocolate specifically helps fight the stress hormone cortisol, resulting in an overall relaxing effect on the body.
7. Sleep
Sleep is extremely important, especially for those who have exam anxiety. Lack of sleep clouds your mind and often damages your resilience. Allowing your brain and body to rest is how you turn your short-term memories from studying to long-term memories that you can recall during a test.
Choosing where to go to college is an incredibly important decision. Make an informed choice by talking to current students on our mentorship platform. Access 60,000+ successful college application files uploaded by college students (they get paid when you view them). AdmitSee is a community of students helping students. Our goal is to bring much-needed transparency to higher education.
Sources: US News