If you're a high school senior right now, you'll know all about Senioritis. (Unless you're #7.)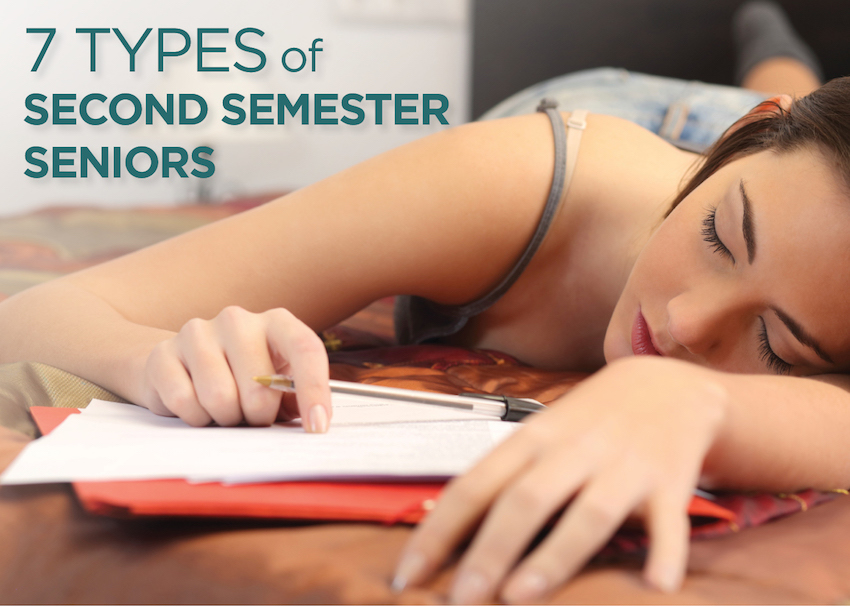 Standardized tests, college application essays, FAFSA forms… senior fall is no fun. Thankfully, you're (almost) finally free. How are you and your friends handling life as a second semester senior? Every student seems to fall into one of these categories. Which are you?
1. The extreme case of Senioritis
You're so over high school. AP exams? As long as you get credit for the class. Extracurricular responsibilities? The juniors will take care of it. You're ready for the school year to be over.
2. The guy flaunting his early acceptance
Yeah people were still waiting to hear back from schools, but you just couldn't (and still can't) contain your excitement. Plus, with all the extra time, it's impossible NOT to think about your acceptance.
3. The kid who goes from teacher's pet to class clown
Now that applications are behind you and recommendation letters have been written, you can let your true personality shine.
4. The one who missed the application deadline
Whether you were completely disorganized, didn't care, or it was a calculated plan to apply against next year, a gap year is always an option.
5. The guy who doesn't want to leave high school
You're pretty sure high school is going to be the best time of your life, so you're down to relive it. But, trust us, you don't want to peak now!
6. The girl who got rejected from her safety school
It's possible to be overqualified. So hopefully you got accepted to your dream school even if your safety didn't work out!
7. The rare few who haven't heard of Senioritis
Take it easy. You're already in college. You're still going to get straight As. Take the opportunity of Senior Spring to get involved in new interests, explore career options, or meet new people!
Regardless which type you are, if you've already submitted your applications, it's time for you to create your College Admit profile and start making $$$.