It's crazy to think that the ACT is this coming Saturday already! We're sure you've been studying hard and smart, so we just have a few logistical tips to help you get through the day as seamlessly as possible.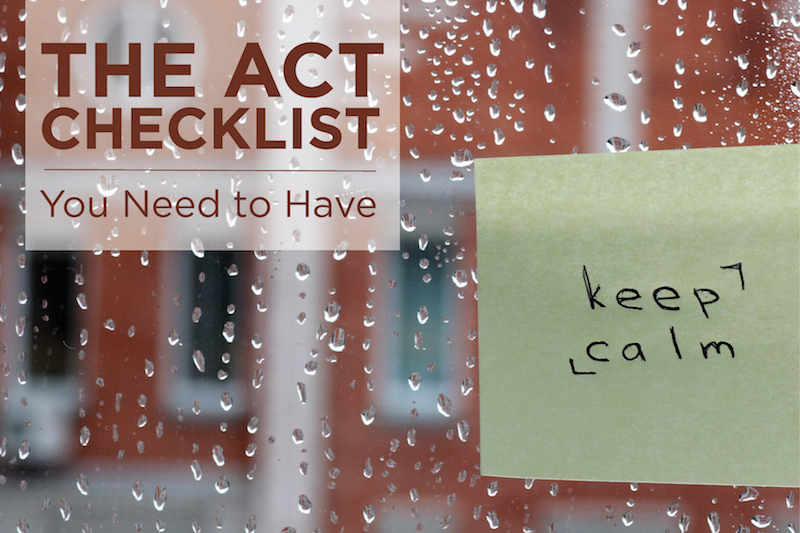 1. Print a copy of your admission ticket.
Don't just have a copy on your phone. You never know when technology will fail you, so print out a copy and put it in your wallet or your bag. It has all the information you'll need to get to the right testing center on time, where to park, and details to register your scores.
2. Bring an acceptable form of Photo ID
It has to be a driver's license, state ID or school ID. It needs to say your name in English, and has to be the physical form of your ID. No photocopies or pictures will be accepted.
3. Several No. 2 pencils, sharpener and eraser
Buy a pack of No. 2 pencils and sharpen them! They break easily, especially when you're nervous, so have a couple on you so you don't have to waste time sharpening them during the test. Don't rely on the back end erasers on pencils, bring an extra one that will erase well.
4. Calculator, and a set of fresh batteries
The worst thing that can happen is if your batteries run out in the middle of the test. Bring a set of fresh batteries to put in just in case it does. Test that these batteries work too!
5. Snack & water
Pack yourself some power food. The exam is 3 hours long, and it starts bright and early. You need to have the right nutrition to keep you awake and thinking as you move through the sections.
6. Lucky Charm Bracelet
Everyone has a lucky charm. It can be your favorite pencil, accessory, t-shirt. Whatever it is, make sure you have it with you the night before, so you remember to grab it on the way out. Half the battle is in your head, so make yourself comfortable.
7. Comfortable Clothes
Speaking of comfortable, make sure you put on a set of comfortable clothes. After all, you'll be sitting for 3 hours, so make sure you're not wearing clothing that are distracting you. At the same time, it may not be a fantastic idea to wear sweatpants either. You don't want to be so comfortable you start falling asleep in the middle of the test!
8. Prepare Breakfast
Breakfast for champions! Have a full meal with eggs, bread, sausages, and all the goodies! This will help you feel awake for the test, and kickstart your brain to start turning its wheel, and ace your test!
Best of luck everyone!
Need help with the essay portion of the SAT or ACT? Use Green Test Prep, an online SAT prep platform, to help improve your score.
Anthony-James Green has been called "America's Top SAT Tutor" by Business Insider magazine. He raises test scores an average of 346.5 points on the SAT and 4.6 points on the ACT. To discover how to get a guaranteed increase on your SAT and ACT scores with The Green Test Prep System, click here.