It's that time of the year to finally make that decision. Which is the better test for me: the ACT or the SAT?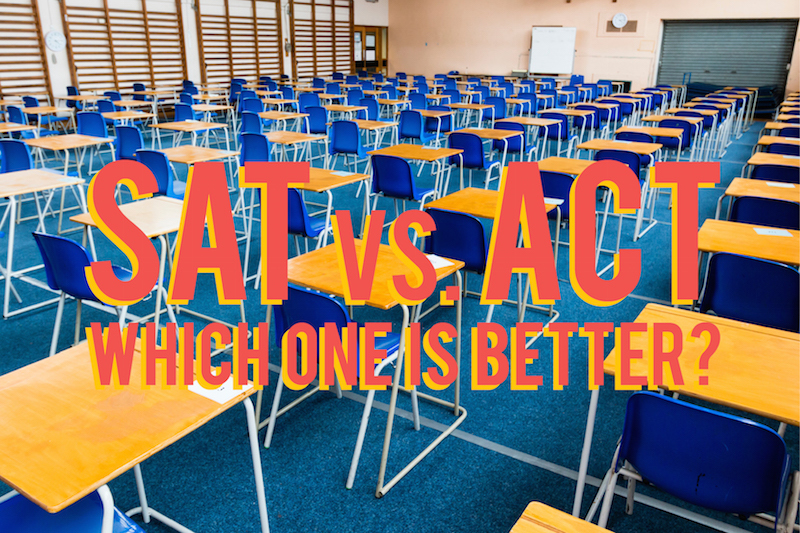 For starters, there is a better test for everyone. It might be surprising to find that the two tests have more similarities than differences, so let's break down what set the two apart to help you find the suitable exam for you.
Science. The SAT has never had a science section, but the ACT does. While it's not rocket science, if you prefer to having nothing to do with it, then SAT will be the way to go.

Essays. Both the SAT and the ACT has an optional essay that comes with the test. Many schools no longer require applicants take the essay portion, but most recommend it. The ACT essay is about forming your own argument and supporting it, while the SAT essay is about breaking down someone else's.

Math. ACT's math section is straightforward. All of them are multiple choice, and you're allowed calculators on all sections. SAT has 2 different math sections - one with calculator, and one without. There's also a section that asks you to fill in the blanks instead of providing choices.

Time. The ACT gives you a little less than 1 minute per question, whereas the SAT gives you about 1.25 minute per question. The time pressure could be really the differentiator when it comes to choosing which exam to take.
So, how do you choose? Remember, both these tests are graded on a scale, which means how you do is relative to how others do. In other words, you should choose the exam that gives you the best advantage. Here's how you can make a decision:
1. Get a free copy of both test. They are both available on College Board and on the official ACT site respectively.
2. You don't have to take the tests, just spend some time reviewing both of them. Read the questions, and find out which one you feel more comfortable with. No one comes out feeling the same about both
3. Review again the differences we laid out for you. Are you comfortable with science as a subject? Would it require more effort for you? How are you under time pressure? These finer details will help you flush out which test you should take.
Need help with the essay portion of the SAT or ACT? Use Green Test Prep, an online SAT prep platform, to help improve your score.
Anthony-James Green has been called "America's Top SAT Tutor" by Business Insider magazine. He raises test scores an average of 346.5 points on the SAT and 4.6 points on the ACT. To discover how to get a guaranteed increase on your SAT and ACT scores with The Green Test Prep System, click here.