Transitioning to college life is a tough process, imagine doing it in another country! Frances Wong is a recent graduate of Georgetown University, and she is originally from Hong Kong. Below is some advice she gives for those who are studying internationally during college. Are you an international student? If so, what was the biggest challenge during your transition?
Frances says:
I am an international student from Hong Kong, so going half way across the world for university was a little daunting at first. I took a gamble and decided not to enter the CHARMS system to choose a roommate based on compatibility levels from several questions. Finding out who she was through email and then facebook stalking her made me extremely nervous, but we clicked almost immediately. She was very nice, but we weren't in the same school at Geogetown, we didn't have the same interest, and so we didn't automatically become best friends and hang out 24/7 outside of the room. This made living together a lot easier, and caused fewer arguments between the two of us as roommates. This allowed us to be more comfortable with confronting each other with issues and actually allowed us to be more compatible roommates and better friends.
I was also lucky to have my brother as a senior at Georgetown to show me around and help me adjust to the new environment. The best advice he ever gave me was to tell me to go to International Pre-Orientation (IPO). Even though I am from Hong Kong, because of my American citizenship, I wasn't invited to be part of it. However, I went anyways. I was a little shy, stuck to my brother, and only went to half of the events. I was so bored of the generic conversation, which only involved three questions:
1) 1) Where are you from?
2) 2) What dorm are you in?
3) 3) What school are you in?
After which, everyone just moved on to ask the next person the same questions. The conversations were really dry and boring, but take the courage to break through that, because that's how I met all my future best friends at Georgetown during those 3 days of IPO.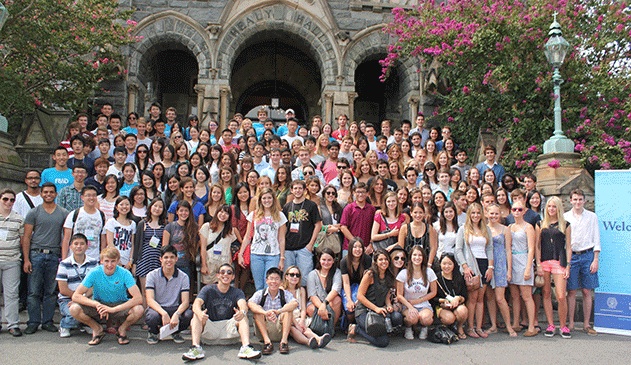 Again, as an international student that just finished IB, I didn't understand the GPA 4.0 system and the pre-med lectures of over 100+ students were intimidating. Going to office hours to ask a question meant being in line for 2 hours. Even with smaller discussion based classes, I was too afraid to raise my hand because I was no longer in class with people I've known since middle school. Adjusting to the way the American education system was difficult, but I've learned not to be afraid. Raise a question, expression an opinion and definitely, talk to those who sit around you. Making new friends in class allows you not only to meet new people outside of your freshman floor, but also to help you study in class! Having said that, I do wish I had chosen easier classes to start off with for me to adapt to the new educational surroundings.