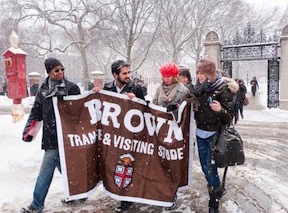 There are many reasons students decide to transfer. Some students will love their school when they are applying and be incredibly excited to get there, but then for whatever reason not have a good experience. Even with tours, information sessions, and overnight visits it's hard to get the true sense of the school until you experience it yourself. Some students who decide to transfer never found a good friend group and just felt out of place at their school. Others were never excited about the school but didn't have any other options after their original admissions process. It's ok to plan ahead and think about transferring but you should still always start college with an open mind and try to make the best of your situation.
There are other more practical reasons for transferring. Some students realize they want to study a field that their original school does not offer a major in. Other times students may be unable to afford the high cost of an out-of-state school, and have to transfer back home to a public university.
The transfer admission process is even murkier than the admissions process out of high school… if that's possible!
Every school has different requirements and different ways of looking at transfer applicants. For some, if they received good grades in their first year of college, it may be easier to get in as a transfer as they've shown they can succeed in college level coursework. For others, it's harder, as there are far fewer spots for transfer students.
If you're thinking about transferring, do some serious research and evaluate your options. Always try to be positive about your original school, and to enjoy your time there, as the transfer admission process might not work out for you. Best of luck!
P.S Use my invite code "Books" for an extra $10 when you create your AdmitSee profile!