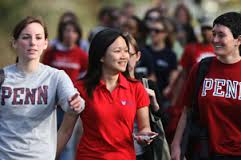 It is very important to apply early decision. According to the college counselor at the prep school I attended, close to 80% of the senior class now applies early. Today it seems that the process of looking for a college starts as early as freshmen year, so by senior year you have a clear picture of the school you would like to attend. High school should be view as a three year experience, by the end of junior year, have the SAT completed, be an AP Scholar and have grades where you want them. Then you are in a position to apply early. It gets you in the process early and puts you on the radar of the school you are hoping to attend. I did and I was deferred. While initially I was disappointed, I was elated to know that the school would give me another chance.
I ran with that chance. I ask my college counselor regularly what I needed to do to change that "deferred" into an "acceptance". He gave me great advice, to stay in contact with the regional director from the school and get my grades up. I made sure I worked harder in the next month than I had ever worked. I received A's in all subjects. It is prudent that in order for the admissions committee to give my candidacy the fullest consideration – additional information should be submitted. I sent them two letters reiterating my success in grades and my continued desire to attend their college.
Schools prefer students who prefer them and I made sure I let them know I prefer them! I let them know that I did not submit any Early Decision II application to any other college.
It definitely gives you an advantage and ultimately the deferred was turned into an acceptance!
If you found this post useful, use my code DREWB at signup—you'll get a bonus and I'll get a referral credit!