Applying to college and making college decisions can be challenging and confusing. There are simply too many variables: from financial aid support to the college social scene, is there a way to have all your questions answered?
With our newest Advice Search, now there is.

Our database of 70,000+ successful application files includes each student's college list, admission results, test scores, GPA, essays and advice. With our Profile Search, you can look for students with similar interests or demographic backgrounds to help you decide where and how to apply. With our Advice Search, you can do even more than that.
1. Finding & Choosing Your Best Fit College
With enrollment deadlines around the corner, tap into our universe of student advice to choose the right college for you out of the colleges you were admitted to.
If you are just getting started on your college application, ask the questions you would ask a peer who has just recently been through the process. This is especially helpful for students who are not yet sure what they wish to study or are open to discovering the different types of schools out there.
Sample searches: "What factors are important for college fit?", "How do you create your college list?", "Should I consider liberal arts colleges?"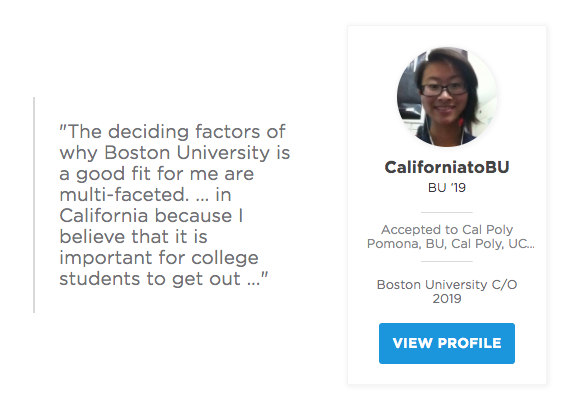 2. Financial Aid
When it comes to narrowing your college options after being accepted, the deciding factor is often the financial support that each college provides. As much as we all want higher education to be free, students have to seriously weigh the pros and cons of taking on student debt. Use our advice search to see what current students are doing to finance their education.
Sample searches: "Should I apply for financial aid?", "Should I take out student loans?", "What are the best scholarship resources?"
3. College Application Preparation
Aside from the big application components such as the personal statement, there are smaller tasks that students have to deal with: asking for recommendation letters, improving test scores, or even sending in supplemental materials. See what other college students like you did to improve their candidacy. Search for recommended steps to take and missteps to avoid.
Sample searches: "How can I improve my SAT/ACT score?", "How do I get recommendations?", "What are common application mistakes?"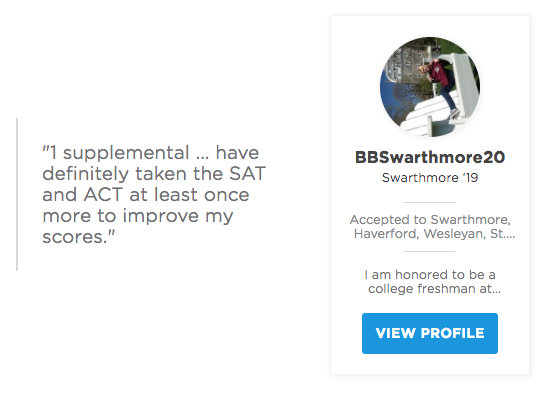 4. Summer Experience
Summers are a great opportunity for high school students to explore their interests and learn more about the application process. If you're not sure what to do over the 3-month long break, see what some of our College Admits did in high school. It may inspire you to take a class, reach out to a would-be mentor, or go travel! Just remember you should engage in activities that you're passionate about.
Sample searches: "Should I volunteer during the summer?", "Should I go on college visits?", "Do summer internships help your application?"
Go try out our newest feature and let us know if you have any feedback our comments below! We're constantly improving our platform and algorithms to help our users, so let us know how to improve it for you!