​The application process as a whole is daunting. Since they've never experienced anything like this before, many students start without any direction or understanding of what to do. In retrospect, however, it's much easier to understand what you could have done differently and how you would have changed. So we asked a number of our Admits from Harvard University to answer one question: what would you change about your college application process? From regret to advice, we think this will help you avoid common mistakes.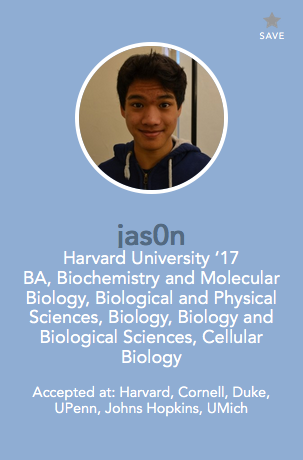 jas0n
: Don't wait until the deadlines to submit everything, especially with regards to the essays that you have to write. You really want to spread everything out so you have a lot of time to do things and to do them well; don't rush, this is something that will affect the rest of your life. 2. Don't worry too much about colleges—yes, college is important and you should still do your best and get everything done as good as you can, but really, college is what you make of it and the opportunities that you seek out. A certain college that you do get into or don't get into doesn't define your life or mean the end of the world, so take a step back sometime during your Senior year and just simply enjoy it!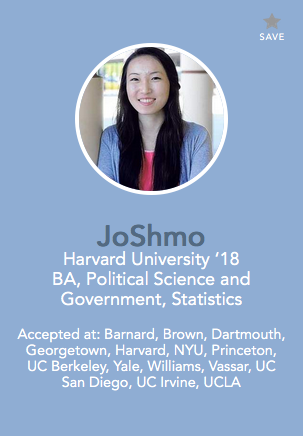 JoShmo
: I definitely overlooked how important the interview is when it comes to small liberal arts schools. After the admissions cycle, I noticed that all of the schools I was denied from were the ones I did not set up an interview for. (Granted, Stanford does not offer interviews for any applicants, and Columbia never reached out to me.) I advise applicants to check if their schools offer interviews and set one up if an alumni organization is not responsible for doing so.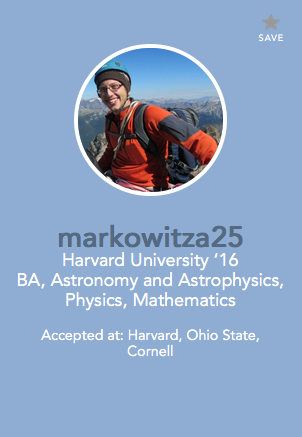 markowitza25
: I probably should have applied to some more schools. I basically got into Harvard early and stopped sending in applications. I didn't even consider anywhere on the west coast because my family started to veto it and I didn't feel like arguing about it. I think if I did it again I would cast a wider net, really consider some other options, and probably still end up choosing Harvard.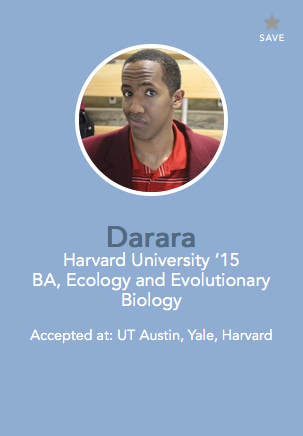 Darara
: I applied to schools thinking that only prestige mattered. Therefore I eliminated a lot of schools from my application list based on name alone. While prestige matters in some regards, you need to know if the school is the right fit for you. After all, this is the place you are going to spend 4 years of you life. You want to be happy. You want to be able to take advantage of every opportunity the school can offer. Think about what you want besides the name of the school and a diploma. Do you want to be close to home? Do you want to get away? Do you want to reinvent yourself. Lastly, do whatever you can to visit as many as the schools as possible and actually talk to the students there, not the admissions reps. See what the students like and dislike. Lastly, follow your gut and choose the place YOU want not what someone else wants.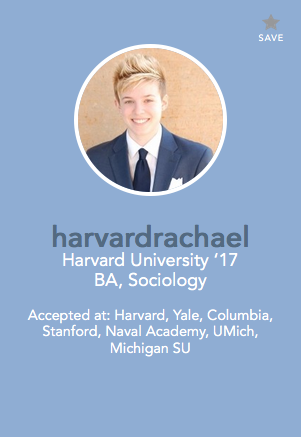 harvardrachael
: I probably would have actually visited more schools. I didn't feel like I actually had enough time to make campus visits, so much of my decision making process was based on reading the reviews provided by other people. It is always best to get a perception on your own!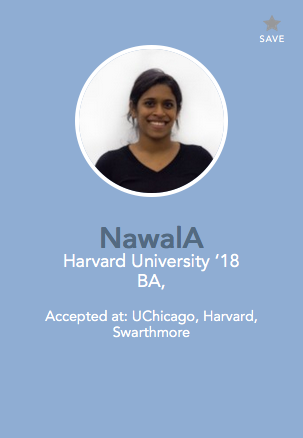 NawalA: I should have been bolder about selling myself—although not too bold, because that definitely backfired on many of my friends, and I'm glad I emphasized community in my essays. I should have applied to Yale, which I dismissed entirely because of a crappy tour on a crappy day. Other than that, I think it was largely out of my control. I wasn't going to do activities in high school that I didn't enjoy just because they would make me seem better-rounded; I would much rather do what I liked well.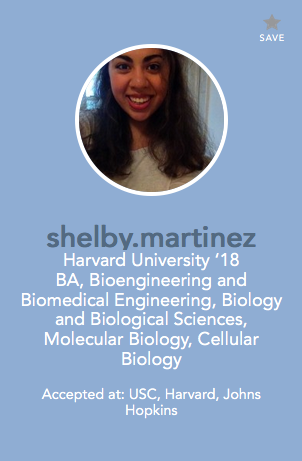 shelby.martinez.182: If I could change anything about my college admissions process, I would decide to not stress as much about my chances of getting accepted in comparison to other students. While test scores and GPA are important, there really is no cut off for being accepted into a fantastic university. I spent many hours questioning if my scores were high enough, if my extra-curricular activities were impressive and if my essay was convincing, but in the end, I had no idea if that letter would begin with "Congratulations!" or "We regret to inform you." The best way to go through this entire process is to express yourself in your personal statement and to be completely proud of the work you turn in.
Already a college student? Make sure to sign up now to earn money by uploading your college application materials, and automatically be entered to win the AdmitSee scholarship! If you're applying to college, check out the various profile packages of admitted students, or search by school to find your dream school.