Since the application process is a new experience, it is hard to get it all right. These students may have gotten into their dream school, but that doesn't mean they have no regrets. So what do these Northwestern students say they'd change about their experiences with the college application process?
NU2018
- "As you're applying and trying to game the system (loading up on AP's, upping test scores, doing everything in your power to make your app likable), keep in mind that universities are doing the exact same thing. In other words, they are trying just as hard to protect their yield, lower admissions rates, up graduation rates, increase the percentage of students they have that study abroad, and so on, all in an attempt to boost their USNWR rankings. While a tad unethical, it does greatly influence their admissions practices, as I learned by having a conversation with the president of Northwestern University, Morton Schapiro. So, when thinking of things that'll increase the likelihood of your getting accepted to the schools you want, think about the college admissions game from the perspective of admissions offices as well. Go on the tours, visit the schools, show up to alumni / networking / application meetings that your selected schools put on because demonstrated interest makes a huge difference, and email admissions officers questions and try to influence them by showing them how committed you are, which boosts their perceived yield and makes them more likely to accept you rather than put you on the waitlist."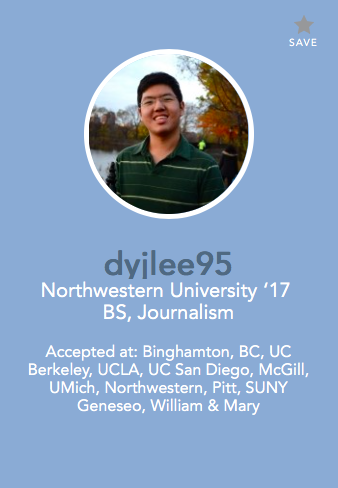 dyjlee95
- "I think I freaked out way too much regarding my college application process. I applied to a total of 24 schools and spent way too much time worrying about what school I would end up in. At the end of it all, I realized I wasn't worried at all about what school I was actually going to. I was too wrapped up in the false ideal of prestige I would receive from friends and family. I wanted to wear the name of an awesome university across my chest at the end of senior year and feel admiration from my peers. I didn't actually think at all about how the school would fit me or how I would fit into the school.
Ultimately, I know I made the right decision because I love Northwestern, even with its brutal winters and harsh curriculum. I have made the best friends of my life here and have crafted so many memories. Tt wasn't because I thought about those things during the application process—I luckily just stumbled upon it. I think those are the things you should be thinking about when you're applying for colleges."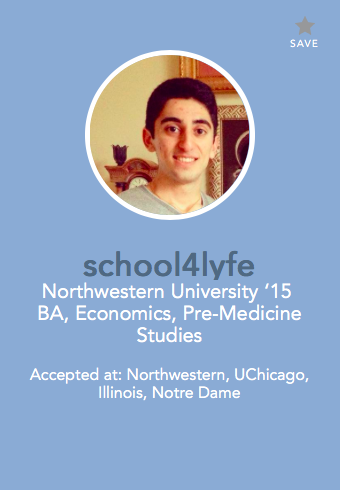 school4lyfe - "The quarter system is highly overrated. Schools (such as Northwestern) will laud its "versatility" in allowing students to take an impressive variety of classes. However, its cons far outweigh its pros (well, pro). Schools on the quarter system typically begin and end classes far later than those on the semester system. This leads to two things: sitting around with no one to hang out with for several weeks before classes start, and being several weeks late to the internship/job market at the end of spring/beginning of summer. Not to mention, falling behind in a class structured around the quarter system is almost guaranteed doom, especially at a school as tough and competitive as Northwestern. "Midterms" often occur every two or three weeks, testing students on volume of material equivalent to that covered in a semester, which is four or five weeks longer, I believe. So, I would try to avoid the quarter system if possible. The other biggest thing I would have done differently when applying is to apply to more undergraduate-medical school guaranteed admission programs straight out of high school, such as the University of Illinois at Chicago's GPPA program. This would have reduced my stress to about 10% of the level it had usually been in. Very manageable minimum GPA, no MCAT, and guaranteed medical school admission (no interviews, no shelling out money here and there for applications) sounds quite comforting. However, I guess it would have limited my choice of medical schools, and it may not turn out so well if I had decided that medicine was not for me.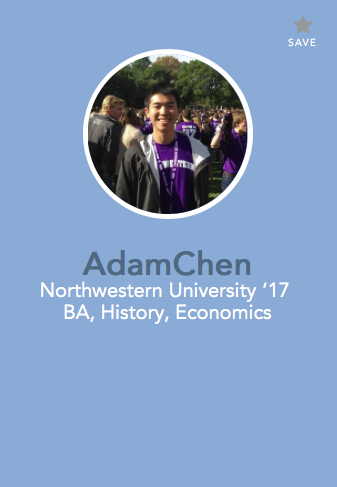 AdamChen - In retrospect, I feel as if the essays that I spend the most time on was my worst essays. This may be attributed to the fact that the essays I scrutinized had language that was too conservative and "safe". On the other hand, the essays I spent less time on and sort of just wrote off the top of my head came back with the best results. On those essays, I was less selective with my diction and I felt like that made my voice come through more in my writing. So you have to find the balance between spending too much time on your essays and not spending enough.
Looking to apply to Northwestern? Make sure to browse our database of successfully admitted Northwestern application files, including essays, stats, and advice. If you're a high school student, apply now for a chance to win our $5,000 scholarship! College students: sign up now and submit your application files to help high school students get into your school, and earn money while you do.