When it comes down to SAT or ACT test prep, options can vary from the class cost to time spent studying. Below are the four most popular types of test prep that students choose to prepare for these exams. A good rule of thumb before signing up: find someone who has done that method of test prep and speak to them about that particular method of studying.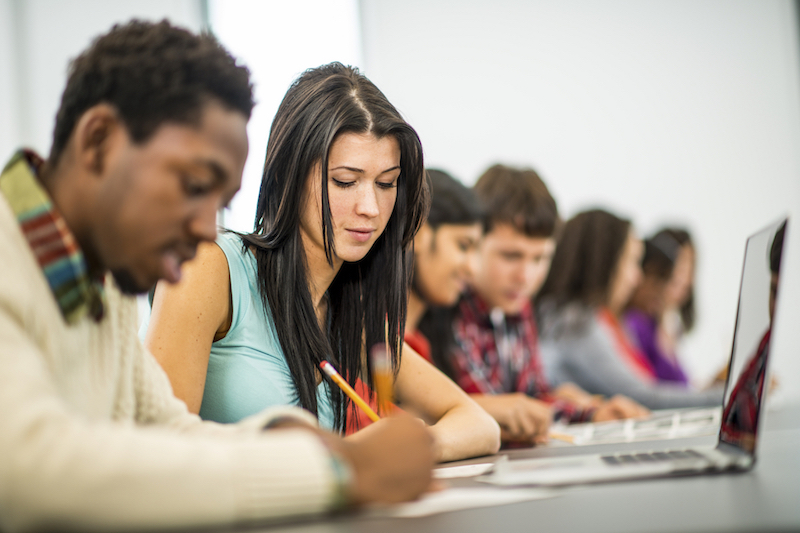 1. Test Prep Classes
These are classes where you sit in a room with a teacher, or multiple teachers for each section, and learn about the SAT strategy in a formal class structure. This type of test prep allows you to get a well-rounded knowledge of all SAT topics. However, classes tend to be large, so it can be difficult to spend all the time and get all the attention you may need on one specific section, especially if everyone else has moved on to another topic. Classes can range in price, but they tend to be more on the expensive side. That said, this method is excellent if you tend to procrastinate, as the regular times and classes force you to come prepared.
2. One-on-one tutor
Having a private tutor can be helpful for those who want to study at their own pace and focus on specific topics. Unlike group classes, where you can feel self-conscience about asking a question if you get stuck, one-on-one tutor will tailor the lessons to your needs. Typically the most expensive method of test prep, it may be worth the cost if you tend not to focus well with other students in a group setting and if you are not motivated enough to study on your own.
3. Online tutoring service
An online service can give you materials you would need to prepare for the SAT without actually having anyone to help you. However, this type of tutoring is only good for certain type of students. If you are not that motivated to study and procrastinate a lot, online tutoring may not give you the necessary support you need during studying time. Because no one is there, it's easy to neglect your studies. However, this option is usually cheaper than private or group tutoring. The College Board, which makes the SAT, provides free online practice tests for students who feel they have studied enough or want to get an idea of how they would do on a practice exam.
4. DIY
At the end of the day, you can always teach yourself. In this case, you would need to buy a test prep in a bookstore or online and read through it. To make this option work, you need to be extremely self-motivated. Otherwise, it's easy to procrastinate and not do the work, since there's no one telling you to study or any classes for review.
Remember, choose what works best for you. Don't choose to attend group classes just because your friends are taking it. Check out more blogs on test prep tips!
Written by AdmitSee Intern, Claire Heuberger