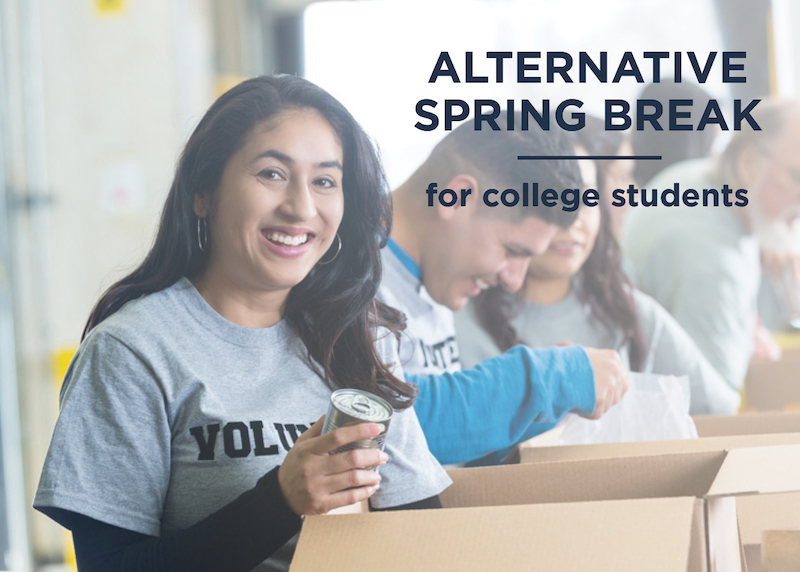 College
spring break
trips are usually known for being focused on parties, beaches, and sun-tanning. For a lot of college students, figuring out your spring break plans follows a general trend: figure out where the best beaches are, where your friends are going, and how many people you can cram into one hotel room. But for those who don't want to party in Mexico for a few days (and believe me, there are more of you than you think), there alternative ways to enjoy your time off. Aside from planning trips to other places or relaxing at home with friends and family, you can always explore Alternative Spring Break trips.
So what, exactly, are "Alternative Spring Break" trips? These programs are often held through your college or university, and are designed to provide different options than the standard spring break track. Usually, they involve volunteering in a local community, but can expand beyond that as well.
Programs like United Way and Projects Abroad offer opportunities to travel domestically and internationally to help volunteer in a number of different ways. Whether you're interested in supporting kindergarten students in Fiji or want to help local citizens in Tennessee have access to sustainable and renewable food sources, there are ways to jump in and help change lives.

If you're struggling to find options through national and international programs, don't forget to look at your own school for potential trips. Plenty of colleges and universities have their own alternative spring break trips to offer to their own students. Schools like Stanford and Berkeley have local opportunities in the San Francisco Bay Area combatting homelessness, environmental awareness, and more. The University of Michigan and Boston University also sponsor programs across the country to help great causes.
It's always important to remember your options. If the typical college spring break trip isn't your style, that's more than okay. Thousands of students from schools all over the United States volunteer through alternative spring break programs, so make sure to check your school to see if there are still spots available!