This week we have invited our new admissions expert, Robert Schwartz from YourBestCollegeEssay, for his take on tackling the UC essay prompts. To start with, here are his tips and advice on answering the first 4 UC essay prompts you can choose from: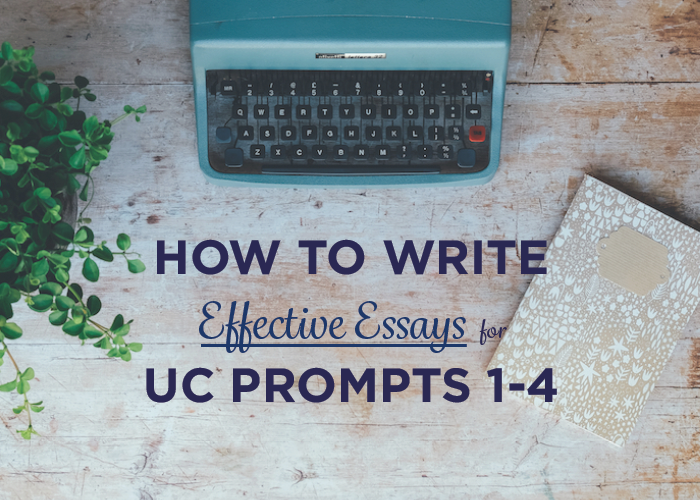 The University of California admissions officers place more importance on their essays than any other school in America. Knowing which of the four prompts you should answer is very important and will show admissions officers a side of you they won't see from your grades or test score. Choosing the wrong prompt or not having a powerful answer could have a negative impact on your application. Here are some helpful tips for the first four prompts.
Prompt 1: Describe an example of your leadership experience in which you have positively influenced others, helped resolve disputes or contributed to group efforts over time.
This isn't one to phone in. If you attempt this one, make sure your leadership experience is easily explained. Be clear and give examples to its influence on others, and the group. Furthermore, be careful of your tone. Walk that fine line between being confident and secure making sure you don't come off arrogant or conceited.
Prompt 2: Every person has a creative side, and it can be expressed in many ways: problem solving, original and innovative thinking, and artistically, to name a few.
Describe how you express your creative side. This is one of my favorites because surprisingly, few applicants I've worked with choose it. Keep this one simple. Describe your creative side. Try and NOT choose something they've seen before like: painting, music, or acting. Dig deeper and find a creative endeavor admissions officer might not see all the time. Separate yourself from the pack.
Prompt 3: What would you say is your greatest talent or skill? How have you developed and demonstrated that talent over time?
I try and steer applicants away from this one. But if they must: open with an anecdote, then a history of your talent or skill, then its impact. Again, if you have a talent or skill but it's something admissions officers haven't necessarily seen before, you will score big points for originality.
Prompt 4: Describe how you have taken advantage of a significant educational opportunity or worked to overcome an educational barrier you have faced.
Admissions people love this one! Anything related to education is impressive. For this prompt to be successful, get into that barrier right away, then describe in detail how you overcame it. This should be a "warts and all" essay. Don't worry about looking bad, your resurrection and how you got there will redeem you in the end.
​Did you find that helpful? Let us know and comment below! If you have any additional questions for our experts, please leave them below. Stay tuned for the next part of this series to find tips for UC essay prompts 5-8.