The college application process can be intimidating for a variety of reasons, the least of which is what it signifies: the beginning of a pretty major change in any child's life. As a parent, you likely face a myriad of questions and concerns about the process, various required documents, and generally what to expect (here's a free personalized college profile evaluation to give you further insight about how your child's candidacy will be viewed by colleges!). Let's take a closer look at just one element of the process that can often lead to a lot of confusion: the alphabet soup that is standardized testing.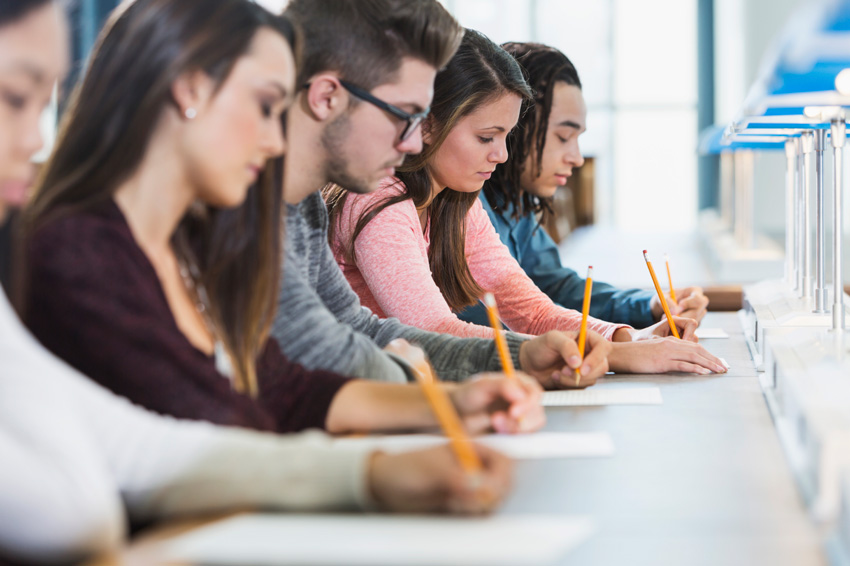 Which test – SAT or ACT (or both) – should my child take?
The SAT and ACT are both standardized tests that evaluate high school students' abilities in three primary areas: reading, writing and math. The test helps university admission officers to determine a student's ability to handle the rigors of a school's curriculum and provide a consistent data point across which multiple students can be compared.
Deciding on a test can be a daunting task, but it's important to do some homework first. If your student has a list of schools in mind, you should start there. Find out if any schools prefer one test over another (and also if they require or encourage students to complete the essay portion of either test). If you find that schools have no demonstrated preference, have your child take a practice test of each. Even though students don't "love" either test, they'll typically find a natural inclination or tendency on one test over the other. The SAT, for example, tends to place a heavier emphasis on algebra and leverage words in context. On the flip side, the ACT includes a science section. While this section isn't content-driven, students who are fluent and extremely comfortable interpreting charts and graphs may shine here. There are similarities across both tests: neither penalizes students for wrong answers or guessing, and both include an optional essay. However, it's crucial that you familiarize yourself with both tests before deciding which to prepare for and complete.
What's a good score on the SAT or ACT?
Pinpointing a good score on either test is like asking which child is your favorite. The easy answer is that a good score is whatever score will get your student into his / her first choice of university. Realistically, students should look at the detailed profiles that universities publish each year to identify the range of scores of accepted students. As you might guess, the closer to the higher end of the range your student is, the better his/her chances are. However, it's important to recognize that SAT or ACT scores are just one element of the application. Universities are looking to put together a first year class of diverse and talented students and recognize that diversity and talent aren't always synonymous with a certain score range. It's important to approach applications and school research with some perspective. If you're significantly off-the-mark when it comes to your dream school's average SAT score, you know you'll have your work cut out for you when it comes to test prep.
When should my student start preparing for the SAT or ACT?
The ideal time for test prep is when you can find a 2 – 3 month window to prepare. Students are over-scheduled and overworked these days, and adding a rigorous preparation program to an already saturated schedule may backfire if you're not careful. However, most students will take the SAT or ACT in the spring of their junior year, take some time over the summer to additionally prepare and then take the test again in September or October (depending on the exam). It's important to look at school deadlines, especially if your student is applying Early Action or Early Decision. You may need to rely more heavily on those spring of junior year scores.
Above all, it's never too early to begin researching your options – both at the school level as well as at the prep level. It's an exciting time for you and your student, and at Veritas Prep, we've been working with students, parents and universities for years and are here to support you throughout your journey. We offer students and parents a free, personalized college profile evaluation giving you tailored advice to help dramatically improve your student's chances of admissions success. Sign-up now!