The wait is over! Our Automated Essay Coach is now live. Analyze your essay draft with our newest feature now.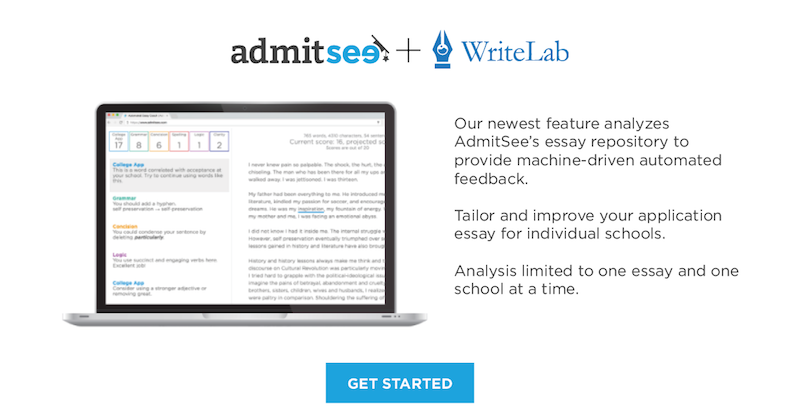 From juggling standardized tests and AP exams to managing your extracurriculars, applying to college is no simple task. Above all, college applicants cite application essays as the most stressful part of applying to college. And with good reason. It's the only place in your application your voice can really come through.
AdmitSee aims to make this process more manageable and transparent for students, parents and counselors. Our platform features thousands of successful application files crowdsourced from college students. Student profiles contain the quantitative and qualitative components that go into a full application so future applicants can approach the application in a more holistic way. No more isolated stories of low SAT scores. No more myths that one extracurricular is not enough. No more writing your personal statement in a vacuum.
Leveraging our millions of student-driven data points, we've taken the analysis of success a step further by partnering with WriteLab to ease applicants' biggest pain point. Our Automated Essay Coach applies WriteLab's natural language processing technology to our repository of essays and extensive vault of historical data to analyze an applicant's essay and deliver AI-driven feedback.
"The collaboration between AdmitSee and WriteLab is exciting on several levels. While we believe the college essay can never (and should never) be reduced to a formula, there are proven ways to improve or enhance an essay to highlight your candidacy, whether it's word choice or narrative arc development," said AdmitSee's CEO and founder Stephanie Shyu. "This partnership takes us closer to the goal of delivering scalable application analysis to the 3 million students aspiring to college each year."
The Automated Essay Coach will generate an essay score tied to the applicant's essay topic and target university. Essay feedback includes suggested edits to improve concision and grammatical errors, refine word choice, develop the essay topic, and optimize for clarity. The scoring engine and feedback was developed and trained by data crowdsourced over 4 application cycles, spanning the top 50 universities.
"We're delighted to partner with AdmitSee to bring our formative writing feedback to students seeking admission to a diverse range of schools," said WriteLab's CEO and co-founder Matthew Ramirez. "By getting more feedback on their essays—and a score representing the payoff of their hard work—students can better demonstrate who they are as individuals while satisfying the criteria an institution is assessing."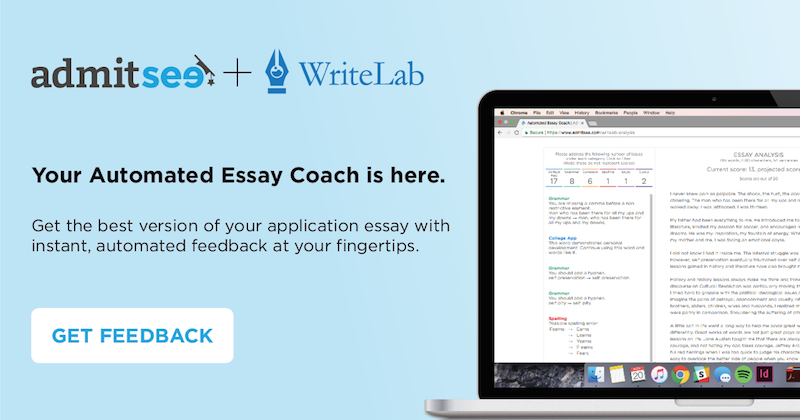 This new automated essay analysis feature expands the suite of resources AdmitSee offers its users. "We want to be able to give our users the support they need. This partnership developed as a result of user feedback from several applicant cohorts. We work closely with our users to address their needs, and we're excited to offer a resource they've been asking for," said Director of Marketing Frances Wong.
Combined with subscription plans that offer access to AdmitSee's database of student profiles as well as data insights, student advice, and consultation, this essay editing tool extends AdmitSee's reach as a full-service college application resource committed to affordable access and transparency.