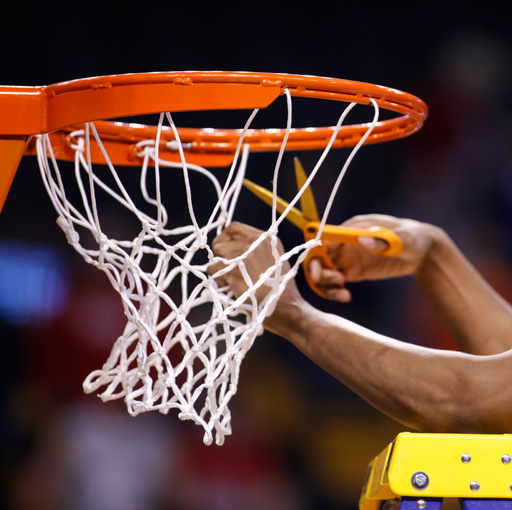 Now that the second weekend of March Madness has concluded, we're down to the Final Four, and it's been a crazy ride the whole way. Nothing about this tournament has been predictable - only one No. 1 seed made it to the Final Four, a No. 10 seed managed to make it out of the Midwest region stacked with talent like Virginia, Michigan State, Iowa State and even Gonzaga. From Villanova's stellar guard play to Syracuse's Cinderella run, let's break down the penultimate weekend of college basketball.
Villanova Proves Why They Should Have Been a One-Seed
After an early exit from last year's tournament, there were a lot of doubts surrounding coach Jay Wright and the Villanova Wildcats. But all doubt has been erased, as the Cats have looked like the most complete team in the tournament thus far. Nova has won their four games by an average of 19+ points, with the lone outlier coming Saturday in a five-point victory over top-seed Kansas. Wildcats' guards Ryan Arcidiacono and Josh Hart stole the show, and Kansas' Perry Ellis was limited to four points with four turnovers in 34 minutes of play. The Wildcats forced Kansas into 16 turnovers and looked in control for most of the game. Don't sleep on Nova: they are firing on all cylinders and playing some of the most complete basketball I have seen all year, and they don't look like they'll be stopping anytime soon.
Presenting This Year's Cinderella Team: The Syracuse Orange
Sometimes teams get lucky - the right teams lose at the right time, and road to the Final Four gets a little easier. Then, sometimes that luck seems like its destiny, and after Syracuse's miraculous comeback over No. 1 Virginia, that's exactly what it looks like. Cuse took an interesting route to the Final Four. After an early round win over Dayton, the Orange got the luckiest second round draw by facing a beatable Middle Tennessee team (instead of the heavily favored Michigan State Spartans). Then, in the Sweet 16, No. 11 Gonzaga had a monumental (yet very predictable) collapse, and Syracuse escaped with another win. So after playing No. 7, No. 15, and No. 11 teams, their luck had to run out against No 1.Virginia... right? Well, if there's one thing we've learned from March Madness over the years, it's to leave all your preconceptions at the door. After switching from their signature zone to a full-court press defense, the Orange capitalized on fundamental breakdowns by Virginia and took a late lead to the Final Four.
Bahamian Buddy Buckets
Oklahoma's Buddy Hield has been an amazing story on and off the court this year. Born in the Bahamas to a single mother with seven children, Buddy's success at Oklahoma has been incredibly admirable, and he is the favorite to win the coveted John Wooden Award. After being projected as a second-round pick in last year's NBA draft, Buddy decided to stay for his senior year, where he is now projected in the top 10 picks of the draft. Buddy has, in a way, become the poster boy to play a full four years in college to fully develop their talents. He has been lights out this tournament, shooting with Steph Curry like confidence and range - he went a spectacular 8-13 from 3-point range in a surprisingly easy 80 – 68 victory over Oregon in the Elite Eight. Averaging almost 30 points per game this tournament, Buddy has looked like the single best player on the court this March. Can he continue against a strong Villanova team? Historically, the odds are against him: his 25.4 points per game average this season marks the first time since 1990 a scorer averaging over 25 points has made it into the final weekend.
Looking to start your college search? Search for students just like you who have gotten into colleges all over the country. Read college essays, applications files, and advice answers to help you get into your dream school. Get personalized help by chatting with a mentor to give you an inside look into the college admissions process.