Finding a productive and comfortable working environment is something that all job seekers look to find. This week, we want to introduce you to InHerSight's founder, Ursula Mead. She opens up and tells all about her journey as a startup founder.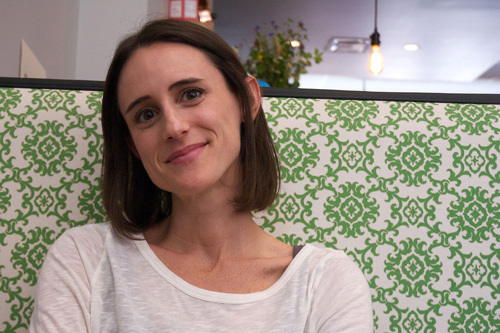 Where did you go to high school? College? High school: Providence Senior High School in Charlotte, NC, Undergrad: UNC-Chapel Hill, Graduate School: George Washington University's Elliott School of International Affairs
How long ago did you found InHerSight? We started building InHerSight in January 2014.
How many people currently work at InHerSight? Our core founding team is made up of 3 people, but we're joined by 5 amazing women who have been working with us to help build the company.
Is this your first startup? This is my first startup, but I've always loved working and working hard. I got a work permit when I was just 14 so I could start working at a local bagel shop and I've done more fun, odd jobs than I can count, from making bagel sandwiches to stringing tennis racquets to building online investing products. That diverse range of experiences has served me well so far as an entrepreneur.
Can you recount the exact moment you came up with the idea for your startup? The idea came to me in the summer of 2012 after reading and thinking deeply about Anne Marie Slaughter's now infamous article in the Atlantic about why women still can't have it all. I followed her and Sheryl Sandberg on others' contributions to the conversation about women in the workplace very closely, pondering the solutions they and others put forth like political action, mentorship, and company-led initiatives. I felt like there was a strong need for better data, accountability and transparency at the company level, and a more powerful online platform to push for change from yet another direction.
Did you bootstrap? Absolutely. We worked nights and weekends for almost 2 years before raising money, and for me that meant working 9-6 in upper management at a large financial media company, then coming home for dinner and time with my toddler-aged daughter, and then working until about 1am each night and much of the weekend.
What's your favorite piece of feedback you get from users? One of the things we love to hear from women using our "match" tool is that we opened their eyes to companies they had never considered that might be a good fit for them. We love hearing that we are helping women discover workplaces where they can succeed. The "best companies for women" lists have always been a bit of a pet peeve of mine, especially since only a small fraction of working women can work in the companies on that list.
Do you have a personal motto? Favorite quote? I love the Henry Ford quote "Whether you think you can or you think you can't—you're right."
Did you intern anywhere during college? Anything you'd do differently? I was a Morehead-Cain Scholar at UNC-Chapel Hill, so I was very fortunate to have the opportunity to do something exciting and enriching each summer. I ended up exploring careers I thought I might be interested in—like in law and banking—which actually helped me rule those out. Learning what you don't want to do can be incredibly helpful in figuring out what it is you're passionate about.
How many times do you hit snooze in the morning? My daughter typically wakes me up before my alarm has a chance to go off, which is great because I've never found a Snooze button I can't beat.
What's the worst piece of advice you ever received? The worst category of advice that I've received has been around how to speak or dress "as a woman." I think everyone should be their authentic, true selves, and that they will present themselves best when they are most comfortable.
If you're just starting the college application process and are looking for help, advice, and more inside tips, search through thousands of successful college application profiles to find the help you need. Read essays, see stats, and see how students got into college, or get personalized college application help from a mentor. If you're just graduating from college, InHerSight is a great resource for women entering the workplace. Women rate the places they've worked on 14 metrics, from flexibility to management opportunities to salary satisfaction, and we use those insights to match women to companies and opportunities where they can succeed.