Is Carnegie Mellon University on your college list?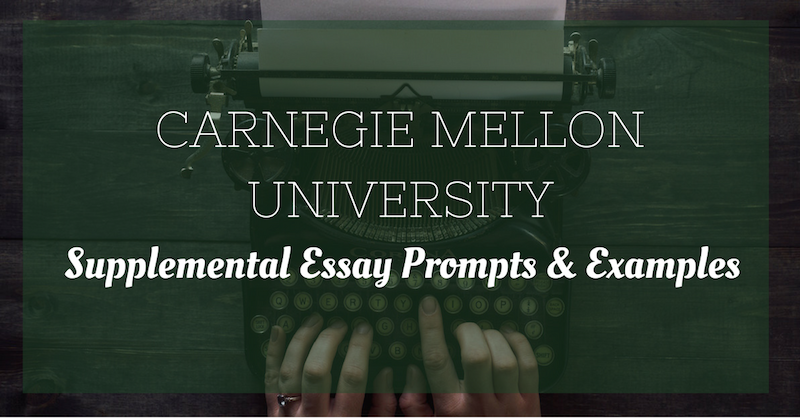 Located in Pittsburgh, CMU offers strong academic programs in both the arts and sciences, attracting top students all over the world to apply. Carnegie Mellon has seven undergraduate colleges you can study in:
College of Engineering
College of Fine Arts
Dietrich College of Humanities and Social Sciences
Mellon College of Science
Tepper School of Business
H. John Heinz III College of Information Systems and Public Policy
School of Computer Science
Carnegie Mellon is well known for their undergraduate engineering programs and their entrepreneurial teachings, but they also have a strong arts program and an architecture program, which isn't offered at all universities.
Interested in applying to CMU? Carnegie Mellon's application calls for an additional writing supplement, asking students to elaborate on why they want to attend. Here are 5 successful examples for you to learn more about what the college offers, and how to best approach the "Why us?" supplemental essay:
Essay Excerpt 1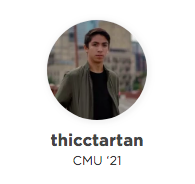 Thicctartan
Mechanical Engineering, CMU '21
"My face lit up as I moved my mouse over and clicked "run" to watch my days of work unfold before me. I had meticulously reconstructed my hometown of Pittsburgh to the best of my memory, but this time with a twist. The player has to navigate through the street of downtown to Heinz Field to beat both the clock and a pack of brain-hungry zombies. As I loaded up Alice each day to perfect this game, I took notice of the school in the corner: Carnegie Mellon University. As I continue to develop over the years, I kept finding myself drawn to the school, traces of it appearing everywhere."
Unlock his Carnegie Mellon profile to read his full essay and his application advice.
Essay Excerpt 2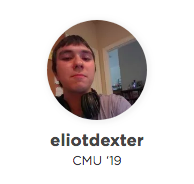 Eliotdexter
Computer Science, CMU '19
"One of the reasons Carnegie Mellon appeals to me is because it is an urban campus and is intertwined with the city of Pittsburgh. On my visit to the campus for Sleeping Bag Weekend, I was quite impressed with the school and pleasantly surprised by the city of Pittsburgh. I attended presentations on both engineering and computer science. I am torn on which discipline appeals to me more, thus i am considering a double major. Although I have had more exposure to computer science, I am also very interested in the type of work that electrical engineers do."
View his full Carnegie Mellon profile to learn more about his application!
Essay Excerpt 3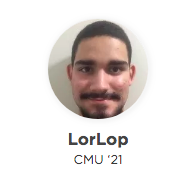 Lorlop
Computer Engineering, CMU '21
""El Circulo" is what first got me interested in Carnegie Mellon University. It's a course at the Department of Modern Language designed to help Latino children keep in touch with their culture. I am Cuban, and though Spanish was my first language, I've struggled with my ethnic identity. My skill with Spanish has fluctuated as a result, but I'm resolved to never lose that part of me. Spanish connects me to a whole other plethora of cultures, all unique in their own ways, and maintaining that connection is important to me. When I heard about "El Circulo", I immediately thought of Coder Dojo, an educational platform for teaching computer science to children."
Check out his successful Carnegie Mellon application to see his essays and advice.
Essay Excerpt 4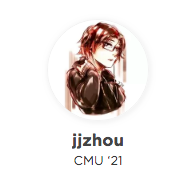 Jjzhou
Computer Science, CMU '21
"In the sweltering heat of a Pittsburgh summer, I found myself sitting in one of the cool, air-conditioned classrooms in Wean Hall, quietly working with four other students to design our first ever video game. Having the opportunity to participate in one of Carnegie Mellon's pre-college programs, the National High School Game Academy, I was overjoyed to be able to call this my home for the next six weeks. When I sat in the packed auditorium on opening day, I could not wait to meet the dozens of students who had the same shining eyes as I did, eager to learn and eager to create."
Unlock her CMU profile to see her full application!
Essay Excerpt 5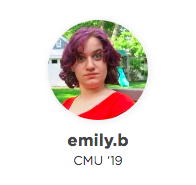 Emily.B
Bioengineering and Biomedical Engineering, CMU '19
"I visited Carnegie Mellon twice—once last winter for a tour and information session, and again in October for a Sleeping Bag weekend. These visits opened my eyes to the incredible experience CMU provides. I sat in on Professor Conrad Zapanta's Biomedical Engineering lab, peering over the shoulders of seniors as they experimented on muscle cells and explained their research to me."
View her CMU application file to learn more about her application journey.
---
Hope this was helpful for those considering applying to CMU this fall! Interested in reading these students' full personal statements in addition to their full responses to the CMU supplemental prompts? Unlock all of them in one go with our CMU Package!

You can also find more general tips to help you put together your supplemental essays. Additionally, you can now search by supplemental essay topics on our search page. Or, you can check out our curated packages to find what you're looking!
For further access, upgrade to our premium plans offer different levels of profile access and data insights that can help you get into your dream school.