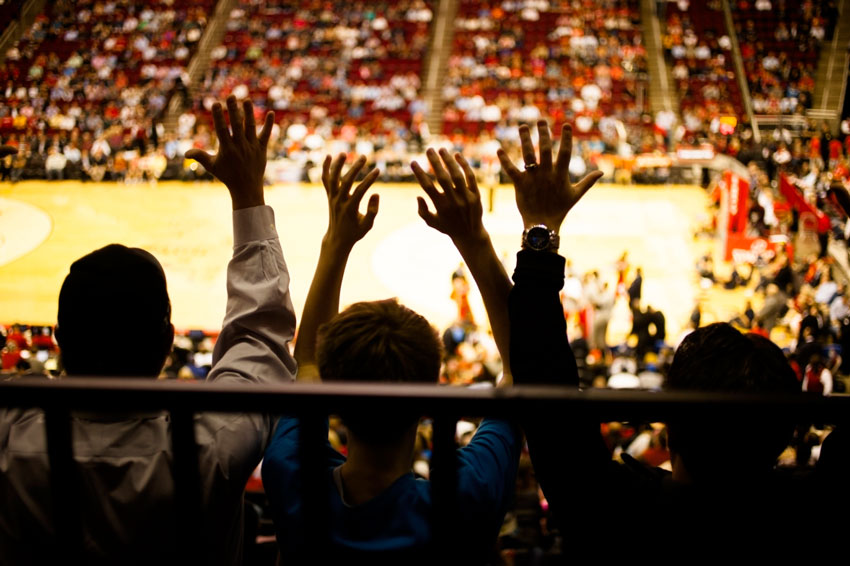 Another week of college basketball brought us another week of upsets; this time, both the number one and two ranked teams dropping a combined three games. But as they say, it's better to lose in February than in March. Let's take a look at some of the big games and headlines from the past week, and look forward to this week's exciting games.
Top Two Teams Fall
As we get deeper into the season, the losses only get more important. This time, we saw No. 1 Oklahoma lose a shocker at home to Kansas State, the seventh place team in the Big 12, by a score of 80-69. The Sooners only got 10 points from the bench as Kansas State outlasted them to pull off their biggest win of the season. No. 2 ranked UNC lost a tough game on the road at No. 19 Louisville, and then again on the road to unranked Notre Dame. Winning on the road has been a major problem for UNC this year; all four of their losses have come away from home, including their last two. With consecutive losses, the Tar Heels dropped to No. 9 in the AP rankings, while Oklahoma saw a minor drop to No. 3
Texas is Here to Stay
With a big 8-point road win on Monday against the No. 15 Baylor Bears, the Texas Longhorns added another top 25 win to their tournament resume. With a win over rival Texas Tech they have cracked the top 25 this week, coming in at No. 24. The Longhorns already have big victories against UNC, Iowa State, West Virginia, and now Baylor. Texas, led by coach Shaka Smart, is already showing how individual players will step up from minor to major role players every game.
Other Big Games & Headlines
-Villanova takes role as new AP No. 1 ranked team for first time in program history with win over rival Providence
-Providence loses two games to drop from No. 11 to No. 19 in AP Top 25
-Oregon stays hot, moves up to No. 11
-Baylor loses two tough conference games to Texas and West Virginia, dropping them to No. 21, hurting their tournament resume by losing big games.
Three Predicted Number One Seeds:
University of Oklahoma: Two words: Buddy Hield. Two more words: Ryan Spangler. The first one is shooting an unreal 51% from beyond the arc and averaging 25.6 ppg, and it is not uncommon to see him put up 30 on any given night, no matter the competition. While Hield gets it done on beyond the arc and leads the team with 34 minutes per game, Spangler averages a double-double and is second with 33 minutes per game. With a strong supporting cast of Jordan Woodard and Isaiah Cousins in the starting five, the Sooners can match up with just about any team in the country. We did, however, see their problems with depth last week with their loss to K-State. If the Sooners want to live up to expectations, they need to figure out who's going to be able to contribute to late points off the bench when they need it most.
University of Maryland: Maryland has displayed all the qualities of a true one seed all year, with consistent victories over strong teams. With a current record of 21-3, they are a half game out of first in the Big Ten to Iowa, whom they recently beat. The Terrapins are perfect at home this year with road losses to only Michigan State, UNC, and a down to wire thriller at University of Michigan. With a nice win over Purdue last week, the Terrapins will face Michigan at home and Purdue on the road at the end of the month, and with winning out a very strong possibility for the squad it should set up an exciting Big Ten tournament.
Xavier University: While conference rival Villanova may be ranked ahead of them in the AP and Big East standings, save the date for February 24th, when Villanova and Xavier face off. Hungry to avenge a huge loss at Nova to start Big East play, the Musketeers have been nothing but spectacular since their previous matchup. One of the deepest and best coached teams in the country, Xavier can get it done from any part of the court. Xavier took a lot of fans by surprise with their Sweet 16 run last year, so don't sleep on them this year.
4th number one seed: At this point it could be any toss up between UNC, Kansas, Iowa, or even Villanova. UNC has shown trouble on the road, Kansas already has four losses, and we've seen Iowa collapse without help from star Jarrod Uthoff. Only time will tell who can close the gap on the final one seed.
This Week's Big Games:
Tuesday
-No. 10 West Virginia @ No. 6 Kansas
-No. 8 Michigan State @ No. 18 Purdue
-No. 20 Providence @ Marquette. Two Big East players projected as lottery picks in next years draft face off, Sr. Kris Dunn for Providence and Fr. Henry Ellenson for Marquette
Saturday:
-No. 15 Texas A&M @ LSU
-No. 6 Kansas @ No. 3 Oklahoma. Last game was a triple OT Thriller, this is a must watch game
-No. 24 Texas @ No.14 Iowa State
Interested in applying to any of these schools? Search our database to find students like you. Read their essays, stats, and advice to find out how they got in, and see how you can too. Sign up now to chat with college students for help with the application process or help with your college application essays.