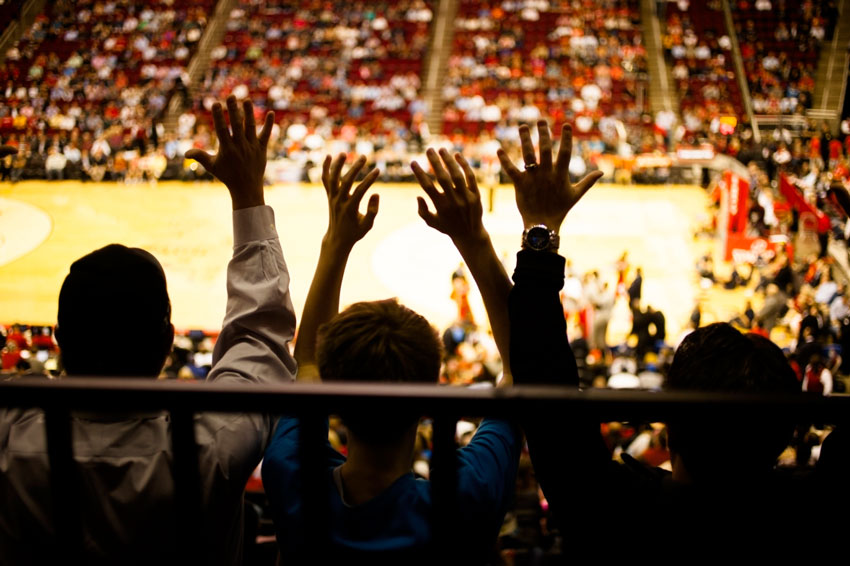 While many students spent the last week making their Valentine's Day plans, college basketball players were hard at work making their plans for March. We saw everything from
Duke
beginning their late tournament push with two upsets over AP Top 15 teams, the long anticipated and down to the wire excitement that Kansas and Oklahoma brought us, and a handful of upsets sprinkled in the keep us all on our toes. Let's dive into some of the headlines and notable moments from last week's action.
Is Duke Back?
Just a few weeks ago, Duke dropped out of the AP Top 25 rankings for the first time since the 2008 preseason, and it seemed like they were headed towards trouble. But after two weeks unranked, the Blue Devils came out hot last week with a home win over No. 13 Louisville and a last second game winner by Grayson Allen over No. 7 Virginia Saturday. Duke will head to Chapel Hill on Wednesday to take on the No. 5 North Carolina in what is regarded as the best rivalry in college basketball, and with Duke's recent success, this game will definitely be good. Coming back in at No. 20, three of Duke's final six games come against ranked opponents, including two showdowns against the Tar Heels. While these previous wins are great for the tournament resume, Duke just might pull out some late season magic to make another title run.
Kansas Secures Two Key Victories
University of Kansas fought hard last week to secure wins over No. 3 University of Oklahoma and No. 10 West Virginia to earn the No. 2 spot in the AP Top 25 this week. With these victories, they split the season series with WVU and take home the sweep over the Big 12's best scoring team in Oklahoma. Kansas is now one of three schools, the others being rival Oklahoma and Iowa, with five wins over ranked teams. These three teams could all easily be one seeds: all three play in strong conferences and have capitalized with victories over equally good teams, which are very attractive qualities in the eyes of the selection committee.
Other Notable Headlines Last Week
-Three schools drop out the AP Top 25, headlined by Texas A&M, who lost to unranked Alabama and LSU. A&M was ranked as high as No. 8 this year, but they have now lost 5 straight SEC contests after starting 7-0 in conference. Southern California (23) & Witchita State (25) also dropped out of the rankings.
-Oregon and Texas took steps back as both lost two games. Oregon fell to unranked PAC 12 foes Cal and Stanford, neither of whom are projected to make the field of 64. Texas lost to Big 12 powerhouses No. 3 Oklahoma by three and No. 14 Iowa State. Though Texas played tough and was an underdog in both contests, these are the types of games a team like Texas needs to win before March to instill confidence moving forward.
Next Week's Big Games
Tuesday:
-No. 10 West Virginia @ No. 24 Texas: After losing two Big 12 matchups Texas cannot afford to lose a third straight.
-No. 13 Iowa State @ No. 25 Baylor: Baylor is holding onto their top 25 position by a thread and have been taking on water quickly at the end of the season.
Wednesday:
-No. Providence @ No. 8 Xavier
-No. 20 Duke @ No. 5 University of North Carolina: It's Duke vs. North Carolina… what more can a college basketball fan ask for?
Saturday:
-No. 20 Duke @ No. 18 Louisville: After getting upset by Duke once last week, the Cardinals will be hungry for a revenge win on their home court.
-No. 11 Miami @ No. 5 North Carolina
-No. 25 Baylor @ No. 24 Texas
-No. 3 Oklahoma @ No. 10 West Virginia
Interested in seeing your school compete every week as a proud student? Search through thousands of profiles from various schools to see essays, stats, and advice from students who got in. See their info or chat with them to find out how you can get in too.