Now that you've submitted your applications, there's another component to the college application you have yet to get through: college interviews. Unsure what to expect or how to prep? You've come to the right place.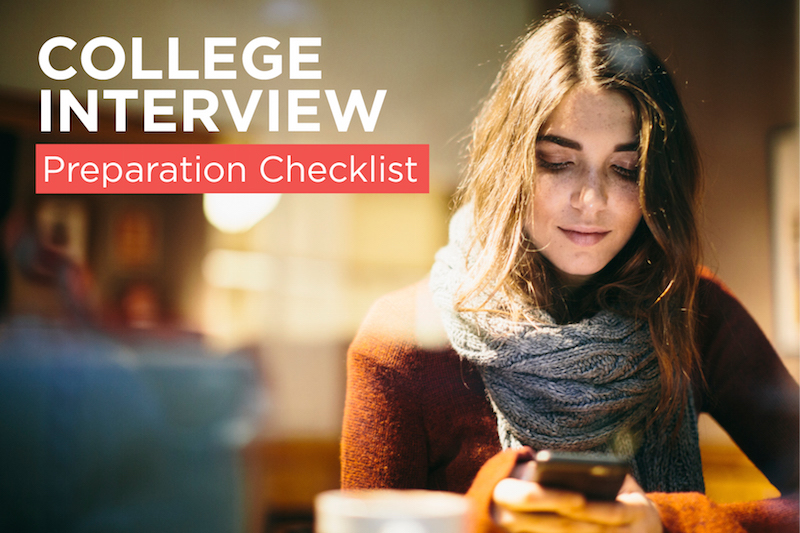 Many schools do not include interviews as part of the applications process, but others, such as Harvard and Brown, require or recommend them. The majority of interviews are evaluative, meaning that the interviewer assesses your possible fit for the college. However, some interviews are informational; interviewers usually do not communicate their feelings about you to the college, and the interviews are for you to learn more about the school or a certain program. When an interview is optional, it most often is informational rather than evaluative.
The checklist that follows focuses on evaluative interviews. In some cases, these interviews do not make or break your chances of getting into a school, but they can be a top factor if the admissions committee is undecided or if the school is highly selective.
1. Check Your Email Daily
Sign into your email every day because you never know when you will get matched with an interviewer and you want to respond in a timely manner.
2. Check Out the Location
Expect your interview to be in person and at a public place. If the location is unfamiliar to you, check it out on a similar day and time as your interview. For example, if your interview is on a Tuesday at 4 p.m., try to go to the location the previous Tuesday at 4 p.m. This ensures you will arrive on time and are aware of potential concerns such as parking or noise level.
If your interview is via video chat or phone, secure a quiet location where you will not be interrupted. Give yourself at least a few days to do this.
3. Do Your Homework
Cross your t's and dot your i's. Know why you want to attend this particular school; for example, show that you are familiar with its programs and sports offerings. Review your background so that you can make a case for how you will benefit the college. Look at areas such as volunteer work, interesting experiences and classes.
4. Conduct Practice Interviews
Designate someone to help you practice with questions such as, "What about this school excites you?" and "Which adjectives best fit your personality?" We have a full database of students sharing their college interview questions and advice, so don't let that go to waste!
You also want to ask the interviewer questions, so have a few queries ready in the practice interview. One good question is, "What advice would you offer a new freshman?"
Wear the clothes you plan to use for the interview. Make sure you feel comfortable and confident in them.
5. Arrive Early and Relax
Above all, it is important to remember that despite the word "interview," these meetings are supposed to be conversations. Get to the interview early enough so that you are sufficiently relaxed to have a productive conversation with the interviewer. It is possible that you may need paperwork such as your high school transcript; if you are in doubt, bring any documentation you think is helpful.
6. Say Thank You
Once the interview is finished and the two of you have gone your separate ways, jot down your thoughts on the interview. Mention something particularly fascinating or relevant in a thank you note or email, and express your appreciation for the interviewer's time and repeat your interest in attending the college. Send the message in the few days after the interview.
Don't forget your college interviewer and keep their contact information handy. If you do get accepted, it's important to email them and say thank you! It's always good to keep in touch and start building your alumni network that way.