It's the holiday season! Throw on your holiday onesie, grab a hot chocolate, and enjoy the season with holiday music playing from this new Amazon Echo you're about to win!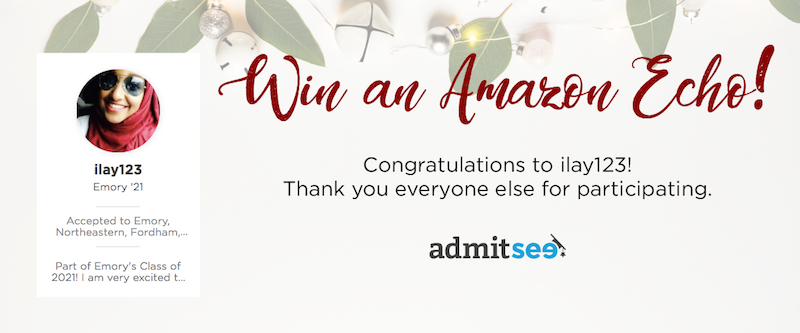 Update: The Amazon Echo Giveaway is now over. Congratulations to Ilay123, and thank you to everyone who participated!
College students: if you haven't already created your College Admit profile, now is the time to do it! For a chance to win, all you have to do is complete at least 80% of your College Admit profile. Upload your application materials, including your background, test scores, personal statement, supplemental essays and application advice. You can help applicants who are finishing up their regular decision applications now, and future applicants interested in your school!
For students who were just accepted to the Class of 2022, the same goes for you! If you're done with your application process, convert your high school account to a college account and create your college profile.
For additional entries, refer friends to join AdmitSee! Every referral you make is another additional entry to win the Amazon Echo.
Hurry up and get it done! Deadline is February 1st, 2018.
Good Luck!