36 hours at USC isn't enough time to see and experience everything the school has to offer, but if you plan carefully, you should be able to get a good sense of what student life is like and the general vibe of student culture, as well as an idea of what USC and the surrounding area has to offer!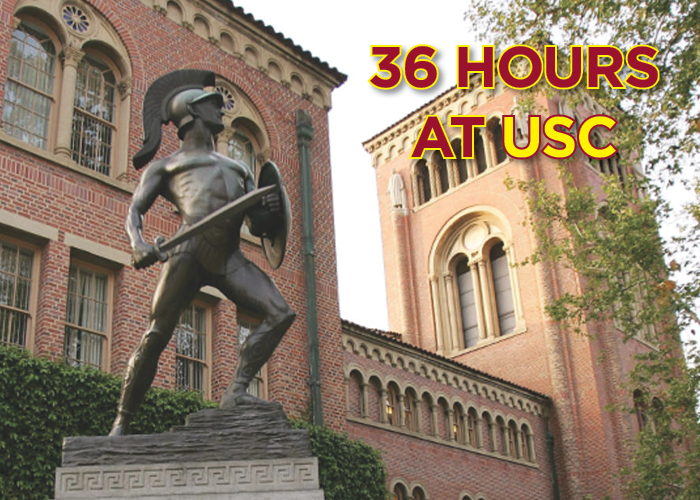 Grab a Bite!
If you get to campus mid-morning or in the early afternoon, there are several good options for lunch in the area. If you've booked a campus tour ahead of time that starts soon, I recommend checking out Lemonade, which is right at campus center and serves trendy, healthy dishes via cafeteria-style "portions," as well as a variety of soups, stews, desserts and (of course) flavored lemonades. Lemonade is a crowd favorite amongst students, and for a reason: everything I've gotten there has always been delicious. If you have more time or want to go somewhere a bit off campus, the nearby Nature's Brew is another good option, offering various American sandwiches, salads, baked goods and smoothies— and with a healthy, California spin on most dishes.
Campus Tours
Campus tours are offered on a schedule that changes seasonally and from weekday to weekend, so you should definitely check out when tours are offered the specific day and time you'll be on campus, and I recommend booking it ahead of time (although walk-ins are accepted). Tours are pretty long, and the guides are very knowledgeable and a great resource for any questions you might have about any aspect of life at USC. Be prepared to do a lot of walking, and pay attention to what they tell you: it'll come in handy when narrowing down your college search later. After the tour, you should check out the student-run coffeehouse Ground Zero, a popular hangout and study spot for students, and I also recommend hanging around the quad or campus center for a while: you'll walk through these places during the tour, but it's much more useful to get a sense of the vibe of these places if you sit down for a while.

If you don't get a chance to speak to current college students on campus, check out our
USC package
! We've curated a list of 10 profiles that share their USC application materials and advice on how to get accepted, as well as insider tips on the student body culture.
Dinner Options
For dinner, you and your family could go to Bacaro LA, a moderately fancy restaurant owned by the same people who own Nature's Brew that serves tapas-style Italian food and wines. Further from campus, Urth Caffe is an extremely popular restaurant that serves a wide variety of healthy dishes with a Mediterranean spin, and Bottega Louie is another popular Italian restaurant famous for its delicious macaroons. After dinner, you could catch a movie or go ice skating (in the winter) at LA Live, a shopping and entertainment complex just a mile and a half from campus, or walk down the famous Walk of Fame on Hollywood Boulevard, and go shopping or to a comedy show in that araa.
Where to Stay
As to accommodations, The Radisson is literally across the street from campus, is a popular choice amongst visiting high school-ers, and isn't too expensive. If you'd like to stay somewhere nicer, The Four Seasons near Beverly Hills is very nice and offers amenities like spa services and multiple pools—not to mention the fact that it's often frequented by celebrities! For breakfast, Jacks n Joe is hands-down the most popular student choice: on weekends, the often exceeds an hour! But if you're visiting on a weekday, this shouldn't be too much of a problem. The on-campus grocery style/deli, Seeds, also has excellent breakfast options if you get there before 10am. Finally, if you're staying downtown, I highly recommend getting a breakfast sandwich at Eggslut: (as the name implies), this restaurant offers a variety of yummy egg-based dishes.
Bonus Items!
If you have time and a car, there are several other places near USC and around LA you should definitely check out: a visit to Third Street Promenade and the Santa Monica Pier, for instance, could easily take a full day in itself! The beach is beautiful, and the Promenade has excellent shopping and food options as well as street performers. A couple of miles down the coast is Venice Beach, which is also great for hanging out, but has a different vibe from Santa Monica: it's an excellent spot for people-watching. If the beach isn't your thing, The Grove is a more upscale shopping complex, and also has an adjacent Farmer's Market that has delicious food and hand-made artisanal crafts/jewelry, etc., available for purchase.
Finally, there are several other schools of similar caliber to USC in the Los Angeles area, which you should definitely check out while in the area. The closest are UCLA and Occidental and while the nearby city of Claremont is home to a Consortium of five more small, well-regarded colleges: Pomona, Claremont Mckenna, Pitzer, Scripps, and Harvey Mudd.