As you're wrapping up your college visits for the fall, take a look at these students' stories about their college visits, and their first impressions. What did you think of the schools you visited?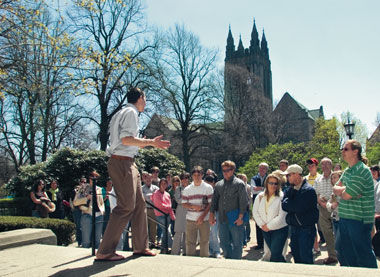 Zach's Story:
After my junior year of high school I went on a college tour with my school. We took a bus from Washington, D.C. to Boston, visiting 17 schools over the course of a week. By the end, it became almost overwhelming and tiring seeing so many different schools. Despite that, I found it an incredibly useful experience. By seeing so many schools in such a short time, even ones I wasn't interested in, I was able to get a real sense of what I liked and didn't like in a college. I visited several other schools later on, but it was much harder to compare them because of the large break in time. My favorites on the tour were Brown, Yale, and Penn. I really liked the sense of campus all three had. Yale's architecture also really struck me. The tour was during the summer though, so there were not many students around, which is a consideration as well when deciding to visit colleges.
Ilse's Experience:
I visited the following schools (4) during high school senior year:
Amherst: I loved the students there! They were so genuine and really into their major. Most were liberal arts majors.
Williams: Really similar to Amherst, but I liked Williams more because the students seemed to be more than just "booksmart".
Wesleyan: My least favorite college that I visited. It was just not for me.
Stanford: I loved it! The students, the professors, the atmosphere! Not only did it look like paradise, but the students seemed genuinely happy and dedicated!