The Common Application just released the new essay prompts for the 2017 - 2018 application season. The changes are not drastic, but there are a few that you should be aware of if you're applying this fall.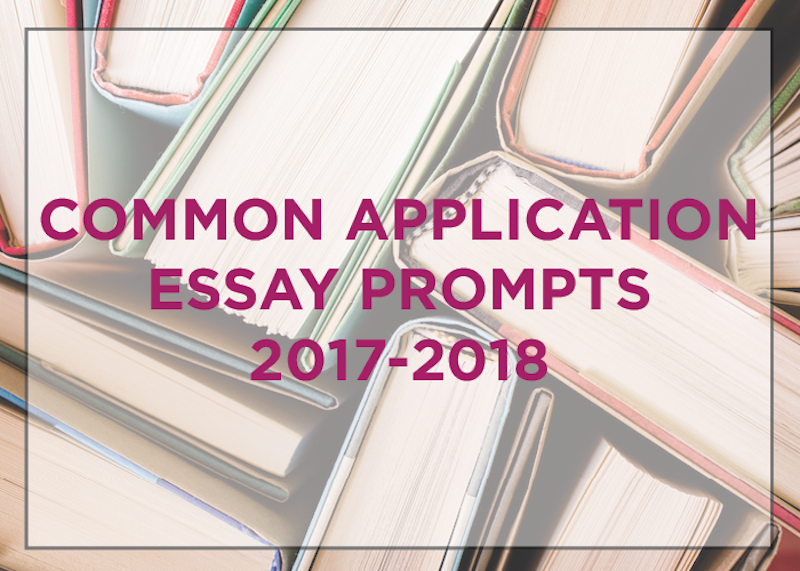 The Common App essay word limit will remain at 650 words or less. Here are the options:
PROMPT #1 [no change]
Some students have a background, identity, interest, or talent that is so meaningful they believe their application would be incomplete without it. If this sounds like you, then please share your story.

It shouldn't be surprise that this prompt remains unchanged. It's one of the most popular essay prompts, as it gives students the opportunity to share something about themselves the rest of the application doesn't touch on. There's more to an applicant than their GPA, test scores, and activities. It's typically through this prompt that we gain insight into their drive and motivation for their extracurriculars, or how they did academically. Take this package above for example. We curated a list of 5 profiles who shared personal stories about themselves that gave context to the rest of their application.
PROMPT #2 [revised]
The lessons we take from obstacles we encounter can be fundamental to later success. Recount a time when you faced a challenge, setback, or failure. How did it affect you, and what did you learn from the experience?

The Common App only slightly revised this prompt by emphasizing less on "failure". Instead the prompt now focuses on any incident applicants found challenging, which gives students more flexibility to choose what to write on. This could be a result of the feedback they received from students and counselors who perhaps found it difficult to identify with failure, as it is much harsher than a setback or challenge that many more students would have experienced in high school. See how the profiles we put together in this package above shared their experiences of overcoming obstacles in the application essay.
PROMPT #3 [revised]
Reflect on a time when you questioned or challenged a belief or idea. What prompted your thinking? What was the outcome?

This prompt was revised to encourage students to share their thought processes as a way to demonstrate their higher level thinking and perspectives. The old prompt focused more on action, and this revision has opened the doors for students who are intellectually curious and justice seeking. Check out what other applicants have done in the package above.
PROMPT #4 [no change]
Describe a problem you've solved or a problem you'd like to solve. It can be an intellectual challenge, a research query, an ethical dilemma - anything that is of personal importance, no matter the scale. Explain its significance to you and what steps you took or could be taken to identify a solution.

This remains unchanged for students involved in research and analytics projects. It's a popular choice for students applying to engineering schools or STEM majors to share their passion by demonstrating it through independent projects. Unlock this package of profiles with essays on their tech and engineering interests for more inspiration!
PROMPT #5 [revised]
Discuss an accomplishment, event, or realization that sparked a period of personal growth and a new understanding of yourself or others.

The Common App has revised this prompt for perhaps to allow more self discovery in the application essay. There's no longer an emphasis on the transition from childhood to adulthood, so students can demonstrate any kind of personal growth they wish to share.
Prompt #6 [NEW]
Describe a topic, idea, or concept you find so engaging that it makes you lose all track of time. Why does it captivate you? What or who do you turn to when you want to learn more?

This is a completely new prompt that the Common App has added this year. Students who want to share a specific passion - music, sports, reading, or even eccentric hobby - can do so with this prompt. By talking about their hobby, students can demonstrate their personality and drive for more.
Prompt #7 [NEW]
Share an essay on any topic of your choice. It can be one you've already written, one that responds to a different prompt, or one of your own design.

This new prompt surprises us the most. It gives all applicants free range to write whatever they want for their application essay. It's exciting for students who are good at creative writing to take advantage of this prompt, but we're also anxious that students may go off topic without clear guidelines of what to write about. It's likely the Common App is using this new prompt to see what other essay topics students would gravitate towards that they've not previously offered.
Want to see how the essay prompts have changed? You can check out the Common App 2016-2017 Essay Prompts here. Which prompt are you going to choose? Let us know if you've already made a choice! If you still need some inspiration, check out AdmitSee's database of 60,000+ successful college application files.